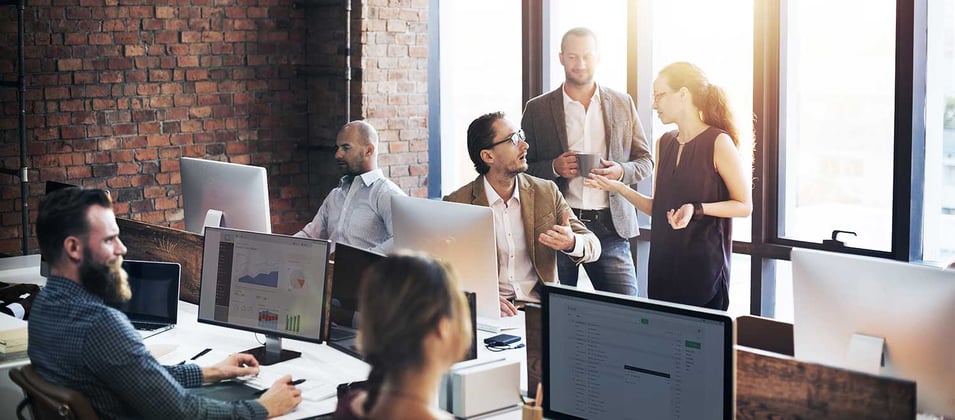 10 Things COVID-19 Has Taught Us About Employee Surveys
The COVID-19 pandemic has had a dramatic impact on our daily lives. We live, work, and interact with each other very differently than we did just a few short weeks ago. And it's fair to say that COVID-19 will have lasting impacts on our personal and professional lives in the future. Exactly what those impacts are remains to be seen, as governments and businesses are slowly reopening and returning employees to the workplace. To support organizations during this turbulent time, the Perceptyx team surveyed more than 500,000 employees from enterprises across every major industry, helping drive insights into the specific and immediate needs of employees at this time. We asked about company responses to COVID-19, the remote work experience, front-line work experiences, and concerns about returning to the work environment.
Our teams, and the companies we were privileged to support, have learned a great deal about surveys during the COVID-19 experience:
It's always a good time to survey employees. Times of change and upheaval are precisely when we should survey employees about their experience. When the path forward isn't clear, insights from employees can guide our plans and tell us which actions are most important to put in place now. Employees provided invaluable and timely feedback to their companies regarding communications, work arrangements, manager and team relationships, and what they need in the moment to be successful.
The best leaders want to hear from their employees. In a recent online discussion, five Perceptyx clients that ran special COVID-19 and remote work surveys were asked if it was difficult to convince their leaders to collect insights from employees at this time. Their answer? Absolutely not. In fact, their leaders actively encouraged the projects and were asking to see preliminary results within 24 hours of survey launch. The best leaders know that making a decision or choosing a course of action without the right data is foolhardy.
Just asking "How's it going?" speaks volumes. Many employees were surprised their companies sought out their input during the crisis, and delighted that the company recognized the uncertainty and chaos of the moment and took the time to reach out. The act of simply asking for input was encouraging and engaging to employees.
Ask questions that are meaningful in the current environment. Context is everything, so any surveys conducted now and into the foreseeable future must reference the issues that matter to managers and employees today. Surveys that don't address employee concerns about health and safety and the current work experience are at best a missed opportunity to collect critical information. At worst, they are tone deaf.
Ask the questions that drive actions. Questions that reference the current context must yield data that can drive immediate action. The data and subsequent insights must guide leaders and HR to the actions that need to be taken now to address employee concerns and challenges.
Good enough is good enough. The Perceptyx team created recommended survey question sets on a number of topics, and translated those questions into 35 languages. We encouraged our clients to use the surveys with minimal to no edits to streamline the set-up process and get the surveys into the field as quickly as possible. The vast majority of companies complied, even though normally they might take weeks to review and edit wording, conduct multiple reviews with stakeholders, make more edits, and get more reviews. They have since learned that, in the face of today's challenges, incremental edits and sweating over the small stuff of slight wording changes matter little. Using our recommended content with minimal changes yielded extremely valuable data as well as benchmarks. We also learned that insights from 50% of the population were as valuable as insights from 92% of the population. It doesn't have to be perfect to yield valuable, timely data.
Be fast. Fast, fast, fast. Don't wait weeks mulling over whether to collect data from employees; you run the risk of missing a huge opportunity to listen and learn. Share the data as quickly as possible; leaders at some organizations wanted to see preliminary results just two days into survey administration. Feed that need for information with data, even if it is preliminary. Don't spend weeks debating actions; employees need quick decisions and support. Actions don't have to be perfect; perfect is the enemy of good. Act quickly to provide employees what they need to be successful.
Engagement can rise in times of adversity. It isn't inevitable that tough times are tough on engagement. The actions that a company takes during turbulent times can deepen the relationship with employees. A willingness to communicate, listen, and act shows that the company cares about employees and wants them to be successful. Situations like the current pandemic can be moments of reckoning for companies. Those that have not invested in engagement or their relationship with employees may find that employees are reluctant to do all that is necessary to support the company during difficult times. Companies that have a long tradition of supporting and investing in employees are currently reaping the benefits of their actions.
Take action before you survey again. Make things visibly better. This is one of those times when frequent pulse surveys make a lot of sense. The environment is changing rapidly, so it is helpful to collect data that assess a shifting landscape as well as identify the shifting needs and concerns of employees. Companies need to be prepared to implement actions quickly, whether that action is a new policy to reimburse employees for reasonable expenses to outfit a home office, or an employee-created guide to managing remote work best practices (both of which are actual actions that Perceptyx clients quickly put into place). These actions need to be put in place and communicated rapidly to meet employees' needs now.
Asking the right questions, listening, and acting at the right moment = Caring. Imagine you have a friend that is going through a difficult time. You know they are struggling, and you know you need to say something, or at the very least ask how they are doing. You don't know exactly what to say, so you end up saying nothing. What message does that send to your friend? In difficult and turbulent times, check in with your people. The questions don't need to be word-perfect, and the actions don't have to be shiny and world-class. Just ask. And act.
COVID-19 has upended the way we work, but it is only the most recent period of upheaval. Within just the last twenty years, organizations have had to grapple with the fallout from 9/11 and the financial crisis. While the current pandemic is unprecedented, the next crisis may be just around the corner. Companies must use the current situation to listen, learn and adapt, and deepen their relationship with employees.