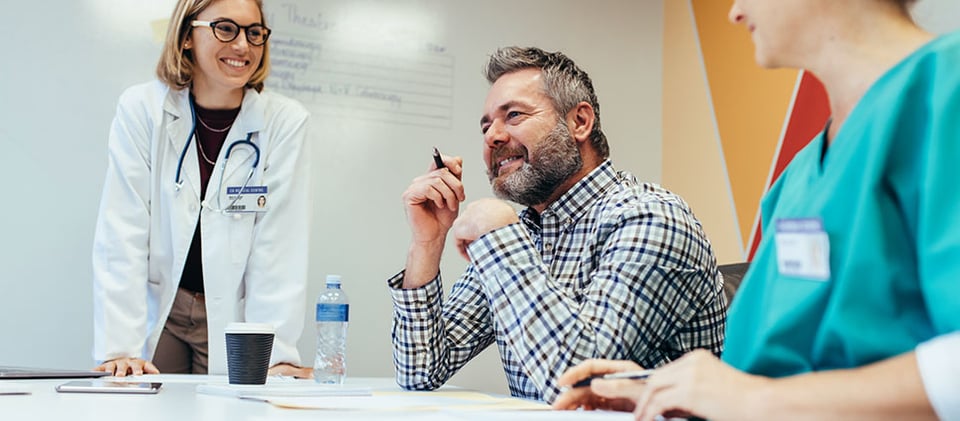 25 Healthcare HR Leaders to Follow in 2022
Healthcare human resources (HR) leaders have faced tremendous challenges over the past 2+ years. COVID-19 ensured that retention, attrition, safety, and the overall healthcare employee experience became not just important organizational priorities but national news. The healthcare HR leaders we are recognizing here stood tall in the face of these major challenges, using data-driven insights, comprehensive team-building, and strategic partnerships to show their organizations the way forward.
We're pleased to honor these healthcare HR leaders as pioneers, trailblazers, and community builders. Not only did they help steer their organizations through one of the most turbulent periods in the healthcare industry's history, but their efforts – and their eagerness to share those efforts with others through books, webinars, podcasts, and other forms of media – helped shape a brighter future for that industry.
Your Healthcare HR Thought Leader "Follow" List for Ideas, Inspiration, and Data-Driven Insights
David Gill, Vice President of Culture and Experience at Northwell Health, is a Healthcare Consortium advisor and focused on creating the best team member experience from hire to retire. His team's goal is to deliver a world-class team member experience by driving a culture of innovation, inclusivity, and well-being to empower team members to redefine the future of healthcare. He has used listening and insights as a pillar of his experience strategy, ensuring that team members continue to be heard so that they can feel like valued members of the organization.
Russell Hoffman, Vice President of Organizational Development and Culture at BJC HealthCare, is co-chair of the Healthcare Consortium. In his work for BJC, he has developed a new safety culture survey and driven continuous innovations in their academic health system. Committed to outreach and education, Russell has given many presentations on listening and safety culture.
Traci Nordberg, Senior Vice President of Enterprise Human Resources and Business Excellence at Mass General Brigham, has led transformation efforts for 14 hospitals to harmonize practices, build competencies, and align HR with the strategy of the organization. She has considerable expertise in areas such as transformation, talent management, DEIB, crisis management, and scaling organizations for growth. She has written and presented on many topics, including how to remain relevant as a seasoned leader and best practices in networking.
Andrea Procaccino, Chief Learning Officer and Vice President of Talent, Development, and Diversity at New York-Presbyterian Hospital, leads the Talent Development group in Human Resources, providing strategic direction and oversight for training and development, technology learning solutions, leadership development, organizational development, and talent management strategy and processes, along with awards and recognition programs for NYP Hospitals and healthcare system hospitals. She has multiple professional certifications in areas such as instructional design, training, and performance consulting.
Ekta Vayas, Deputy Chief Human Resources Officer at UC Davis Health, serves as Deputy CHRO for UC Davis Health, and is also an adjunct member of the faculty at the San Jose State University College of Business, where she teaches SHRM-CP & SHRM-SCP courses. She is an HRIM Board of Directors member as well as an elected member of the Forbes HR Council, the Society for Industrial/Organizational Psychology, and Academy of Management. She has been published in academic and practitioner journals and is a well-established panel and conference speaker.
David Cook, Senior Vice President of Human Resources and Chief People Officer at TriHealth, has spent most of his career involved in the creation and deployment of strategic human resources initiatives. At TriHealth and elsewhere, he has delivered innovative HR solutions that translated into successful attainment of organizational goals. There, he was responsible for leading the development and implementation of corporate strategy for the HR, corporate security, and mission & culture functions. David leads a team of 200+ people who support more than 800 physicians and 12,500 employees.
Matthew Gosney, Vice President of Organizational Development and Learning Services at UCHealth, is co-chair of the Healthcare Consortium. Matt is an executive leader whose primary focus is in partnering with leaders in articulating an organizationally-aligned talent strategy. As part of that work, he has overseen leadership development, onboarding, employee development, employee engagement, and coaching programs designed to get to know, grow, and move talent throughout the organization. His programs are data-driven, rooted in best practices, reflective of organizational culture, and innovative in both design and implementation. As an active and published author, he writes on topics such as bridging the scholar-practitioner gap in Human Resource Development, as well as the historical and philosophical underpinnings of his discipline.
Jon Joffe, Senior Vice President of Shared Services at Prisma Health, is focused on building strategies that drive corporate award-winning employee experience and engagement across multi-site healthcare systems. Prisma Health and previous employers such as the University of Kansas Health System, Atrium Health, and OhioHealth have been featured in US News Best Hospitals and Forbes Best Places to Work as examples of organizations with highly engaged workforces. Managing and driving communication, including policies and learning, has been key to Jon's strategy. At Prisma Health, he provides leadership oversight for corporate HR operations including employee relations, HRIS and analytics, and talent acquisition.
Aisha Allen, Vice President of Culture, Engagement, and Inclusion at OhioHealth, is an accomplished business leader with 20 years of progressive leadership experience. During her long career that includes OhioHealth as well as Accenture, Cardinal Health, and Nationwide Insurance, she has demonstrated leadership in areas such as employee development, implementation of initiatives, and developing cross-functional strategy and processes. At OhioHealth, she has developed change management strategies, tools, processes, and methodologies to drive change adoption and support associate engagement and other key organizational initiatives.
Tracy Dodd, Executive Vice President and Chief People Officer at VNS Health, has 30 years of experience as a talent leader, board member, executive coach, and business partner, during which time she developed a unique perspective on the key issues facing leaders and teams. Often described as someone who "makes sense out of chaos," Tracy has successfully led several complex, multi-year culture renovations in multiple organizations and industries. She led teams and organizations through complex, ambiguous, and sometimes volatile experiences, where her balanced, practical approach and sound judgment made her a trusted, credible advisor and business partner. At VNS Health, Tracy has reimagined the company's people function and culture, enabling VNS Health to become an "employer of choice" in the region. She serves as a frequent panelist and facilitator at professional conferences.
Kenny Gardner, Chief People Officer at DaVita Kidney Care, is committed to transforming the lives of DaVita Kidney Care's 65,000 employees across the globe. In his role as CPO, Kenny is focused on ensuring that teammates have the resources to reach their full professional potential while feeling like they are valued and supported. Through leadership fueled by authenticity, a growth mindset, and purpose, his foremost goal is to create impact in organizations and communities.
Kevin Brady, Chief Human Resources Officer at Advocate Aurora Health, is responsible for team member and leader selection, total rewards, development, engagement, retention, and organizational development. This HR industry veteran has over 35 years of experience and has served in key leadership roles at Advocate Aurora Health for more than 30 years, including Chief Human Resources Officer, Vice President of Compensation and Benefits, Vice President of Organizational Development, and Vice President of Human Resources Systems and Recruitment.
Julie Ann Alvarado-Dubek, Chief Human Resources Officer at Banner Health, has more than 30 years of diverse HR leadership experience focusing on organizational leadership, transformation, and total rewards strategy. She has led the implementation of an award-winning well-being strategy for the 50,000+ employees at Banner and a comprehensive total rewards initiative to engage and retain RNs. Before working at Banner Health, she served as an HR executive at Fender Musical Instruments, Freescale Semiconductor, and Motorola.
Cathy Henesey, Vice President of Talent Acquisition at AdventHealth, has over twenty years of experience in the recruiting and staffing industry. Her expertise includes training recruiters, developing processes, and researching and developing new recruiting strategies. Cathy has spoken at many conferences including the ITAA CEO Summit, ERE Expo conferences, SHRM regional meetings, NACCB regional and national conferences, and many local organization meetings. She recently represented the staffing industry in Washington, DC as a lobbyist for the immigration visa quota bill and reached the highest rank offered by Toastmasters International, earning the title of Distinguished Toastmaster.
Christopher J. Cowan, Senior Vice President of Human Resources at ChristianaCare Health System, is responsible for the strategic planning, design and execution of Human Resource services that support ChristianaCare's strategic aims and the ChristianaCare Way. Chris has successfully led the transformation of HR at ChristianaCare by implementing a multi-tiered shared services delivery model recognized as a best practice by the Advisory Board Company. Chris is a Fellow of the Advisory Board Company as well as a member of the Society for Human Resource Management (SHRM) and the American Society for Healthcare Human Resources Administration (ASHHRA).
Kristy Leyland, Senior Vice President and Chief Human Resources Officer at Compassus, is responsible for all human resources functions, including recruitment and retention, compensation and benefits, and colleague relations and development, including helping to cultivate, reinforce ,and evolve the Compassus culture. She has held strategic and operational leadership roles in international and domestic organizations in healthcare and other industry sectors, including Fortune 500 and private equity backed companies.
Gladys Lopez, Senior Vice President and Chief Human Resources Officer at Norton Healthcare, oversees all human resources activities for this 14,000-employee organization, including operations, compensation and benefits, talent acquisition, and workforce development. Gladys has two decades of experience in human resources management, labor relations, health care, public administration and nonprofit management. Her ability to serve as a change agent at Norton Healthcare and elsewhere has been informed by her background in law, business acumen, and fluency in Spanish as well as English.
Vishal Bhalla, Senior Vice President, Enterprise Chief Experience Officer, and Market Chief Human Resources Officer at Atrium Health, leads his organization's experience strategy, including patient, provider, teammate, and volunteer experience across the entirety of the system. He creates and delivers nationally leading experiences across the continuum of care, leveraging system science, process design, and technology to achieve measurably superior outcomes. Atrium's Executive Vice President and Chief People and Culture Officer Jim Dunn described Vishal as "an acclaimed national thought leader who has an incredible history of servant leadership, diversity and inclusion, and facilitating a culture of transparency and rapid innovation."
Courtney Holladay, Associate Vice President of the Leadership Institute at the University of Texas - MD Anderson Cancer Center, currently leads programs focused on leadership development, enveloping curricula, mentoring, coaching, selection, teams, change enablement, and personalized development for faculty and administrative leaders. She is the author of numerous peer-reviewed articles in journals such as Journal of Business and Psychology, Academy of Management Learning and Education, Journal of Applied Psychology and Leadership, and Organization Development.
Jakki Opollo, Vice President of Talent Initiatives and Regional Chief Diversity Officer at Atrium Health/Wake Forest Baptist, is deeply committed to driving DEIB across the talent cycle to ensure the highest levels of inclusive excellence. Jakki is deeply committed to community action geared towards protecting vulnerable populations globally. Her research centers on promoting nursing positive practice environments, and she is certified as an advanced nurse executive (NEA-BC) by the American Nurses Credentialing Center and holds memberships in professional organizations including the American Organization of Nurse Leaders (AONL) and the Society of Human Resource Management (SHRM). She has published several articles in peer-reviewed journals and presented her research locally, nationally, and internationally.
Chiquita Brooks-LaSure, CMS Administrator for the U.S. Department of Health and Human Services, oversees federal programs including Medicare, Medicaid, the Children's Health Insurance Program (CHIP), and the HealthCare.gov health insurance marketplace. A former policy official who played a key role in guiding the Affordable Care Act (ACA) through passage and implementation, Chiquita has decades of experience in the federal government, on Capitol Hill, and in the private sector. As deputy director for policy at the Center for Consumer Information and Insurance Oversight within the Centers for Medicare & Medicaid Services, and earlier at the Department of Health & Human Services as director of coverage policy, Chiquita led the agency's implementation of ACA coverage and insurance reform policy provisions. Earlier in her career, Chiquita assisted House leaders in passing several health care laws, including the Medicare Improvements for Patients and Providers Act of 2008 and the ACA, as part of the Democratic staff for the U.S. House of Representatives' Ways and Means Committee. She was a featured speaker at the HIMSS22 Global Health Conference and Exhibition.
Pamela Dixon Ridgeway, Chief Diversity Officer and Vice President of Talent at ChristianaCare Health System, partners with key organizational stakeholders to implement strategic talent plans aligned with ChristianaCare's mission, DEIB goals, and business objectives. She has developed and executed talent acquisition strategies, defined and measured talent acquisition key performance indicators (KPIs), and developed a university relations program in partnership with local colleges and universities to create a talent pipeline for mission-critical roles.
Mandy Tilton, Chief Nursing Officer at BAYADA Home Health Care, is responsible for overseeing clinical standards, optimizing clinical practices, partnering with specialty practice clinical leadership teams on clinician retention and professional development, and implementing a safety culture built on principles of high reliability at BAYADA Home Health Care. Prior to joining BAYADA in 2021, Mandy led the nursing strategy at DaVita Kidney Care as chief nursing officer over a twenty-year career where she worked in many roles including patient care technician, nurse, administrator, director, and vice president. These responsibilities included all modalities and both chronic and acute dialysis. She is currently on the board of directors for the National Kidney Foundation of Illinois and presents at many industry conferences, including a recent session on "Making Your Voice Heard (In-Person and On-Demand)" at DTX22.
Bouvier Williams, Director of Employee Experience, Workplace Culture, and Inclusion at NYU Langone Health, fosters a learning and work environment of inclusivity, belonging and respect through his focus on organizational culture, tools and frameworks to drive inclusion, DEIB training at all levels, the development and implementation of equity-related talent solutions, and addressing health care inequality in the communities served by NYU Langone Health. Thanks to his innovative leadership, NYU Langone Health was honored byForbes as one of their 2022 "Best Employers for Diversity."
Samir Desai, Vice President of Talent Management and Organization Development at NorthShore University HealthSystem, has had a 25-year career spanning systems consulting, project management, learning design and development, technology-enabled learning, learning and leadership development, and talent management. At NorthShore, he is responsible for developing the skills and capabilities of staff and physicians through high-impact learning programs, performance management, organizational development, and leadership development at all levels. In a prior role at Accenture, Samir co-authored Return on Learning, a reimagination of learning and training aligned with that company's business strategy.
Looking to Lead the Way Forward in Your Healthcare Organization?
Successful HR leaders head up organizations with strong cultures, but those leaders will tell you that this isn't a coincidence – they built those cultures by listening to every aspect of the employee experience.
The Perceptyx platform provides resources that help the HR leaders of today and tomorrow retain top talent, keep employees engaged, and ensure that communicated values align with employee expectations. By tracking survey responses throughout the employment lifecycle – and enabling key comparisons with data from other organizations within your industry – Perceptyx enables leaders to connect the dots between insights and actions.
Schedule a demo to see how Perceptyx can build a long-term strategy for measuring your organization's culture.