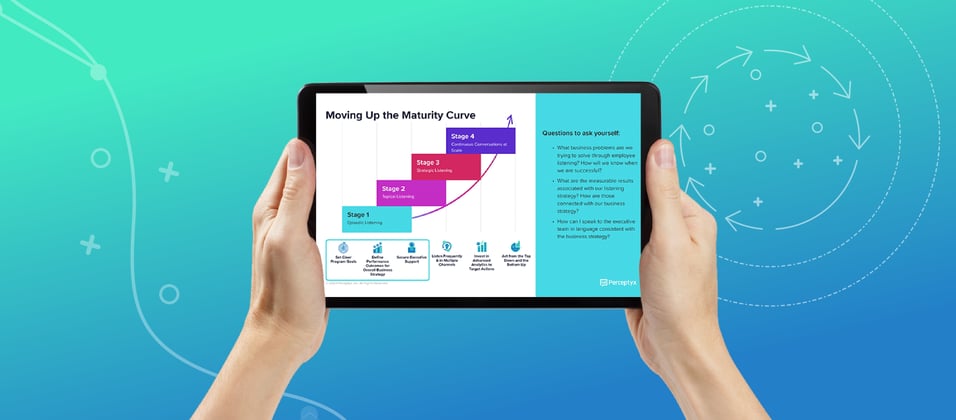 A 4-Stage Model for Assessing Employee Listening Maturity

When Perceptyx released its first State of Employee Listening report last Spring, four distinct stages of organizational listening maturity emerged. Our follow-up report for 2023, released last week, updates our original 4-stage maturity model and charts the progression of an employee listening program from its most fundamental to its most robust.
When our team looked at the characteristics of listening programs for organizations along this maturity continuum, we identified four key factors that differentiated the most successful programs:
Number of Listening channels

Speed

Agility

Integration of other business data
Each differentiator connects directly to specific dimensions of an employee listening strategy and each one can be matured on its own. When examining your own organization's employee listening strategy, it's important to take each into account. Many leaders in our study noted that while they may have mastered one or more of the characteristics, others were still lagging behind.
In this post, I'll dive into each of the four stages of listening maturity in greater depth.
The State of Listening Maturity in 2023
Our initial 2022 study examined the various listening practices in use within large organizations. From the more than 60 practices measured in the study, 13 emerged as key differentiators among organizations that achieve more favorable people and business outcomes. For 2023, we see a slight decline in the number of organizations at higher stages of maturity. Given that there is no sign of pulling back on the amount of listening organizations are doing, the decline in maturity can be attributed to two things:
The increasing demands on managers, requiring organizations to lean more heavily on HR to shoulder follow-up actions
Integration of multi-channel feedback with other people and business-related outcomes is not being prioritized as heavily as it was in 2022.
With that as background, let's take a look at each of the four stages.
Stage 1: Episodic Listening (20% of organizations in 2023)
Organizations at this stage tend to have a traditional and straightforward listening strategy, often focused on a single survey event or a few isolated survey events on a tightly-planned schedule. Their listening strategy tends to be consistent year after year, with few changes, and is often successful at accomplishing a few discrete goals. Gathering and acting on employee feedback is centered in the Human Resources department and is seen as a function of Human Resources. There may be other informal listening events, such as exit interviews, but these findings are disconnected from measures of employee experience. These organizations tend to act in a top-down manner, with planned, contained distribution of results and actions.
Stage 2: Topical Listening (30% of organizations in 2023)
Organizations at this stage have seen the benefit of applying employee feedback to not only large-scale listening events, but also to deep-dive topical events (e.g., M&A, IPO), or projects geared toward specific goals (e.g., Diversity, Equity, Inclusion, and Belonging). These listening projects are discrete and still centered in Human Resources, but often other departments reach out to HR to ask for assistance with their own specific goals. These organizations may also be starting to more formally track key moments in the employee lifecycle.
Actions taken in response to employee feedback are still top-down but reside within the specific department with the research questions. Action is encouraged at lower levels, but there is no clear accountability mechanism, so only some groups choose to participate in targeted action planning and results are sporadic. Executive communication will reference listening results, especially as a means to reinforce decisions leadership has made. Communication is tightly planned and often results are cascaded to the rest of the organization only after executive leaders have sufficient time to digest and position them.
Stage 3: Strategic Listening (27% of organizations in 2023)
Organizations at Stage 3 have established a clear connection between their listening strategy and other business priorities. They are often addressing business problems and concerns using multiple methodologies, employing listening channels outside traditional surveys. Less importance is placed on a single, large-scale listening event; instead, that survey is used to diagnose successes to capitalize on and opportunities to improve with additional listening and action. There is some integration of employee experience results and perceptions of the moments that matter across the employee lifecycle: hiring, onboarding, exit, promotion, etc.
These strategies rely heavily on technology for speed and scale. There are well-publicized strategic actions taking place in the organization and leaders at all levels are comfortable interpreting and acting on employee feedback. There is accountability in place for action and managers are given tools to encourage their development. Executives do not make major decisions without understanding the impact on people's perceptions or seeking suggestions from employees and messaging is transparent and quickly deployed throughout the organization.
Stage 4: Continuous Conversations at Scale (23% of organizations in 2023)
The most mature organizations have a robust and flexible listening strategy, integrated deeply into their overall business strategy. Stage 4 organizations will still utilize large-scale surveys as a diagnostic and tracking tool, but action happens through more listening and manager-to-employee conversations. While this measure is still a foundational tenet of listening programs for the breadth of data collection, it is no longer considered the primary place to gather the necessary depth of employee feedback. Instead, organizations determine the problem they intend to solve and quickly deploy the proper type of listening to address it.
In addition to frequent, flexible surveying on moments that matter, they employ multiple channels, like calendar analysis, email sentiment, and/or crowdsourcing. Managers get frequent developmental feedback and have the tools and support to work with their teams to make real changes quickly. The employee experience is not the responsibility of human resources or of the executive team. Instead, everyone in the organization is expected to contribute to the conversation whether by asking, answering, contributing an idea or solution, participating in developmental work to change their behavior, or listening deeply to team members.
Given these characteristics, it's unsurprising that while all stages of maturity value innovation and advanced analytics, Stage 4 organizations are more than twice as likely as Stage 1 organizations to prioritize technology when choosing a vendor to support their employee listening strategy.
Listening Maturity is Directly Related to Positive Organizational Outcomes
Mature listening programs can help overcome specific problems facing an organization, such as talent recruitment and attrition. When fully implemented, they also contribute to world-class outcomes related to financial performance, innovation, customer satisfaction, and change management.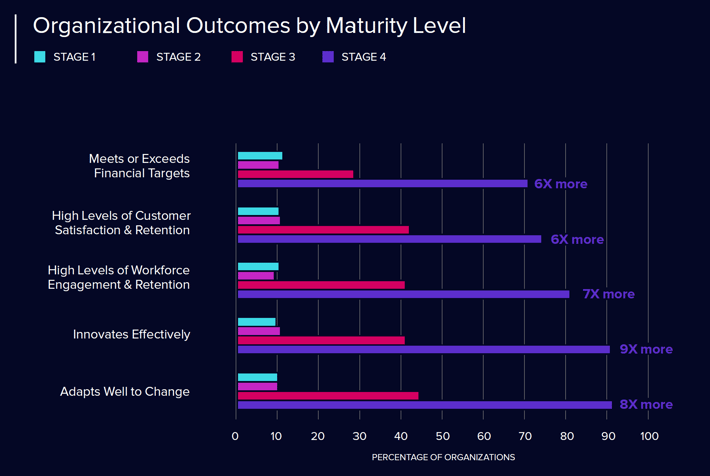 Assessing Your Employee Listening Program
To dive deeper into our 2023 data findings, download the full report. To diagnose where your organization is positioned on the employee listening maturity continuum, take our interactive Maturity Model assessment. Once complete, you'll receive detailed analysis on the unique strengths and opportunities of your program, as well as personalized recommendations to help advance your strategy.