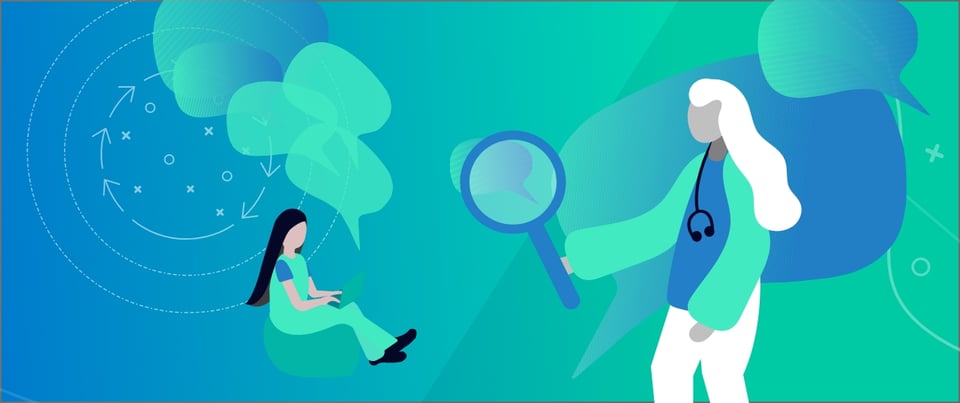 Behind the Numbers: A Look Inside Organon's Employee Listening Journey
Last week, Perceptyx released its second annual State of Employee Listening report. The report shared new data on how large organizations are applying listening and people analytics in response to a mixed talent picture, shifting employee expectations, and the current economic environment.
To provide additional insights into the new data, Perceptyx's Director of Research and Insights Emily Killham hosted a live webinar, presented in partnership with HR Executive. Joining the discussion, Organon's Head of Workforce Analytics Matthew Grossman, Ph.D. shared details on his own organization's listening journey, and how they are putting many of the best practices highlighted in the research into practice.
How Employee Listening is Changing
Emily Killham, Director of Research and Insights at Perceptyx: "When we started our research last year, we wanted to understand the state of employee listening. We found that there was a lack of research on the topic and that most organizations were only surveying their employees once per year. This meant that it took months to develop a survey, launch it, and get feedback. This year, we found that 70% of organizations were doing some kind of listening to their employees at least quarterly, up from 60% last year, and that they were developing plans of action within four weeks."
"This shows that organizations are listening more often, more frequently, and they're taking action quicker than ever before. We believe that this is due to the changing landscape of work. Employees are more likely to be remote, and they're more likely to be working for multiple organizations at the same time. This means that organizations need to be more agile in their listening strategies and more creative in their methods of collecting feedback. Once you have collected feedback, you need to analyze it. This will help you to identify trends and understand what your employees are thinking and feeling, after which you can use this information to develop action plans. By listening to your employees, you can identify areas of improvement, develop new initiatives, and improve employee engagement. It all starts with employee listening."
From Employee Engagement to Employee Experience
Matthew Grossman, Ph.D., Head of Workforce Analytics at Organon: "We used to focus on engagement all the time — how much interest and enthusiasm our 'founders' (i.e, employees) had. But we've realized that we need to think more about the employee experience, so we've developed a tripartite model of employee flourishing that balances well-being, belonging, and engagement. We believe these three areas should be in harmony with each other to avoid issues like burnout and lack of psychological safety."
"To address different business problems, we look at both survey data and data from the organization as a whole. One issue we've been thinking about a lot is our back-to-office strategy. After everyone went home during the pandemic, we wanted to get people back into the office, especially since Organon was founded during that time. We wanted to find the right balance as far as hybridization goes. To determine that balance, we combined data from office attendance with our survey data to determine the right amount of time for employees to be in the office. Our survey data showed strong gender differences in engagement — traditionally, men were happy to be back in the office while women had a more jagged response. While engagement went up for both genders, well-being went down for women because they had to balance more activities at home and work."
"We found that the sweet spot for both engagement and well-being was coming into the office once a week. So, we optimized our strategy to have everyone come in on Wednesdays, at a time that works for them to avoid rush hour. This way, we can focus on collaboration and balance the needs of all employees. By combining survey data with actual behaviors, we were able to come up with a model that works well for everyone. Here in the US, where we've implemented this policy, we've received positive feedback. We make a conscious effort to connect the feedback we receive from our employees to tangible actions. This not only boosts their engagement but also instills confidence in our two-way communication with them. For example, when we formulated our policy, we analyzed the data and observed how our employees were achieving success. By maintaining this ongoing dialogue, we can provide continuous support and improve their experience."
What the Data Says About Employee Recognition at Organon
Emily Killham: "One thing I've seen from HR practitioners is that it's becoming more popular to share data, even when something negative is happening in the business. Previously, during a layoff or other negative event for the business, HR leaders may not have wanted to push a listening event. However, the tide is turning. In our survey, 57% of HR professionals said we should listen all the time, not just strategically listen when times are good or bad. What's interesting is that other executive leaders, outside of HR, are equally willing to prioritize listening during both good and bad times. This might give some HR leaders who are hesitant to listen during tough times the permission to do so since business leaders are saying, we need to know what's happening all the time."
Matthew Grossman: "That's correct. I would argue that listening during tough times is even more crucial than listening during good times. Walking into a C-suite presentation and saying everything's perfect doesn't provide any helpful information. For instance, our annual survey showed that people felt their workloads were increasing and their well-being was decreasing — although our well-being score was still above the 75th percentile. We wanted to be sensitive to this and improve the situation. We look for common themes in our data and combine it with behavioral data from the organization. For example, we have a spot bonus recognition program that rewards employees who embody our values or do outstanding work. We wanted to investigate the misconception that the more bonuses or money you give out, the better people feel. We found a sweet spot — giving out one to two awards per quarter — that made the most positive impact on employees' morale. Recognition from peers or bosses saying, 'Hey, you did a great job on this' and giving a $25 or $100 gift card tended to work well. However, when we were addressing our workload problem, we found that giving too many awards actually backfired and led to decreased well-being. We can't say that too many awards caused well-being to go down, but rather, that we can't just throw money at the problem. Instead, we demonstrated action through our program 'Better at Organon,' where we talk about resourcing and process improvements regularly on an intranet page and through polls. While we still give spot bonuses, we realized it's not a catch-all solution, and our survey data helped us find that answer."
The Four Stages of Listening Maturity
Emily Killham: "I also want to review the four stages of employee listening maturity that we've developed, and share how the data of organizations at each stage has changed in 2023. One key thing to understand is that wherever you are today, there is a next right step for you. Not every organization will reach the top level of maturity, but it's important to understand where you are today and where that next step is."
"20% of organizations are at the Stage 1 level of listening maturity. This stage is traditional and straightforward, where survey is the primary methodology. The analysis is discrete and disconnected, usually involving one or a couple of surveys per year. It's primarily centered in HR, and other departments have not taken ownership yet. This stage is not explicitly connected to other business questions or problems."
"At stage two, we call this topical listening, and we see 30% of organizations in our most recent survey at this stage. Here, the employee survey is still the primary methodology, but this stage is now about expanding beyond the annual survey to measure specific moments in the life of an employee. Actions are being taken at this stage, but they remain largely centered in the most senior levels of the organization, with the executive team taking action based on what they've learned. HR still owns listening at this stage, but other departments may request help from the listening team based on their own unique business needs."
"At stage three, this is what we call strategic listening. About 27% of organizations in our survey are in this stage. Multiple listening methodologies are being used, including channels like crowdsourcing, and organizations are starting to establish a clear connection between their listening strategy and other business priorities. Data is shared more broadly with the organization, and more action is taken at multiple levels. Advanced people analytics are needed at this stage to surface key insights."
"At stage four, we have continuous conversations at scale. Organizations at this stage are able to match the listening methodology to the precise business problem they are trying to solve. Further, listening is expanding beyond simply capturing perceptions to measuring actual behaviors. At this stage, employee feedback is being cascaded to all levels of the organization, and responsibility for action in response to feedback is shared and widespread."
What Differentiates the Listening Strategies of the Most Mature Organizations?
Emily Killham: "The first key differentiator of a mature listening strategy involves listening channels. We measured four key listening channels as a part of our research. The first is the employee experience survey, which aims to understand and relate to the totality of the employees' experience. This is often done annually or quarterly, and about 71% of the organizations we studied participate in this type of survey based on employee perceptions. The second channel focuses on key moments in the lifecycle of an employee and how their perceptions are measured during those times, such as onboarding or exit experiences. The third channel is crowdsourcing, which includes various types of listening like focus groups, employee suggestion boxes, 'Ask me Anything' sessions, or open forum town halls. The fourth channel is behavioral listening, which includes techniques like passive listening and calendar or email scraping. Some passive listening methods have raised concerns, so it's critical that these techniques be opt-in, but many have positive applications. By combining behavioral listening of managers with EX survey data, we can uncover behaviors that managers may not even be aware of, and offer targeted coaching to improve recognition practices within their team, as just one example."
Emily Killham: "The second differentiator among the most mature organizations is speed, which refers not to how quickly a listening event can be executed, but rather how quickly your employees feel the change after a listening event. We believe that as an organization matures, it should never ask for feedback faster than it can act on it. Therefore, if the organization is not ready to act, it's better to listen less often but complete the cycle every time. Some organizations can act quickly, and utilizing other listening methodologies beyond an all-employee survey can enable them to act more often.
"The third differentiator is agility, which refers to how quickly an organization adapts its listening strategy to meet current business needs. In stage one, about 70% of organizations ask the same questions repeatedly without adapting or changing, leading to a reactive approach. In contrast, mature organizations sit down annually or even more frequently to make significant changes to their listening strategy that are closely tied to current business priorities. The fourth differentiator is integration, and one great example is Organon, which has successfully pulled together all the pieces and integrated other data sets to guide its strategy and measure its impact."
How Organon Integrated All the Components of a Mature Listening Strategy
Matthew Grossman: "Our annual employee listening survey, or the 'founder experience survey' as we call it, is still our bread and butter. We started with just that and were able to get 88% participation by hitting communications from various channels, including QR codes and accessibility through phones. As we've matured as a company, we wanted to move past just the annual survey and implement an 'always-on' strategy with a series of questions sent out to different groups throughout the year. However, we realized that we weren't able to act fast enough on all the same redundant questions, so we changed our strategy to a core set of 10 questions that go out in front of all of our surveys throughout the year, with topical surveys or language changes to make them more relevant to specific areas like HR or manufacturing. We've also matured our lifecycle surveys to include voice of the hiring manager surveys, candidate surveys, onboarding surveys, and an upcoming exit survey to really understand the full aspect of the lifecycle and tie those pieces together to see patterns and potential issues early on. We're still working on passive listening, but we're careful about the 'Big Brother' effect and only use anonymous data that we're transparent with our employees about."
"We value surveys, but we believe that taking action and sharing the data from the survey is more important than the survey itself. If you listen to people but don't act on the data, you'll experience a boomerang effect that will lower engagement. We ask two key questions on our survey, but only to people who have taken it before. One question asks if they saw the results from last year's survey, and the other asks if they saw any action taken on the survey. We found a clear correlation between high scores and people who saw both the results and the actions taken. We share the data with specific groups at specific times, being intentional about who we share it with."
"For example, we share data with our employee resource groups (ERGs), but we try to do it at the right level, so we don't reinforce problems. Instead, we want to find ways to solve those problems with the right people. We have a close partnership with our communications team and have built out a yearlong communication strategy for our action planning. We use Perceptyx's "1, 2, 3" action planning approach, which involves having leaders have at least one action planning meeting with their employees early on and following up two more times. We communicate as much as we can through various channels, including our HR newsletter, articles on our intranet, and push notifications to managers and leaders. We want people to know that their voice matters and that they can speak up, which is the most important thing for us here at Organon."
Perceptyx Can Ensure That All the Voices of Your Employees Are Heard
The most mature listeners can apply their programs, and the data captured, to address a variety of challenges facing their organization, ranging from talent attrition to well-being, to the cultural impact of a merger or acquisition. When fully implemented, they are also more likely to produce world-class outcomes related to financial performance, innovation, customer satisfaction and retention, and change management. Organizations at stage four of the maturity curve significantly outperform their peers in each of these areas.
To dive deeper into our State of Employee Listening research, watch the full on-demand webinar or download the complete report. To diagnose where your organization is currently positioned on the listening maturity continuum, complete our interactive assessment.