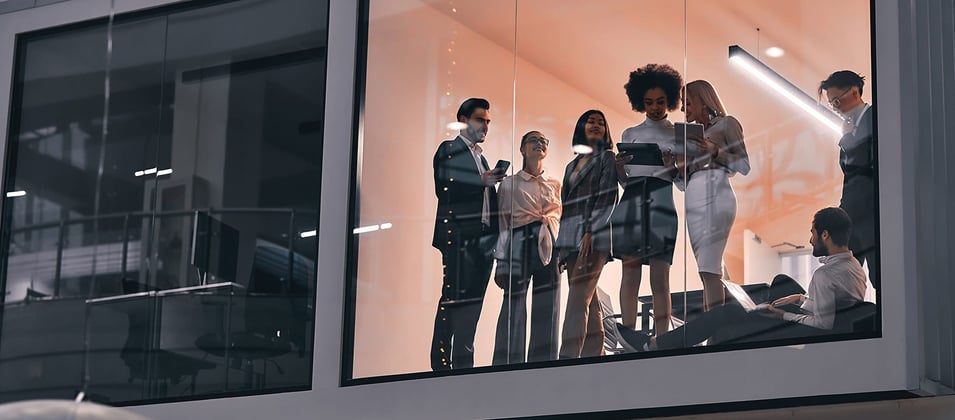 Can a strong EVP help you keep your employee VIPs? The data says yes.

The so-called 'Great Resignation' is here: workers across industries are leaving their jobs in numbers not seen in two decades. 2.7% of U.S. employees (4M+) quit their jobs in April 2021, compared to just 1.6% in April 2020. In May 2021, the most recent month for which we have national data, those numbers were slightly lower at 3.6 million, but still troubling at a quit rate of 2.5%.
Pandemic burnout, a collective rethinking of priorities and what matters most, a generational labor shortage, and more companies calling workers back into the office are just some of the likely reasons behind this trend. Workers are feeling more empowered than ever, but for hiring managers, these statistics represent a double whammy. It's not just harder to find new workers, it's also harder to retain the ones you have.
We wanted to understand what employees want now from their employers, and what factors were most likely to impact their intent to stay. To do that we surveyed more than 1,000 employees in June of 2021 about their unique employee value proposition (or EVP).
What is an Employee Value Proposition?
An Employee Value Proposition is the collection of benefits, recognition, and values that an employer provides to employees to achieve their highest potential at work. Put simply, it's the promise you make to your employees in exchange for their commitment.
An EVP is about defining the guiding principles of your company and should encompass the central reasons people are proud and motivated to work there. When successfully integrated into the day-to-day operations of your business, a strong EVP can not only help you attract top talent, but should also help you retain the high performers already resident in your company.
To uncover what makes a company attractive today, our survey asked employees to rank a series of EVP attributes ranging from retirement benefits to work-life balance, to company culture. We also asked those employees how they would rank their current employer's performance against those attributes.
Among the 29 attributes covered in the study, the five that employees rated as both important and favorable (i.e., their companies were doing well) were:
Company stability
Manager quality
Team quality
Social responsibility
Remote-friendly
However, when we looked at the unique, top 5 attributes for each employee, and then asked those employees whether their companies were meeting their needs, we found a stark contrast in predicted retention between employees who rated their companies strong or weak on their top attributes. Among employees who rated their companies weak, only about half (53%) intend to stay at their company for at least 12 months. Employees who said their companies excelled at delivering on their top 5 attributes fell on the opposite end of the spectrum. Nearly all of them (96%) said they would stay in their jobs for at least 12 months.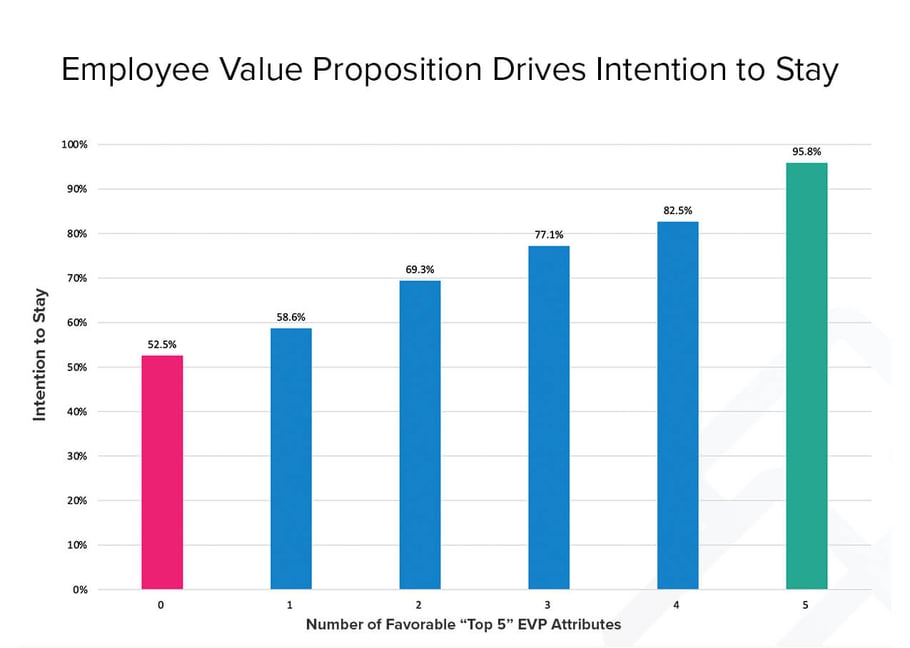 Figure 1. For employees who didn't rate their companies favorable against any of their unique, "Top 5" EVP attributes, only 52.5% intent to stay at that company for at least the next 12 months. For employees who rather their companies favorable against each of their unique, "Top 5" EVP attributes, nearly all — 95.8% - intent to stay at the company for at least the next 12 months.
These results – and the overall link between EVP and intent to stay – should prove insightful for companies looking to head off their own Great Resignation. Three in five survey respondents reported changing jobs, careers, or managers in 2020, and a quarter said they intended to leave their current employers in 2021.
As shared by our Director of People Analytics, Brett Wells, Ph.D., "If you know what your employees value most, and take visible, decisive action to improve in those areas, you're more likely to attract, engage, and retain top talent. This exercise gives organizations a clear blueprint of the workplace and behavioral factors they need to get right to have the biggest impact on retention and a positive employee experience. Hit the bullseye on your employees' EVP lists, and you'll outperform other companies that are not listening and not taking action."
For more insights on the factors driving employee engagement in 2021, and the benefits of a continuous listening approach to better understand your workforce's most critical EVP components, schedule a meeting with our team today.