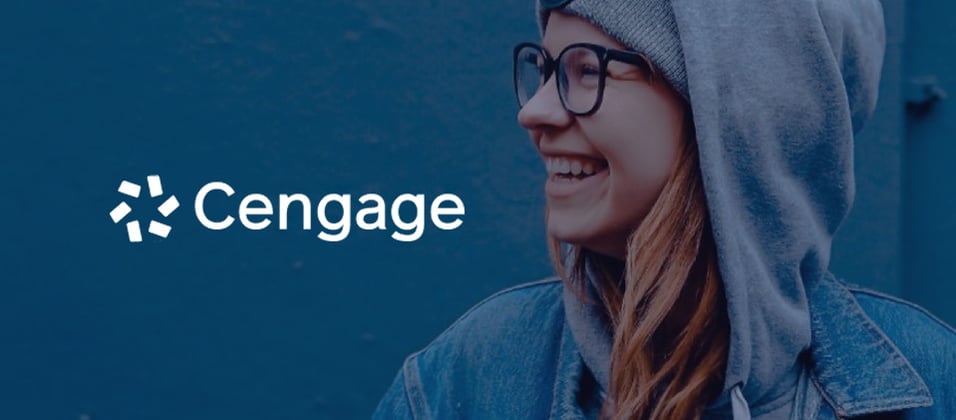 Cengage & Perceptyx: A Partnership of Learning through Listening
Since its founding in 2007, Boston-based Cengage — one of the world's leading edtech companies — has understood the critical role culture and engagement play in delivering on its mission to meet the needs of its 4,500 employees and millions of learners around the globe. To create a strong culture, Cengage knew it needed to learn more about its employees — and learning meant listening.
The Right Listening Solution
When Adam Koussari-Amin, Cengage's Director of Talent Management, began the company's search for a listening partner in 2018, he had a clear understanding of what was needed. The company had been doing ad-hoc surveys with a different provider, but Koussari-Amin recognized that Perceptyx offered him a way to simultaneously meet his objectives while elevating his company's listening program.
"You need to know the data you want, so you have a real vision for your listening program — not because Perceptyx couldn't help an organization get to that point, but because, as in our case, knowing what we needed quickly got us to a true partnership, a place where we see each other as peers and equals," he explained.
Ask, Perceptyx's product for point-in-time listening, has exceeded Cengage's expectations. "This system is so intuitive," Koussari-Amin said. "People get it. We don't have executives asking us for cuts of data. Everybody with access can utilize it. When we are trying to improve our dashboards in other areas, I keep saying, 'How do we make [this dashboard] like Perceptyx?' Because Perceptyx has a thoughtful, flexible platform that allows people to get exactly what they need, even if they only have five seconds, but it's also deep enough to give you what you need if you're taking five hours to look at and digest the data."
When combined with Perceptyx's deep bench of experienced consultants, "it feels like you have an I/O consultant on your team, that they're helping and thinking about Cengage instead of just doing a job they were contracted for."
The Right Data for Leaders
With this partnership in place, Cengage and Koussari-Amin were able to gradually expand the scope and scale of their listening programs, becoming an increasingly mature listening organization in the process.
For Koussari-Amin, the key to Cengage's listening program has been the ease with which Perceptyx's software allows leaders to dive into and explore demographic data. "Our executives work to get the data as quickly as possible to managers, both for action planning and as part of an ongoing conversation, and the census survey is the key to this because it's helpful to see and compare the outcomes. One area that's critical for us is filtering this data in numerous ways, including our employee resource group (ERG) membership, our general demographics, employee tenure, and other segments of the population we've identified."
Data collected this way informs all of Cengage's global decision-making, with executives utilizing it to determine how much progress the company has made toward its goals.
The Right Insights to Drive Action
One crucial finding from the 2019 data concerned the value of one-on-one meetings as a component of performance management. "We learned from the initial data that a significant number of people weren't having one-on-ones with their managers, and of those who were having them, they weren't finding them to be effective," Koussari-Amin said.
With these insights in hand, Cengage could focus on improving the quality of these one-on-one meetings. Further listening showed a direct correlation between employees who were having frequent and meaningful one-on-one conversations with their manager, and improvements across every aspect of the employee experience.

This has been critical for the company's efforts to improve employee perceptions of its professional development programming — the sort of future planning in which one-on-one conversations with managers play a major role. This was also important for DEI initiatives within the company, since the improved demographic analysis enabled by Perceptyx's software allowed for high-level tracking of underrepresented groups, allowing Cengage to direct extra attention to the professional development of these groups.
Koussari-Amin stressed that the dashboards delivering all this data were a considerable part of what differentiated Perceptyx from competitors. At Cengage, dashboards are available at all levels, with customized data for the specific team or line of business manager who is utilizing it. This level of specificity and visibility ensured that everyone working with the data got the information most pertinent to them and their day-to-day role in Cengage's operations.
"Having data access to this extent has driven both macro and micro change," Koussari-Amin said. "Previously, we provided data that was too extensive. Why would you tell a manager to focus on organization-related issues if their own team had already resolved them? What Perceptyx's dashboards have done is empower our managers to take action without even having to tell them."
Independent of ongoing HR efforts, Cengage's managers were able to jump in and begin action planning to quickly address the challenges for their unique teams and lines of business. Now, Koussari-Amin noted, trust in the utility of the data was so high that executive team members were logging in just as fast as their HR colleagues in order to access and work with the data.
The Right Partner
When asked to distill Cengage's relationship to a single word, Koussari-Amin keeps it simple: "Partner."
"I really do think of this as a partnership and Perceptyx as a partner," Koussari-Amin added by way of elaboration. "The experience I'm going to get here, the software I'm going to get, the white gloves service I'm going to get…I know the level I'll receive. And even if there is a cheaper alternative, I want to keep expanding this relationship."
For Koussari-Amin and Cengage, the future state of employee listening represents a continued journey to full employee listening maturity. "We want to keep pace with where the next evolution of employee listening is going, and it's in line with where Perceptyx is going as a company."
Read the full story for more on how Cengage leverages its partnership with Perceptyx to drive continuous improvement in its culture and mission. To learn more about how our platform and services can help your own organization, schedule a meeting with a member of our team today.