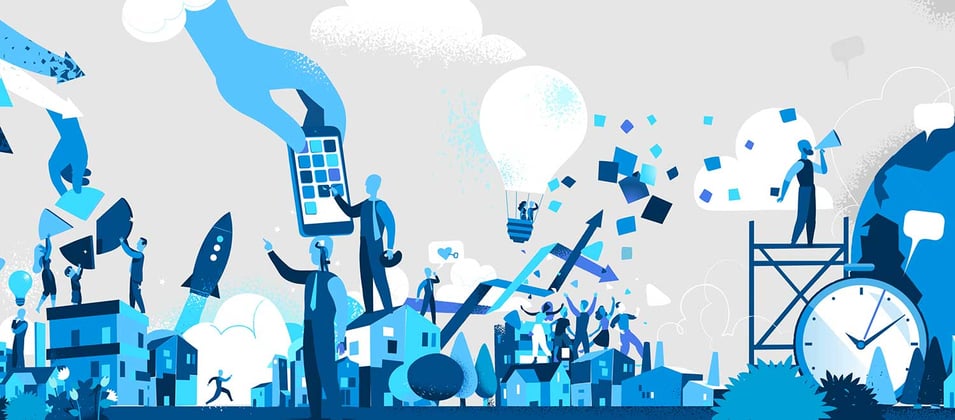 COVID Learning #4: Innovation Can Happen Anywhere, Anytime

The world has changed forever as a result of COVID-19. Individuals and organizations alike have had to rapidly adapt to new ways of living and working. The pandemic has caused major disruptions, yet the challenges endured has ignited innovation on a scale rarely seen before.
This blog is part of a series reviewing the five classic "rules that 2020 broke." Our last article explored how COVID-19 has resulted in new ways of working and lessons organizations learned about the importance of change management.
We'll go deeper in this article and explore exactly how organizations can innovate anywhere, anytime.
Organizations Can Pivot and Be Agile When They Have To
Many organizations have been chasing the elusive spark of spontaneity. We built beautiful and inspiring common areas to entice employees to collaborate and, hopefully, come up with the next big idea. Creativity is good for business. It keeps products competitive and drives continuous improvement. The ability to be creative and innovative is also rewarding and motivating to employees; it keeps them engaged and having fun at work.
But for many, 2020 forced common space spontaneity into the virtual worlds of Slack and Zoom. Some see this as an obstacle—how do we ensure creativity and collaboration when everyone is so far apart and distracted? Others see this as leveling the playing field—now everyone has an equal seat at the table. We can be more intentional about who is invited to contribute (now it's less random who you run into in the hall); we can also find each other more easily. Instead of having writer's block and hoping your collaborator is at their desk when you stop by, now everyone is more accessible—and they are probably sitting in a spot they have personalized beyond their office environment, feeling more creative and inspired.
What made it possible?
When the status quo was disrupted, it not only allowed new thinking to come forward more fluidly, it also provided an impetus for action. Rarely is there such a unified approach to enterprise-wide initiatives. During the pandemic, we've seen a surge of action and cohesive operations that can exist when we share a clear vision of the need and objective.
In short, the turbulence of 2020 created space and focused motivation for innovation on a scale which we rarely see.
New Rule: We Can Be Creative as Long as We Stay Connected
There are significant benefits to virtual work that make collaboration and innovation both possible and profitable
We have learned that the following factors have had a significant impact on innovation during the turbulence of the past year.
Resilience
The goals behind innovation have changed post pandemic. Initiatives were previously aimed at increasing profits and outsmarting competitors. The pandemic has taught us that well-being and, in turn, resilience has had a key impact on innovation.
Recent research at Perceptyx highlights psychological safety and well-being as key engagement drivers. The ability to shift and recover quickly from unexpected events impacts innovation. For example, manufacturing, notably the automobile industry, saw sites converted rapidly to produce ventilators and facemasks during the pandemic.
Top Tip: Create a clear and compelling vision for change, and the reasons for it. Define the benefits that will be realized through change and be sure to understand how individuals respond to it and the new pace of work it brings. What is overwhelming for one person may be invigorating for another. Focus on building capacity over time and providing the support needed for each member of your team to remain innovative.
Agile decision making
Like many other crises seen before, COVID-19 has acted like adrenaline for innovation. Barriers that once took years to overcome, seemingly evaporated overnight. An example of such agility saw tens of thousands of UK council staff, who would otherwise have been out of work following the extensive closure of local authority-run facilities, redeployed into critical roles such as social care and waste. There are countless examples of decision making that is focused, fast and has the ability to deliver new sources of value during COVID-19.
Top Tip: Encourage participation in company-wide improvement efforts and be upfront about potential change and its impact. Change is sometimes a misguided attempt to "protect" leaders because they don't have all the answers. Open and honest communication from leaders, even when they don't have all the answers, will not only improve the change adoption process but open doors to innovation from employees.
Pivoting
The "stay at home" economy saw clear "winners" in the form of online retailers, teleconference providers and digital content platforms, while business casualties were reported daily from sectors such as hospitality, travel & tourism and live entertainment. While the majority of organizations within these industries had to re-imagine their business, many pivoted their existing business model to maintain revenue, through targeting new markets and developing new products. Innovative examples include tour guide operators offering online cultural workshops and hospitality sectors deploying technology to support the shift from eat-in to deliver and takeaway.
Top Tip: Establish a protocol for gathering feedback from employees about anticipatory changes needed to remain innovative. Consult external data as well and devise a strategy that addresses future needs.
Data
Every customer and employee touchpoint is an opportunity to learn. Leaders need as much data as possible to monitor change and its impact. The ability to rapidly distil both employee and customer feedback results in the discovery of new behavior patterns that drive creative solutions. There really has never been a better time to listen to employees. Perceptyx has found that asking employees for actionable feedback on critical topics that emerge during the crisis has provided leaders with the knowledge and insight to proactively address challenges through impactful solutions.
Top Tip: Wide sharing of information is indicative of high-performance work organizations. Engage a cross section of employees in a creative problem-solving meeting to discuss the results of surveys and other data reports and make recommendations for driving creativity.
Management of virtual connections
A key benefit of the onsite traditional work environment is that connections are made and fostered. The pandemic has seen a huge shift towards virtual workspaces and practices. Remember, those enticing common areas designed to inspire, overhearing that conversation in which you learned something unexpected, and those conversations you had while waiting for the kettle to boil? They may seem like a distant memory, yet many organizations have found that remote working does not need to be any less engaging.
Virtual collaboration tools such as Zoom and Slack create opportunities for teams to increase creativity. It is easier than ever to get the right people together when needed and arguably easier to create an environment of "flow," through uninterrupted work sessions that last longer in a remote setting than in an open-plan office environment.
Top Tip: Include virtual innovation discussions in regular conversations (both formal and informal) with your team. For these online discussions, be mindful of who is present and ensure they are involved in the discussion. It is easy to hide behind a phone so encourage participants to turn their cameras on and facilitate appropriately to ensure inclusion of all individuals participating.
Inclusion Drives Innovation
As we apply these learnings on how to boost innovation in the new world of work, perhaps the most important strand that connects each and every aspect is human connection. When individuals feel safe to speak up, are part of a cohesive team and receive transparent communication they experience connection and are more likely to contribute their ideas—which is the key to innovation.