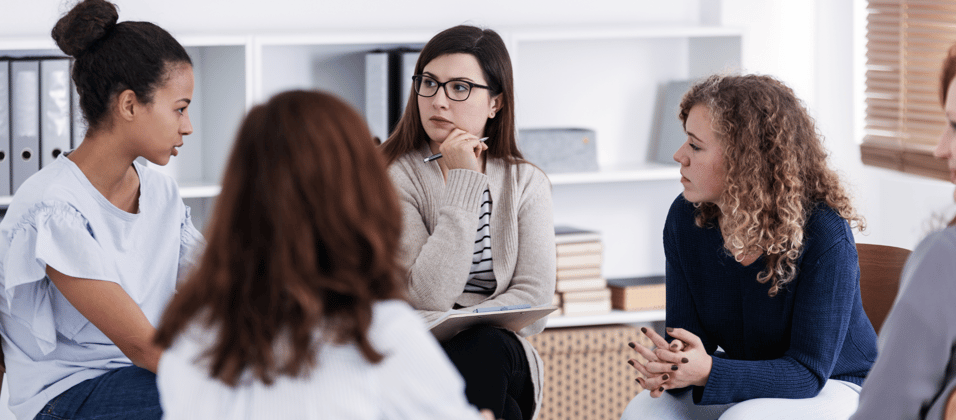 Creating a Culture of Psychological Safety
As more organizations prioritize diversity, equity, inclusion, and belonging (DEIB), the concept of psychological safety has become a major part of the conversation. One critical aspect of a positive employee experience is the belief on the part of employees that they can speak up without fear of consequences.
In a recent webinar moderated by Perceptyx Senior Consultant Tiffany Pires, Mediabrands Executive Vice President of Talent Analytics and HR Operations Annalyn Jacob, Ph.D. and Coca-Cola Consolidated Director of Engagement and Experience Jenni Knighten reflected on the role psychological safety has played in their respective organizations' DEIB journeys.
These leaders discussed how new forms of work have impacted psychological safety, what types of leadership skills are needed to foster a supportive workplace culture, and the role of employee listening in this process. Here are some of the highlights of the discussion.
Getting Started and Setting Goals
Annalyn Jacob: "For us, it truly was a business imperative in the sense that our clients had an expectation when they came to us that our organization and our teams would reflect the communities in which they are present.
"So it wasn't something that we could just make lofty statements about. We really and truly had a true business requirement for getting to that place and recognizing that. Our approach was two-pronged: How do we ensure that our organization is representative of the markets or countries where we do business? And how do we ensure that as we bring people in, we are creating an environment where they can feel comfortable, grow, and be successful?
"It's one thing to say you're dedicated to diversity, equity, and inclusion. It's another to hold your leaders directly accountable for that. A big part of our journey since then has been implementing people goals for our leadership and holding them accountable to those goals, just as we would with business goals like revenue margin."
Jenni Knighten: "Our company is 120 years old as of April 2021. And what's been really interesting is the notion of diversity has been woven into the company's fabric since the beginning. But when we really start to own it, not only do we know it's something good for our teammates, it's also good for business. We understand the idea that diversity drives value; there's plenty of research around that. The framework was there. In the last two or three years, we've really taken to operationalizing.
"What that's looked like for us is to take the notion of DEI and let it guide the way we do everyday business. We have approximately 16,000 teammates across 14 different states and D.C. When we think about our teammates being reflective of the markets they serve and going and offering Coke products or producing these things, we want to make sure they not only feel like they belong on their team and in their community but with this company at large."
Using Engagement and Listening to Support Teammates
Jenni Knighten: "The focus item from our engagement survey was a sense of belonging. In 2019, we partnered with Perceptyx to launch a teammate engagement survey. We have a really good full-circle process. So when we're digging into our employees' feedback through our Perceptyx-based survey, we then take that and use that all year. And we use it at the company-wide level for action planning. That's what led us to focus on the sense of belonging for this year.
"We have our employee relations business partners within HR. They use the engagement survey information throughout the year to run an additional program called the 'Share a Coke' conversation. It provides our employee relations business partners that insight, that information to then go out to all of our local teams at a set cadence throughout the year and sit down and say, 'Hey, I heard you and this is what we're picking up, but I want to learn more. I want to know what you've seen since you took the survey. I want to know what would make this better, or if it's something that they appreciated, how do we sustain this for your location and your team?' We have teammates that are in warehouses, production facilities, and out on the road delivering our products. And then we have corporate teammates.
I love how we have taken the Perceptyx survey information and use it throughout the year to continue the conversations and to prove to our teammates that not only are we out to gather your feedback, we're really intentional in doing something with it and creating that ongoing flow. We do our survey every fall, in September."
Belonging in Action at Mediabrands
Annalyn Jacob: "Belonging…is a focus for Mediabrands as well. When we started this journey, particularly around the inclusion side, we had an engagement survey that was run, but it covered a number of dimensions. What we realized was that if we wanted to really understand what it is about our culture that was creating that more inclusive environment and helping people feel like they belong here and helping them feel like they can bring their authentic self to work, we decided we needed a bigger survey that focused on this theme.
"We worked with Perceptyx to develop that survey and we ran it for the very first time last year. And it was really insightful in that we had some additional dimensions around things like global equity climate questions that we had never asked before. Asking employees about their perceptions of equity across opportunities, how they interact with their team, their experiences with their manager, and their experiences or perceptions particularly around executive leadership. What we found was that those were all drivers of belonging and of being able to bring your authentic self to work.
"I think for us, what definitely took us by surprise was the outsized impact that executive leadership perception had on belonging. After we first ran it in Q2 of 2021, we really doubled down on focusing on executive leadership for the rest of the year. We had the accountability piece put in place, but then it became a question of what work do we need to do with our executive leadership to get them to a place where employees are seeing that they are truly committed in an authentic way?
"Our leaders are invested in creating that environment. And what we saw when they did the work through 2021 was that by the end of the year, when we ran some of the key questions on that survey again, we experienced a big jump in our scores. A lot of it was driven by improved perceptions of executive leadership and their commitment to creating an inclusive environment."
Fostering Psychological Safety by Sharing a Coke
Jenni Knighten: "When you think about what psychological safety is, it's knowing that I'm in a team, a room, and a company where it's OK to take an interpersonal risk. When you ask yourself, if you're speaking with someone else and they're trying to ask you questions, what are those things that make this a safe space or a safe conversation.
"When you think about creating an environment that is psychologically safe, that is one of those springboards to say, you can be different, you can look different, think differently, act differently, and still be included.
"When we talk about the 'Share a Coke' conversation, in those meetings you have an employee relations business partner sitting in with teammates. But their direct managers and supervisors are not a part of that conversation. And then you have a senior leader with some responsibility in the territory or area that will participate, but they really are a fly on the wall, so to speak.
"We think about these environments where we want people to share. That's when we really figure out what people love about the place that they work or what they may find severely challenging. The notion that as a leader, knowing that I'm going to sit down, turn the phone over, not look at a screen, not type and listen, not walk and listen, but purely sit down and hear you…that might be bumpy the first couple of conversations, but what you're building is a platform of safety in that moment.
"When you have something that's super exciting or challenging, you'll then know that's an environment in which you can share it. It's a big thing to consider, but I think there are some small wins like creating those environments that will get you further than you think, quicker than you think, when you need to have a challenging conversation."
To watch our full conversation with Annalyn and Jenni on-demand, click here.
Perceptyx Can Help You See the Way Forward to a More Transparent, Inclusive Organization
As the webinar demonstrates, fostering a sense of belonging and psychological safety in your organization will enable your employees to work together to overcome even the stiffest challenges.
To learn more about how Perceptyx can elevate your organization's DEIB strategy and support an environment of psychological safety, please schedule a meeting with a member of our team.