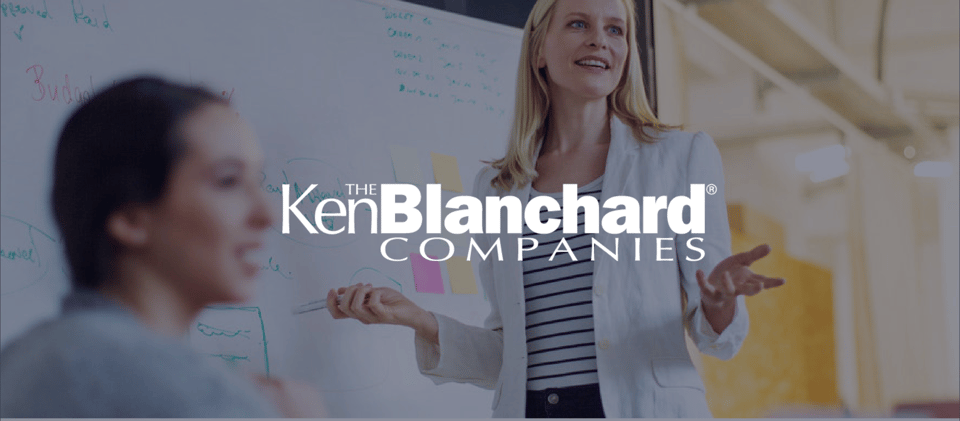 Crowdsourcing Elevates EX at The Ken Blanchard Companies
As a global leader in management training, consulting, and coaching with more than 40 years of exceptional results for some of the world's largest organizations, The Ken Blanchard Companies knows a thing or two about continuous improvement. Its mission is simple but powerful: to unleash the potential and power in people and organizations for the greater good.
Doing Good with Perceptyx
In January 2020, Ken Blanchard Companies went looking for a listening partner with a product that would enable it to gather feedback about leadership performance. The company found a unique solution, Dialogue from Perceptyx, that incorporated crowdsourcing and voting. Dialogue invites employees to share authentic feedback through an open, transparent interface, then empowers participants to co-define the best ideas and actions by voting on their colleagues' responses anonymously. The result is a more inclusive culture where every employee voice can be heard, from individual contributors all the way to the C-suite.
"Initially, [Ken Blanchard Companies President] Scott Blanchard was just using Dialogue to gather feedback about his presidency through the crowdsourcing platform," said Carey Nash, Blanchard's Corporate Communications Specialist. "However, after the pandemic began, we started using it to investigate the pluses and minuses of working remotely."
These initial uses of Dialogue provided valuable information. "Scott Blanchard was an enthusiastic adopter. He wanted people to have the opportunity to share their thoughts in a confidential environment. And we can start to see trends emerge."
Getting Better at Giving and Receiving Feedback
Perceptyx helped Blanchard recognize a number of trends to which the consulting company could direct its own expertise. For example, leaders learned that many employees were not comfortable receiving feedback and lacked training in terms of providing feedback across departments.
Blanchard also discovered that employees had concerns that went beyond the immediate subject of the employee voice process. "In November 2021, we did an employee voice process built around one of our critical metrics, which is procedural fairness — do all rules apply to all people all the time the same way? We asked all these questions about procedural fairness, yet the number one upvoted comment on Dialogue was, 'We're burnt out and need more time off.' When I took this to the CHRO, she understood that this had nothing to do with procedural fairness."
Instead, Blanchard realized their employees needed more time to unplug, which led to the addition of four wellness days to the calendar in 2022 during which the entire company was closed. These wellness days were so appreciated that going into 2023, the management team aligned certain holidays globally to create eight all-company closure days.
How Employee Data Drives World-Class Outcomes
In addition to spotlighting and then resolving employee concerns, Perceptyx also helped Blanchard drive significant improvements in employee engagement between 2021 and 2022. For example, in 2021, the statement, "I feel comfortable providing feedback to members of my team" — a critical challenge discovered through the use of crowdsourcing — stood at 75% positive. By 2022, with Blanchard's interventions related to giving feedback in place, that figure had increased to 82%. "I receive coaching and feedback from my manager on a regular basis" rose from 69% to 75%; "I receive appropriate feedback on my job performance to know how well I am doing" went from 71% to 83%; and "The feedback I receive allows me to make improvements in my job" increased from 75% to 81%. This improvement speaks both to the value of Perceptyx's ability to pinpoint problems, as well as the effectiveness of Blanchard's leadership training at resolving them.
"My work energizes me," a statement tied to the challenge for which wellness days were a response, grew from 72% to 79%. "I am enthusiastic about working here" rose from 78% to a staggering 94%. Most importantly, the overall positive rating went from 73% to 82%, a significant improvement at a company that already had a strong workplace culture in place and experienced very little turnover.
Career Development Helps Employees See the Way Forward
A future opportunity for the company involves emphasizing internal career progression, a key factor of the employee experience that recent Perceptyx research has shown is more important for long-term retention than compensation.
This is essential to Blanchard's continued steady growth. "We want people to grow with us — we want them to contribute to our culture over the long term," said Nash.
Sustaining a Continuous Conversation With the Perceptyx Platform
Being empowered to answer specific business questions, coupled with fast time to data, is what truly differentiates this listening partnership. "Dialogue lets us work dynamically at speed and scale," explained Carey Nash. "You don't sit on your hands while your people nurse bad feelings about issues we have the ability to easily resolve."
Read the full story to learn more about how The Ken Blanchard Companies has partnered with Perceptyx to embed employee listening into its organizational culture. Schedule a meeting with a member of our team today to learn more about how Perceptyx can help your organization.