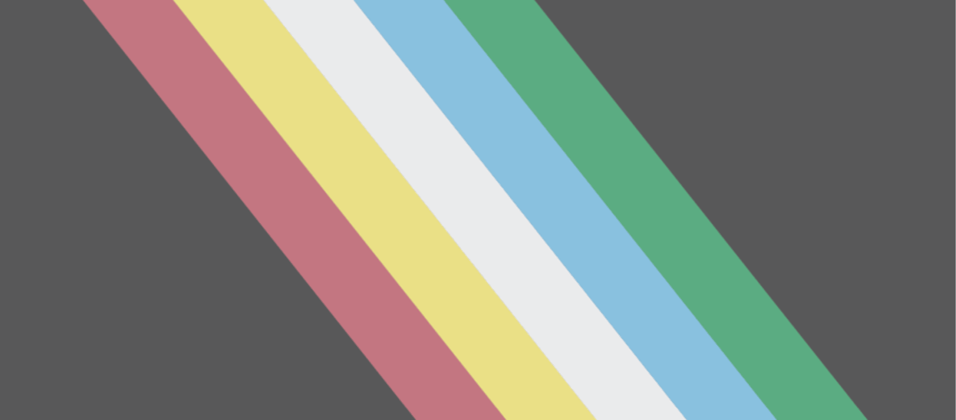 Disability Pride Month and the Role of Employee Listening

Image Source: The Disability Pride Flag was created by Ann Magill, a Disabled woman, to represent the many different people and parts of the Disability community.
July is Disability Pride Month, a time dedicated to promoting visibility and mainstream awareness of the positive pride felt by people with disabilities. All too often the focus is on what people with visible or invisible disabilities can't do, rather than their tremendous accomplishments and capabilities, which this month spotlights. Disability Pride Month also provides us with an opportunity to highlight a critical aspect of employee engagement, inclusion, and overall wellness: employee listening, particularly for those with disabilities.
The concept of disability varies globally but generally encompasses mental, cognitive, physical, and sensory conditions. In light of the pandemic-induced surge in diagnosed anxiety and other mood disorders, addressing disabilities of all forms, including "temporary" ones such as recovery from injuries or surgery, has become more critical than ever.
COVID-19's impact has disproportionately affected the disabled community, comprising 60% of the pandemic-related deaths. Accessibility to resources and accommodations remains a significant challenge, leading to marginalization of disabled people in various fields, including healthcare — an industry in which I do the majority of my consulting. For instance, a recent study revealed that only 1% of UK medical students self-disclosed as having a disability, significantly lower than the 19% representation of working adults with disabilities nationally. Such disparities illustrate the urgent need for improved representation and inclusivity in our workplaces.
The Importance of Representation
A lack of representation can negatively impact patient care and hinder the healthcare field's progress. Amplifying representation and support could motivate more people with disabilities to join the field, thus cultivating a more diverse and inclusive healthcare environment. Furthermore, it is essential to raise awareness about "ableism," as an estimated 80% of doctors reportedly grapple with such biases. Given blindspots like these, employee listening can play an important role.
Best Practices for Employee Listening: Creating an Inclusive Environment
Listening to employees and then acting on their feedback is crucial for fostering an inclusive environment. By encouraging respectful communication and using specific strategies, organizations can better understand and accommodate their employees, including those who have disabilities. Here are some concrete steps and best practices for enhancing inclusivity and accessibility through employee listening:
Promote Respectful Communication: Create a culture where respectful interaction with colleagues with disabilities is the norm. Teach your team how to respectfully communicate with those who have a variety of disabilities. For instance, do not touch someone's assistive equipment without asking, don't grab a sight-impaired person without first asking if they would like assistance, and avoid raising your voice at hard-of-hearing individuals.




Encourage Implicit Bias Awareness: Implicit biases can affect our perceptions and behaviors without us even realizing it.

The Harvard Implicit Bias Test

is an excellent tool for increasing self-awareness and promoting understanding, including a test specific to evaluating our perceptions of those with a disability.


Adapt Your Workplace Environment: Consider changes to the workplace layout to accommodate various disabilities. For example, using face shields instead of masks for individuals who are hearing impaired and rely on lip reading. Another key practice is ensuring accessibility in virtual settings. Turning on subtitles for virtual meetings is one way to accommodate those who are hard of hearing, particularly if speakers are wearing masks. Also, adding Alt Text to all visuals or photos in presentations allows visually impaired individuals to access information through a reader.


Update Your HRIS File: Human resources information system (HRIS) files frequently have gaps in the information they collect.

Employees may also intentionally omit this information

due to concerns about confidentiality. Consider asking employees to self-disclose if they have any type of disability, voluntarily and privately within their employee profile. Ensure people understand why this is an option and why it's important: so that a very limited number of people in the organization within HR can evaluate discrepancies between opportunities and employee experience based on whether or not an individual belongs to a marginalized group.
These practices can not only provide a more accurate representation of your employee population. They also offer valuable insights into unique engagement drivers and potential issues of attrition. Identifying and addressing unintentional practices that may communicate a lack of accommodation or inclusion is a significant part of this process.
For instance, one manufacturing company unknowingly implemented a harmful practice by introducing a "stoplight" system to alert staff of hazards. Red, yellow, and green flags indicated varying levels of danger. However, this system failed to consider color-blind employees, leading to severe injury. This unfortunate incident underscores the importance of considering all employees' needs when implementing new policies or systems.
Monitoring Inclusion Through Employee Listening
Perceptyx's listening products provide a platform to monitor your organization's progress in terms of inclusivity and accessibility. Our surveys include core items that address essential aspects of belonging and fair treatment. Here are just a few of the questions included in the Perceptyx Benchmark Database:
I feel like I belong at our company.
All employees, regardless of their differences, are treated fairly.
My team values differences among employees such as age, race, gender, family status, veteran status, national origin, disability, or sexual orientation.
This organization makes efforts to support the advancement of diverse candidates.
These questions capture a broad spectrum of diversity, equity, and inclusion (DEI) aspects, going beyond visual or phenotypic differences (like ethnicity or gender) to encompass cognitive, behavioral, and sensory differences.
Accessibility at Perceptyx: A Commitment to Inclusivity
At Perceptyx, we prioritize inclusivity by continually enhancing our own accessibility policies. Our commitment includes:
Adoption of Accessibility Tools: We utilize tools such as

TPGi's Colour Contrast Analyzer

to ensure our products meet accessibility standards.
Accessibility Guild Meetings: We hold internal monthly meetings to discuss important accessibility topics and share accessibility standards, fostering an inclusive culture.
Accessibility Resource Hub: Our internal hub contains important documents detailing our standards and role-specific guides to help team members understand their role in implementing accessibility.
Accessibility Office Hours: Weekly informal discussions are held internally to provide our team an opportunity to discuss accessibility challenges and solutions.
These initiatives, coupled with our employee listening solutions, ensure that each employee feels a sense of belonging and fairness in our organization, and provide our end users an inclusive experience. Our aim is to honor every employee's differences — including cognitive, behavioral, and sensory differences — that are integral to an individual's identity and operation.
The Call to Action: A More Equitable Workplace Starts with Listening
By implementing these strategies and best practices, companies can not only create a more inclusive and accommodating work environment but also increase engagement and decrease attrition among their employees with disabilities.
Perceptyx's strategic listening and actioning programs are purposefully designed to impact your employee experience and strengthen your organization's values for inclusion and fair access. Speak with a member of our team today or take our free interactive listening maturity assessment to learn how your organization stacks up.