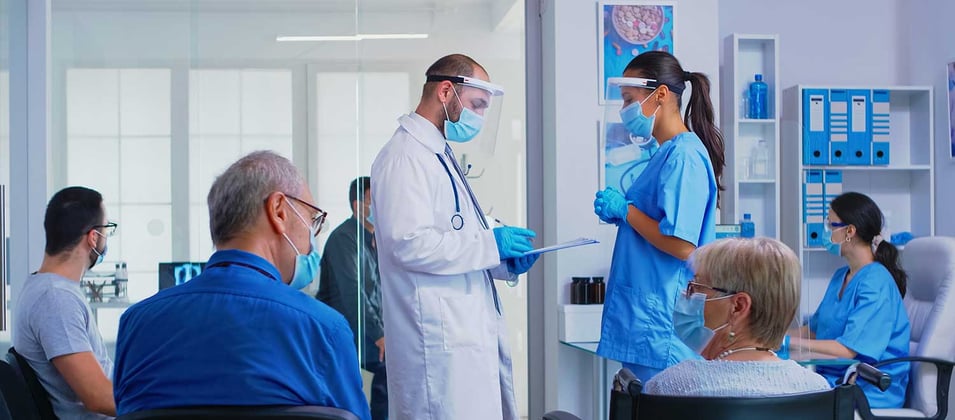 Why an effective listening program is critical for healthcare organizations during (and after) COVID-19
Over the past six months, Perceptyx has compiled the responses of nearly 750,000 healthcare employees, who answered a series of COVID-19 specific surveys and broader employee experience surveys. The results are illuminating, underscoring the need for effective listening programs.
An effective listening program is even more critical during turbulent times particularly when healthcare providers are at the epicenter of the turbulence. Having an effective listening program is critical to lowering your workforce's stress, maintaining engagement, and, in turn, leads to optimal patient care.
Fine-tuning your listening program to better understand what matters to your employees and promote the well-being of healthcare workers will pay dividends well after the COVID-19 crisis has passed. We know that listening is important—but we also know that how we listen and how we take action are equally important.
Our research has shown that listening to employee feedback—and taking action on that feedback—is critical for six key reasons.
Six benefits of an effective listening program
1. Listening shows that employee opinions are valued.
Particularly during times of high stress, asking employees to share their opinions through surveys shows the organization cares what employees think, and is interested in understanding how the employee experience can be improved.
In particular, asking employees for feedback and suggestions demonstrates that the organization values their expert opinions. At the same time, it gives the organization specific, actionable feedback.
2. Listening communicates to employees that their well-being is valued.
Research Perceptyx conducted in the early weeks of the pandemic revealed that authentic communication from leaders about the crisis has a huge impact on employees' perceptions of the priority the organization places on employee health and safety.
Healthcare workers have faced the most demanding safety challenges of any frontline workers in the pandemic. Our research shows that listening has a significant impact on their perceptions. Asking for employee feedback on COVID-19-specific questions demonstrates that the organization is prioritizing employee health and well-being, and values employees as people, not just as workers.
3. Listening guides data-based decisions and action.
In addition to communicating the message that the organization values employee opinions and well-being, listening provides leaders with timely, relevant data to guide decision-making. Decisions based on reality rather than assumptions enable targeted actions to address what matters most to employees—and will provide the most benefit to the organization.
4. Listening helps leaders understand differences in employee perceptions.
Most of us have a blind spot when it comes to the perceptions of others, and leaders are no different. It is difficult to put yourself in another's shoes and view the world through their eyes. Without the daily lived experience of another person, it's nearly impossible to understand why they feel the way they do.
Listening to employees helps break down that barrier, so leaders can better understand employee perceptions. By breaking employees into groups according to their job titles, locations, tenure, or other characteristics, leaders can gain insight into how different groups perceive their work environment and the targeted actions that can be taken to improve the experience of specific groups of employees.
5. Listening allows leaders to evaluate the effectiveness of actions.
Collecting employee feedback allows leaders to understand employee perceptions related to new protocols, the effectiveness of organizational communication, resources available to promote employee well-being, and other changes. Surveying allows the organization to collect real-time feedback to assess employee perceptions and promptly course-correct when needed.
6. Listening drives better business outcomes.
Ever since the Harvard Business Review published Putting the Service-Profit Chain to Work in 1994, we've understood that high employee engagement has a measurable impact on customer satisfaction and business profitability.
Research in the years since has reinforced this correlation. In the healthcare space, a high level of employee engagement is demonstrated to correlate to higher patient satisfaction and a patient perception of better care. In short, engaged employees do better work, which produces better business outcomes.
Main Takeaway
Listening is at the core of engagement. An organization cannot provide employees with what they most need and want if it does not know what matters most to them. An effective listening program is tuned to answering those crucial questions—and then taking action to improve the employee experience.
But perhaps most importantly, listening to employees and taking action to improve their work experience communicates that employees are valued by the organization. People perform better when they perceive that their contributions are valued, and they feel more connected to their work and their organization. This bond of mutual respect pays dividends in the form of greater employee loyalty, higher productivity, lower turnover, and higher profits.
In healthcare, an effective employee listening program sits at the heart of the organization's mission to provide optimal patient care. In itself, that is reason enough to rethink your listening program to ensure that it aligns with current conditions and needs.