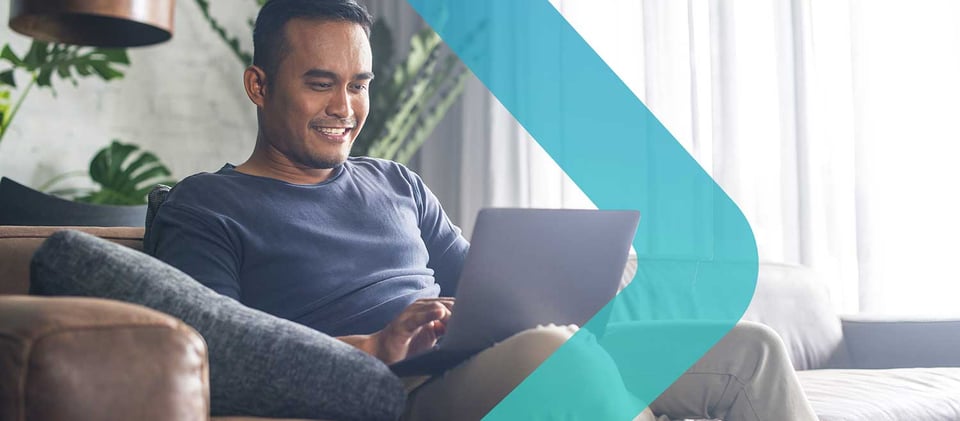 Josh Bersin on Employee Experience In 2021 and Beyond: Listening At Scale
The employee experience has gone from ten years of economic growth and digital expansion to a year of pandemic-related disruption, stress, and mental health challenges, to today: an opportunity for real business recovery as we emerge from the pandemic. The only word that really summarizes it all? Transformation.
Josh Bersin's Employee Experience
Josh Bersin, long-time HR industry analyst and Founder of the Josh Bersin Academy, and our own Brett Wells, PhD discussed the impact of this change on People leaders earlier this week during our latest Insights webinar.
The reality is that every business is being transformed on a regular basis. There are very few companies left that can avoid the pace and impact of change, especially as we see disruption across all industries.
Inevitably, we see this same phenomenon (disruption followed by transformation) affecting the workforce -- from where and how we work, to issues of equity and inclusion, to training and scaling careers.
Future of Work Depends on Becoming a *Really* Good Listener
At this moment, virtually every company is thinking about the return to work. Yet 2021 is still full of uncertainty.
In order to succeed, organizations will need to become comfortable with uncertainty. But keep in mind that uncertainty isn't necessarily bad. It simply means our organizations must design for it. And one way you design for uncertainty is by becoming a really good listener. For particularly large organizations with globally distributed teams, listening at scale is more critical than ever.
The New War for Talent
Despite the reality that unemployment remains high in some sectors and geographies, a new war for talent is emerging in many others, with job openings in industries such as transportation and logistics, healthcare, and customer service growing by double-digits year-over-year.
Figure 1. The New War for Talent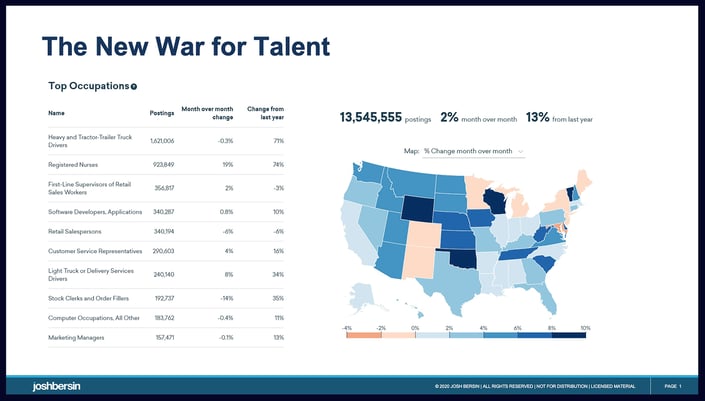 With this growth in hiring, new challenges will emerge. One noted by Josh Bersin on the live discussion was the generational expanse now represented in the workforce, in some cases spanning 5-6 generations, from ages 18 to 75.
The Resilient Model of HR
Many companies discovered in 2020 that, when forced, they could do things much faster than before. Projects that previously took years could now be completed in months, and things that often took months could be completed in weeks. This has created a new, resilient model of HR -- an environment or operating model where you identify a problem, and then address it by convening stakeholders and prescribing action, almost immediately. Resilient organizations do this at both the local and global level.
Figure 2. The Big Reset in HR: New Operating Model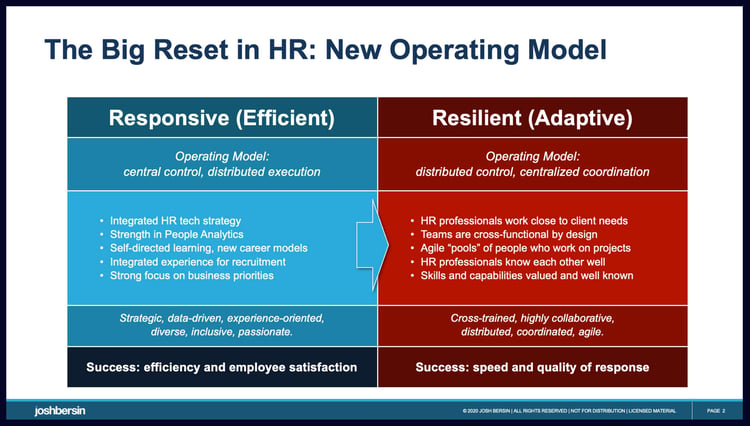 One of the challenges for effective employee listening is that HR, as a business support function, is a federated part of the company: centralized groups for talent management, recruiting, training, benefits and comp, business partners, and more. As a result, individual team members are getting signals at all levels. For example, a recruiter may pick up a worrying signal about an issue in the employment brand unseen by other members of the HR team.
This is where listening at scale is crucial for business resilience. If that recruiter isn't able to validate and share information about potential issues, then HR (and the business as a whole) isn't able to act on it.
More evidence to support this can be found in the Josh Bersin Academy pandemic response study published last fall, which identified the top ten practices for business resilience. Number two was the most highly correlated of all: aggressively listening to the workforce to define return to work plans.
Employees Are a Trusted Source of Information
Years ago when it came to employee listening, the task was often left to the head of employee engagement. These individuals were frequently psychologists, academics, or statisticians leading large projects that could run for months, but not yield any meaningful results linked to business outcomes.
Today, executive leaders need more timely and comprehensive information. For HR professionals and line-of-business executives alike, employees are one of the most trusted sources of information. Employees spend large portions of their lives with your company and are heavily invested in making sure it succeeds. So when they see a problem or submit a complaint, they are often doing so because they want to see the company improve. The ability to listen to employees is one of the most strategic things a leader can do. To do so successfully, they must design a listening strategy, collect information from multiple channels and sources, and put it into action.
The Expanded Mission of Listening is Complex
Given the complex nature of today's workplace, there is a wide range of topics that modern employee engagement strategies must encompass. This has challenged many organizations to pivot away from a one-time survey in favor of a smaller, more frequent listening model that enables them to get information quickly, correlate it, identify the outliers, and communicate the results to develop an action plan. In many ways, this has defined the new role of a resilient, data-driven HR organization.
Figure 3. Wide Range of Employee Experience Issues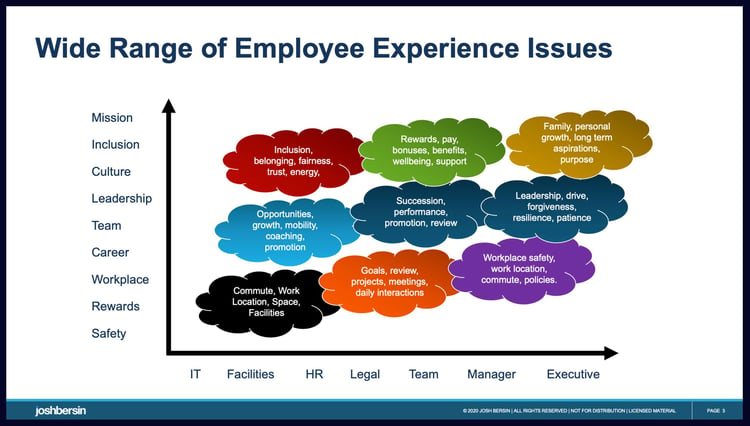 Considerations for Listening at Scale
As most People Analytics practitioners know, there are many available data sources and survey approaches, including annual surveys, pulse surveys, performance reviews, onboarding and exit surveys, and more.
However, a key component to listening at scale is leveraging the right technology tools in order to act quickly, ensure data integrity and more deeply understand business needs.
As you approach listening at scale and consider your technology support options, keep these key considerations in mind:
Collecting information. What information are you collecting? Are you designing for multiple employee roles, country populations, and cultures? How are you collecting the data, and through what channels? How important are speed and the ability to iterate content quickly?
Analyzing information. How will you assess and correlate specific trends and insights, such as demographic differences? How will you analyze themes emerging from survey comments?
Distributing insights and taking action. How will you share and distribute the resulting information to company stakeholders? Are visual dashboards and other graphical data elements important? What about different views of the data for specific managers or business units?
Figure 4. Listening at Scale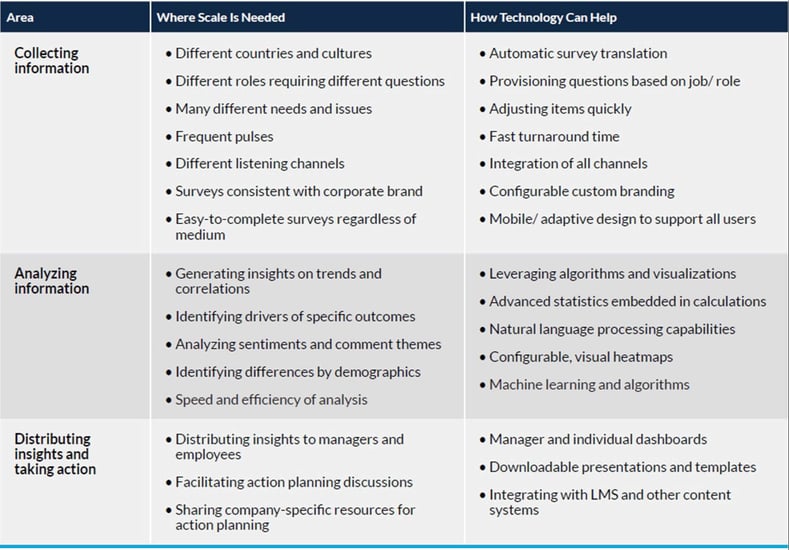 An effective employee listening strategy, and the ability to implement and execute that strategy at scale, is fast-becoming an enterprise level capability. It's time to think beyond the annual employee engagement survey, and realize the depth and breadth of data available to positively impact both talent and business outcomes.
To learn more, download the full report, or contact us to request a 1:1 meeting with a Perceptyx team member.