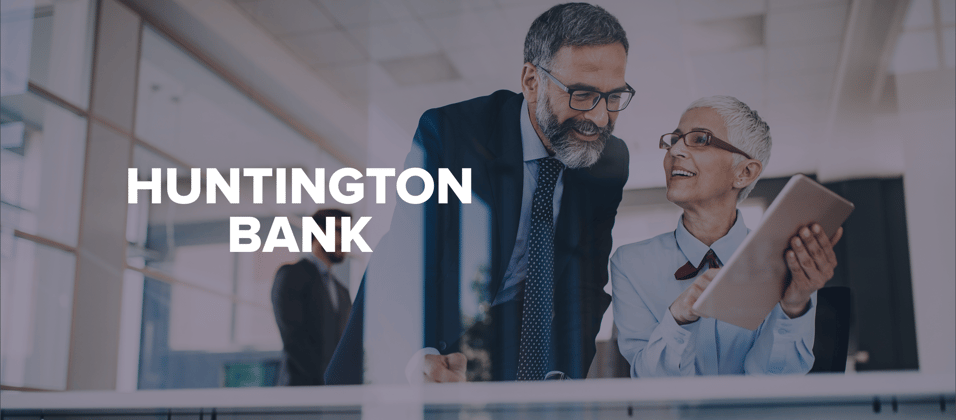 Employee Feedback as Currency: How Huntington Bank Funds a Thriving EX
Huntington Bank is a $179 billion asset regional bank holding company headquartered in Columbus, Ohio. Operating more than 1,000 branches in 11 states, Huntington prides itself on "doing the right thing" with a can-do attitude, service heart, and forward-thinking.

Employee Listening Is Mission Critical
Matthew Hall, who serves as Huntington's Director of Culture, understands how listening supports all parts of the organization's core values and mission. He has spent his entire career — nearly 37 years — with the company, a relationship that dates back to his sophomore year at Ohio State. Throughout his most recent 6-year role as Director of Culture, Hall has worked closely with Perceptyx to execute the firm's listening strategy and drive world-class organizational outcomes.
For Hall, the most urgent need at the beginning of Huntington's relationship with Perceptyx was the ability to ensure that leaders had all the information needed to quickly act on the relevant insights. "Before Perceptyx, it was all about the results of the surveys, but that involved looking at the top of the organization as opposed to taking it down to the team level and emphasizing that each manager who receives team results can take the appropriate action. We would spend lots of time doing something at this macro level. The managers would eventually receive paper reports, but they didn't do a lot with them."
With Perceptyx's help, Huntington was able to disseminate survey results in just 2-3 weeks. On top of that, Perceptyx dove deeper into the survey data to help Huntington understand specific challenges. "Early in the engagement, this helped us get a handle on turnover," Hall said.
Taking Action to Drive Continuous Improvement
With regard to specific interventions made possible through listening, Hall pointed to a situation at some of their consumer branches related to "call nights," designated evenings when select bank employees would stay at the branch later than usual to reach out to customers. "There was a consistent theme in the listening data about how our people were not able to spend time with their families. Within a few weeks of analyzing these insights, we stopped doing call nights."
Last year, Hall and his colleagues noticed similar trends in the data regarding Saturday operating hours for the consumer branches. "There are changes that we're making because we can see this feedback in a way that enables us to quantify it and show leadership that it's not just 10 people who are upset, but consistent feedback across geographies."
One key finding in the listening data highlighted the connection between formal, manager-led action planning and higher engagement — the key to continuous improvement. "When colleagues see that managers have done something with their feedback, we see 15% to 25% higher engagement. We're at a place where 75% of managers are doing formal action planning, which is really good," Hall said.
Another notable improvement involves a reduction in the length of Huntington's annual survey. "At the time we first started, we had 100 questions on the annual survey," said Hall. "Until right before the pandemic, we still had close to 50 questions. Now we're around 30 questions, which takes colleagues about 10 minutes and 30 seconds to complete, on average. Perceptyx helped us understand what our most important questions were."
Listening to Understand the Employee Lifecycle
Huntington has utilized Perceptyx to better understand its onboarding process, a make-or-break period in the employee experience. Said Hall: "We do onboarding with Perceptyx, surveying new colleagues four times in their first year. We also do exit surveying with Perceptyx, and we're getting much better levels of reporting than we did with the prior vendor. Our completion rates for the exit surveys fall between 60% and 65% of people who receive the survey, which is much higher than what we were previously getting. Before this, we were in the 25% to 30% range. This is critical data to have in terms of understanding where your organization is at any given point in time, so the fact that we're getting more of it is a major improvement."
A New Perspective on Employee Well-being
Fast access to quantitative, actionable data is important on its own, but Hall emphasized the value of what the engagement with Perceptyx allows Huntington to do: have candid and sometimes difficult conversations about topics like well-being and flexibility.
"What listening has allowed us to do is strategically dig into some different areas. When you think about emotional, mental, and physical well-being, having the data in front of you enables those conversations to happen because now you're seeing the whole picture. It isn't taboo to talk about well-being or flexibility anymore, because the data from the listening you're doing serves as the foundation for those conversations, which in turn lead to improvements in your organization. Our colleagues expect us to ask, get feedback, and then act on that feedback. We've solved organizational challenges and opened up conversations with our colleagues that we never could've done before. We're not going to go back to what we were doing prior to this."
For Matthew Hall, Perceptyx has become an integral part of the Huntington family. "I realize this sounds corny, but Perceptyx is family. We meet with the Perceptyx team every week throughout the year. We have a standing meeting on the calendar. We deal with recurring subjects like the annual survey, or new projects like the manager survey we were trying to stand up."
Read the full story to learn more about how Huntington Bank has partnered with Perceptyx to embed employee listening into its organizational culture.