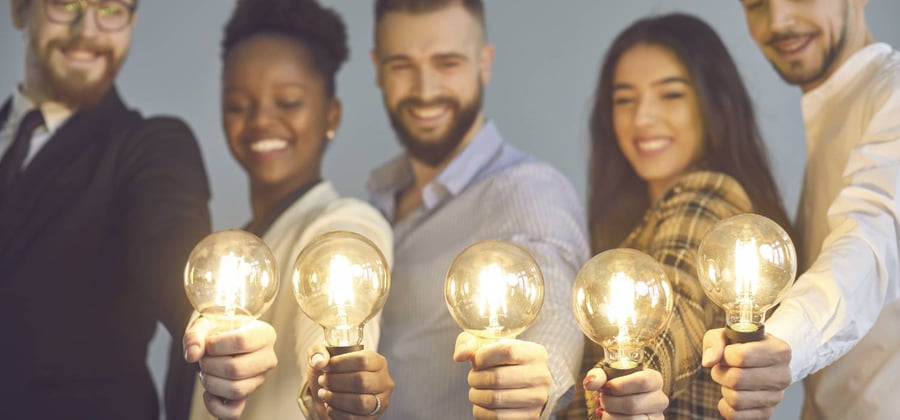 How To Zero In On The Employee Insights That Matter
Want to harness the power of employee insights to improve your company's business outcomes? Perceptyx can help.
Employees are generating data constantly, creating mountains of noise. Extracting insights from the noise can be difficult in itself—but identifying the insights that matter most for your business is even more challenging. Recognizing the employee insights most important to your company's success requires expertise and practical knowledge about how those insights connect to improvements in business outcomes.
Many providers can help you collect employee data—but not all of them can help you zero in on the insights that matter. At Perceptyx, our approach is to help you separate insights from minsights—those insights that may be interesting, but can't help you accomplish your goals. We not only help you collect data; we help you identify what matters and how it connects to your business strategies—and your desired business outcomes.
Perceptyx is head and shoulders above other people analytics providers in several important ways:
Our ability to construct a people analytics program customized to your unique needs and challenges is unsurpassed.
We've built a world-class employee survey and analytics platform that is easy to use and can quickly interpret your employee data to provide the distinct insights you need most.
Our consulting services are second to none. We've worked with everyone from startups to the world's largest, most well-established companies, teaching them what we know and empowering them to maintain a cycle of continuous improvement within their organizations.
If you'd like to see what thoughtful people analytics paired with the best platform and best consulting can do for your company, fill out the form to the right for a demo of the Perceptyx survey platform and a consultation. We'll show you how we can help put your organization on the path to continuous improvement.
As study after study confirms the connection between employee insights and favorable business outcomes, companies of all types and sizes are increasingly eager to collect and analyze employee data. But too often, a lack of focus prevents organizations from realizing the full benefit of thoughtful people analytics.
At Perceptyx, we understand that a scattershot approach to collecting and interpreting data can be worse than not seeking employee feedback at all. That's why we start with a focus on our clients' business strategies, goals, challenges, and opportunities—because employee insights connected to these crucial elements are the keys to improving business outcomes.
Zero In On The Employee Insights That Matter
Our approach is designed to identify the employee insights with the greatest potential to produce the specific business improvements most important to your organization.
Whether you're focused on increasing diversity and inclusion, identifying the most beneficial training and development programs, improving collaboration, or solving labor and union issues, we can help you get to the employee insights most critical for helping you see the way forward to your goal.
Follow Through With Action To Improve Business Outcomes
Employee insights—even the most important ones—will not drive improvement in and of themselves. Without action, insights become little more than interesting data points, and surveys are just a check-the-box exercise. That's why we follow up, helping our clients plan action around those critical insights and follow through on actions to drive improvement.
Having lots of employee data is great. But for Perceptyx, solving real problems and empowering our clients to better control their own destiny is always the goal. Ultimately, we strive to make our clients the heroes of their own story, by providing them with the best tools and guidance to create and sustain continuous improvement in their organizations—so they can see the way forward to greater business success.
See The Way Forward To Continuous Improvement In Your Organization
The Perceptyx survey platform gives you the flexibility to develop a thoughtful and logical listening strategy that fits the needs of your organization. Combined with support from our analytics experts, our platform can help you keep your finger on the pulse of your people's perceptions, so you can provide the support they need to be productive, successful, and engaged.
Request a demo to see how we can help your organization develop the perfect listening strategy for your needs.