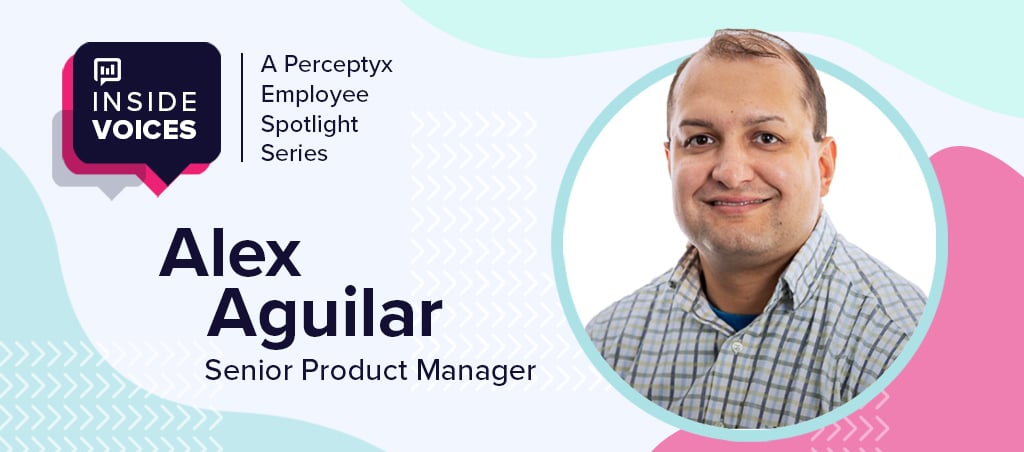 Inside Voices: A Perceptyx Employee Spotlight Series

By Deidre Moore - September 06, 2021
Welcome to the September installment of our "Inside Voices" blog series, where we get to meet some of the talented folks behind the scenes at Perceptyx. Our product team has been very busy as of late, so we were excited to connect with Alex and see what he might be willing to share about upcoming releases. Well, suffice to say this product manager and teacher should have considered a career at the CIA. But we didn't walk away completely empty-handed! Read on for our full conversation.
Q. Can you share a little about your role as a senior product manager and what initially drew you to Perceptyx?
In my time before Perceptyx, I repeatedly found myself identifying, designing, and launching product solutions for business challenges my team or organization faced. For example, while working for one of the world's leading telecommunications companies, I found that my team spent a great deal of time manually running reports on massive data sets – we're talking hundreds of millions of rows of data. I researched different techniques and automated most of the process, which saved us hundreds of thousands of dollars in personnel tied up in the project. This helped my team become more strategic and proactive in how we managed and reported on the data. I have a passion for identifying challenges for professionals and developing creative and powerful ways to neutralize or evaporate those challenges so we can all be better.
This is essentially what brought me to Perceptyx, in the product department specifically. Perceptyx is growing incredibly fast and has grown and attracted an amazing team of people with the same passion and diverse skillsets and backgrounds.
As a senior product manager, I get to be the CEO of many of our flagship products and deeply impact the solutions we deliver to our customers every day. It's fulfilling work, and the people I get to work with and learn from are some of the smartest, most passionate people I've ever met. It's a place where anyone can have a great idea and get the support to pursue making it a reality. We want to bring the same power and obstacle-busting ability to our customers.
Q. Over your career, you've spent several years as a professor and teacher, specifically with The Chicago School of Professional Psychology. How has your time in the classroom translated into the corporate world?
I've taught advanced graduate statistics and dissertation development for almost 10 years, and it's great work that I enjoy. However, the impact of this position goes both ways.
I bring real-life application of the course material to my teaching sessions, and I get to stay sharp in the latest research in key areas of psychology and statistics. The other piece that I appreciate is the perspectives I hear from my students. The Chicago School of Professional Psychology is chiefly a program for working adults, so most of the time, I'm not supporting students fresh out of undergraduate programs. Instead, I'm working with vice presidents of large pharmaceutical organizations pursuing their doctorate, marketing professionals, or managers at manufacturing plants, etc. I have the pleasure of interacting with professionals from all walks of life to discuss how they view and use people analytics to do their jobs today, as well as the jobs they want to have once they earn their degree. This gives me invaluable insight into how diverse, hard-working people could be helped by what we do at Perceptyx.
Q. A big part of a product manager's job is building a deep understanding of the market segments they target and the specific pains their product solves within that market segment. Can you talk a little bit about your process, and how you engage with our customers and other internal stakeholders to inform that process?
We pay incredibly close attention to our customers' needs and market trends to identify and address their pains and anticipate emerging trends and opportunities to make their lives even easier. We have regular input to build our market understanding through sources like our Customer Advisory Council, market research, frequent surveys of various customer segments, and research into workforce and technology trends.
We also have deep relationships with our customers across every industry line. Every day, I hear from customers and our partners about the problems they're trying to solve and what about people analytics excites them. We can't just keep pace with the latest challenges; we need to be ahead of the next hurdle to help everyone over. That's the kind of speed and sensitivity to market needs that have made Perceptyx an industry disruptor since day one.
Q. I would never want to be a spoiler, but is there anything you can share about what you're working on now, or what product advancements our customers might see in the coming months?
While I'm very excited about what we have in the works, I don't know how much I can share at this point. We've made some pivotal investments and advancements that are going to revolutionize the people analytics space. We have many really big things in the pipeline, not to mention the growth we've experienced through the acquisitions of CultureIQ and Waggl. Our plans for the next few years are very ambitious and honestly excite me as an analytics and product nerd. It's going to be a fun ride!
Q. At Perceptyx, we're all about helping organizations capture and respond to the voices of their employees. How has working here changed your thinking about what it means to be an engaged, fulfilled employee?
I've been on the other end of the table in previous roles – first as a customer of Perceptyx myself sitting in the people analytics team at a global Fortune 100 company, then within the customer data and insights team for the telecommunications company I mentioned earlier. I've been looking at engagement data for more than a decade, on top of my doctorate in this space. Perceptyx has shown me that delivering engagement at scale can be massively fulfilling. I get to make a difference for hundreds of thousands of people every day in the place where they pursue some of their most important goals for personal growth and forge meaningful relationships. I know the experience we help deliver and sustain makes their lives better and enhances their mental, physical and emotional health. They can then take that energy home to their families and continue to spread the wealth of health. That's made my time at Perceptyx meaningful to me.
In terms of our customers, I've been able to see that while factors like feeling valued, perceptions of career advancement, and personal growth are always crucial to engagement (even through pandemics!), what engages people is unique from one organization to the next, and one team to the next. The Perceptyx approach to content design, data capture, analysis, and reporting allows organizations to understand the nuances of their engagement story and empowers them to take systemic or surgical action and create powerful interventions. Understanding what's unique in driving engagement helps preserve not only the relationship that employees have with the organization and their work, but it also preserves and enhances culture and employee wellbeing.
Q. What voices have been most meaningful in influencing your life and career?
One of the things I try to keep in mind when I'm working with others or with data is that what people do and how they behave is not necessarily reflective of who they are. Essentially, I'm constantly trying to keep from falling into Fundamental Attribution Error (FAE, for you social psychologists), pioneered by Edward E. Jones and Victor Harris in 1967. This is the tendency to believe that the way people act is because of who they are but discounts the environmental impacts on their behavior.
Practically, this has helped me understand that when a coworker seems short with me, it might just be that they're under a tight timeline and not that they're rude. It helps me with students, often grappling with a lifelong fear of statistics, to realize that they aren't hesitant or lazy people. Instead, they might be struggling with their assignments and asking many questions because they're facing down a fear.
It helps me see organizations or groups with low engagement and understand that this isn't a collection of people who are predisposed to be disengaged. They're likely people who want to be engaged, and we need to understand and help their environment improve so they can have a better work-life. We can never assume anyone's intent; we can only give them the benefit of the doubt and work together.
Q. What's one thing your coworkers would be surprised to learn about you?
It's likely not a surprise to many that I'm a hobby guy – I mean the one thing people know about me is I like 3D printing. However, the surprising bit is that I love to build bicycles in addition to my many 3D printers. And by build, I mean I take a pile of parts (frame, rims, spokes, brake/shifting cables, and everything else in between) and build a bike. I have a mini bike repair shop in my garage that would rival any local bike shop!
Q. What's your favorite thing about working at Perceptyx?
That's easy … the people!