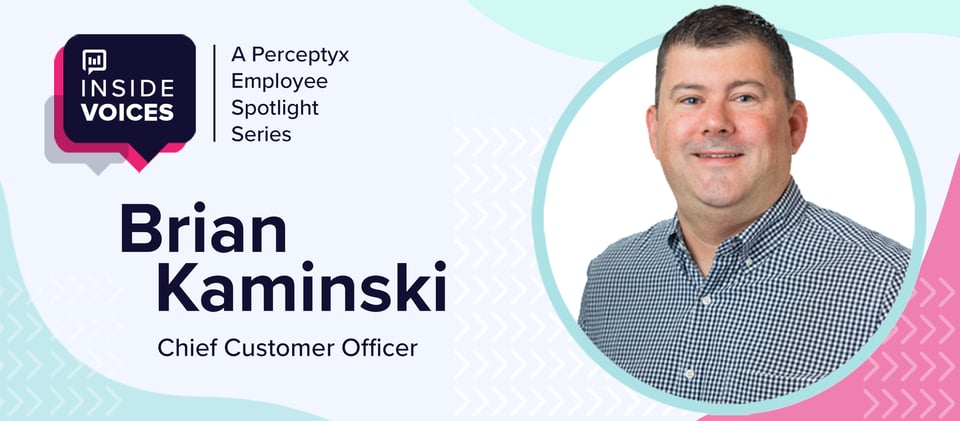 Inside Voices: A Perceptyx Employee Spotlight Series: Brian

Deidre Moore
Many of us have onboarded into new roles during the pandemic, and it's…different. For this month's spotlight, we wanted to get the perspective of a Perceptyx newbie. Brian Kaminski joined the company as our first Chief Customer Officer back in August. During our conversation, Brian shared his early impressions of the company, why customer success is analogous to having a great personal trainer, and some great advice he received from his dad.
Q. Congratulations again on becoming Perceptyx's first Chief Customer Officer! What initially drew you to the company, and now that you have a few months under your belt, what excites you most about the opportunity?
Initially:
I've been at companies that listened to team members, cared about their opinions, and acted upon ideas, and those that did not. Those that did have always been more successful and better organizations to be a part of, so I've seen the power of listening and taking action. I was excited about making such a big impact for customers and for so many humans. I also loved the orientation to making customers successful and the desire to practice what we preach. I have evolved myself from leading services teams in the agency space to SaaS, and I was excited to lead a customer success (CS) function going through a similar evolution. Finally, I found strong personal alignment with members of the Executive Leadership Team and wanted to partner with them to build upon this great foundation for success.
Now:
I'm very excited that all of my initial items are true. I've also been amazed at the welcome, the commitment of the team to evolve and win, and how amazing they are as people (both talented and great humans). I can also see the impact we're making for customers and am so excited for our product roadmap, which along with the evolution of our delivery models will enable even more impact. Internally, I'm excited about working with our team members to grow their skills and careers as we grow this business.
What can Perceptyx's current and future customers expect under your leadership?
Perceptyx has long had a focus on delivering success for customers and improving the lives of their team members. Our passion for driving business outcomes for our customers will continue to be the priority:
Our new People Insights Platform and technology-forward products will enable our team to drive outcomes across more dimensions of our customers' people listening strategies and meet a broader set of needs.
Customers can expect us to engage their teams with a mix of digital experiences and value-added services.
Customers can expect our team to work to understand their businesses deeply so that we can provide ongoing value to address opportunities today and in the future.
Customers' feedback and input will continue to inform our learning about how we can evolve to better serve them.
Customer success as an enterprise function is a relatively new phenomenon but has become increasingly important with the rise of SaaS. Given your personal history in a number of organizations, how do you define the mission of CS relative to its peers in sales and marketing?
Customer success is responsible for the delivery of the company's promise. It's aimed at delivering customer outcomes along with a great customer experience. It's often said that CS=CX+CO (customer success = customer experience + customer outcomes). I frequently say that a well-functioning CS organization is like a great personal trainer in that the best ones understand the customers' goals, have the expertise and equipment to help drive change, solve problems, and drive outcomes.
In mature organizations, CS, sales, and marketing are aligned around sharing with the market what we do and the problems we solve, discussing why our solutions fit the problems of specific customers and how we'll make them successful, and then executing on that mission. All are focused on driving a unified customer experience that engages them, helps them identify desired outcomes, and leads them on a journey to success, which can then be repeated across more and more of their organization. The alignment of CS, marketing, and sales is essential in making customers successful today and also helping them to evolve for the future.
What makes a company customer-centric?
It starts with looking at everything through the customer's lens and not your own. Customer-centricity requires a full company commitment with aligned goals, metrics, and accountability.
Being customer-centric is all about designing your business and company around understanding your customer, the problems they need to solve, how you solve them, and the outcomes you deliver. It's about being close enough to customers to understand their current problems and their future obstacles so that you can build solutions to drive ongoing value.
There's a healthy debate happening now about Employee Experience (EX) versus Customer Experience (CX), specifically around how they relate to one another, and what types of technology and expertise are required to do them well. How would you describe the differences (or not) of EX and CX?
Both CX and EX are all about listening, learning, and taking action. But the relationship with a customer is largely centered around a transaction, or a series of transactions. That's significantly narrower than the relationship you have with an employee and the scope of the commitments you make to that employee. There are also clear differences in the breadth and types of questions you should ask as part of your listening program, the internal consumers of that response data once collected, and the nature of the post-listening actions required. One of the clear benefits of working with Perceptyx is our team's experience in doing exactly this type of listening for nearly 20 years, for hundreds of organizations across the globe. It's all we do – our platform and products were built exclusively for this purpose, and it shows in the types of insights we're able to deliver for our customers.
"The Customer is always right." True or false?
False. The customer is always right about their desired outcomes and the problems they want to solve. However, the customer is not always right about the best way to get there. Customers benefit from working with experts who have significant experience doing projects with lots of similar organizations, who deeply understand their products, and who can prescribe the best solution to help the customer achieve their desired outcomes.
At Perceptyx, we're all about helping organizations capture and respond to the voices of their employees. How has your personal experience shaped your thinking about what it means to be an engaged, fulfilled employee?
I believe that what makes an engaged employee differs for each individual. My definition of fulfilled and engaged differs from that of others. Great organizations and leaders understand this and work with team members to help them achieve their own personal definitions. I focus on bringing individuals into the organization that will be a cultural add rather than a cultural fit as embracing people's uniqueness helps a culture to grow and evolve instead of remaining static.
My personal definition has evolved quite a bit over time. Earlier in my career, I did not prioritize my personal well-being. Today, I'm more focused on thriving in all aspects of life and want to help make personal well-being a priority for the people I work with. My effectiveness as a leader and happiness have improved as a result. I try to remember that we want to win the right way and that we always need to keep work in perspective.
What voices have been most meaningful in influencing your own life and career?
I've been fortunate to benefit from some tremendous mentors in my career. I think of them as a personal board of directors who help guide and challenge me and allow me to bounce ideas off of them. Customer success is still a relatively new function and so I have the opportunity to learn from and with a group of experts who help each other along the way. I read regularly on topics around SaaS, customer success, and leadership. I also benefit from regular skip levels with members of the team who provide great advice, ideas and keep me grounded in the realities of the business. I also try to follow my dad's advice, which is to always give your best, even when no one else is watching.
What's one thing your coworkers would be surprised to learn about you?
I never try to take myself too seriously. I appreciate humor and pranks (appropriately) woven into the workday and love a great movie quote drop.
What's the last book you read, or the last TV show you binged?
The last book I read was Sarah Johnson's book "Engaging the Workplace". I am fully hooked on Ted Lasso and also enjoy The Morning Show and Billions. I can watch old Seinfeld and Friday Night Lights episodes regardless of how well I know the lines.
What's your favorite thing about working at Perceptyx (so far)?
I'm appreciative of the warm welcome provided by so many team members. I'm blown away by how invested everyone is in each other's success. Our Customer Success team has each others' backs and pushes each other to improve and deliver for our customers. The kindness, patience, and desire to lift each other up are contagious and are so refreshing for me. I look forward to meeting more people across the company and seeing this same spirit and energy in action.