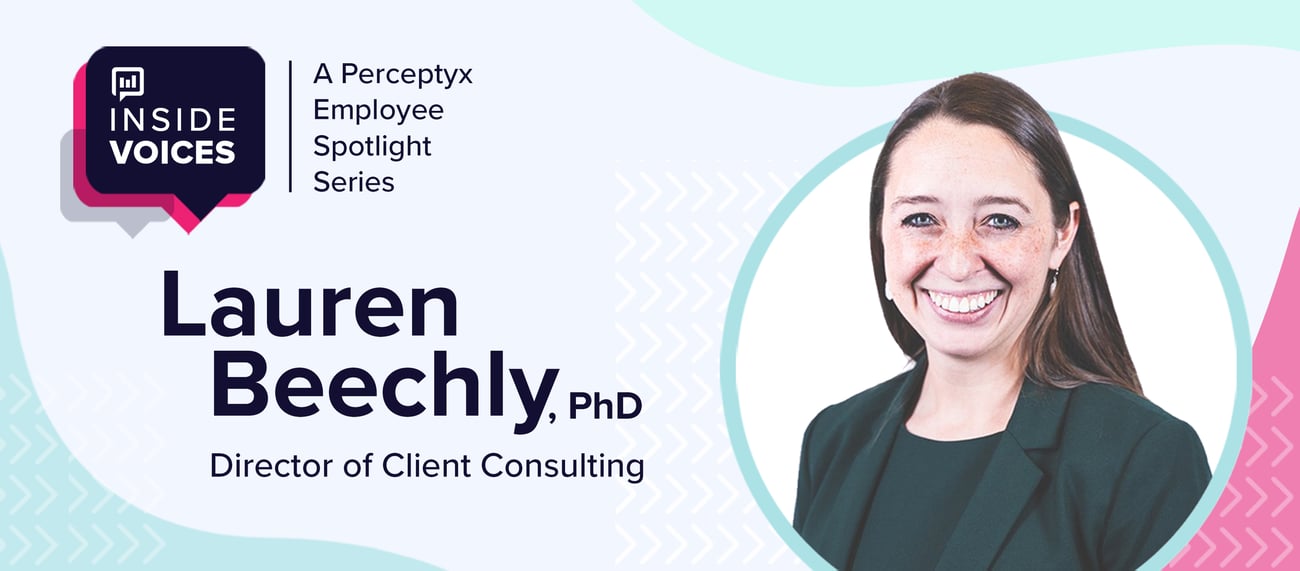 Inside Voices: A Perceptyx Employee Spotlight Series

By Deidre Moore - July 08, 2021
If you work at Perceptyx, you know that our team is full of rock stars who consistently go above and beyond for their teammates and our customers. We thought it would be fun to shine a spotlight on just a few of them and introduce them to our community.
In our new blog series, we're pulling back the curtain to learn more about the people who make our customers' heroes, and are helping shape the future of the workplace for employees across the globe. (They also make it really fun to come to work every day!)
First up, meet Director of Client Consulting, Lauren Beechly. Lauren shares what drew her to Perceptyx, the topic that's top of mind for her healthcare clients today, and why her career motto may just be, "keeping it all in the family."
Q
. How long have you worked at Perceptyx and what initially drew you to the company?
Lauren: I've worked in the employee listening and people analytics space for 13 years, with the last 3 years at Perceptyx and the last year as a Director of Client Consulting. The culture and Perceptyx's commitment to 'making our clients heroes' initially drew me to the company. I love how focused everyone is, across all job families, to helping our clients solve their people challenges and working to find innovative solutions to meet their unique goals. The supportive culture makes coming to work fun every day, knowing I get to work with great people who are always collaborating together to help make our clients heroes.
Q. Within Perceptyx, your consulting team is uniquely focused on the needs of healthcare systems, currently partnering with more 40 healthcare organizations. Healthcare organizations have been through an especially tough period given the pandemic and the stresses placed on their teams. What are you hearing from our healthcare clients about the issues most important to them right now, and how are they deploying employee listening programs to help navigate the future in a 'people-first' way?
Lauren: An increased focus on the 'whole' person, employee well-being, and retention are trends we are seeing across healthcare organizations. While well-being has always been a focus, the increased stresses experienced over the last 18 months coupled with retention concerns has bolstered the need for organizations to listen to employees about their well-being perceptions. In fact, Perceptyx data reveals 4x as many healthcare employees were asked about their health and well-being in 2020 alone compared to the prior 3 years combined.
We're seeing healthcare organizations leverage surveys to gather real-time data on well-being perceptions to help identify stress and burnout hot spots, uncover ways to improve overall well-being, and evaluate the effectiveness of different wellness initiatives. Many organizations are also leveraging exit surveys to better understand how to improve the employee experience to solve turnover challenges. Linking exit data to broader employee experiences is helping organizations better understand where to act to improve retention, especially for their critical roles.
Q. At Perceptyx we're all about helping organizations capture and respond to the voices of their employees. How has working here changed your thinking about what it means to be an engaged, fulfilled employee?
Lauren: Working at Perceptyx has further solidified my view that people really are an organization's greatest asset and listening to employees is one of the most strategic actions an organization can take to understand employee perceptions, help employees feel valued, improve the employee experience, and solve business challenges. People want to be engaged and working at Perceptyx has further highlighted the importance of identifying and removing barriers that stand in the way of employees achieving their own success. People want to feel accomplished and empowered to control their own work environment. They want to feel connected to others and to feel valued. They want to feel heard and envision a successful future for themselves. Working at Perceptyx and partnering with countless organizations full of engaged employees has further emphasized the notion that creating a highly engaged workforce is all about listening to employees and removing those barriers.
Q. What's one thing your coworkers would be surprised to learn about you?
My coworkers would be surprised to learn I entered this profession because of my Dad! Some of my earliest memories are watching my Dad, a learning and development coach, prepare for his next coaching session or experiential training program. From tagging along to his corporate classroom, to watching videos about conflict resolution or change management or effective feedback, I loved watching the passion he has for helping organizations grow their talent. His passion quickly became mine and inspired me to become an industrial/organizational psychologist. When I was in graduate school, I even had the opportunity to co-facilitate with him!
Q. What voices have been most meaningful in influencing your own life and career?
My parents are easily the most influential voices in my life and career. They are the most selfless people you will ever meet, always putting the needs of others first and always helping those around them. Their values, work ethic, and faith inspire me every day and I try to model my actions as a spouse, mom, friend, and coworker after their loving examples.
Q. What's your favorite thing about working at Perceptyx?
Besides the amazing teammates and culture, I love witnessing the 'lightbulb moments' for clients, when leaders see a piece of data that becomes an 'ah-ha' moment or helps provide an answer they had about their people and business. Watching organizations act based on employee feedback and seeing organizations solve their biggest challenges makes working at Perceptyx exciting.