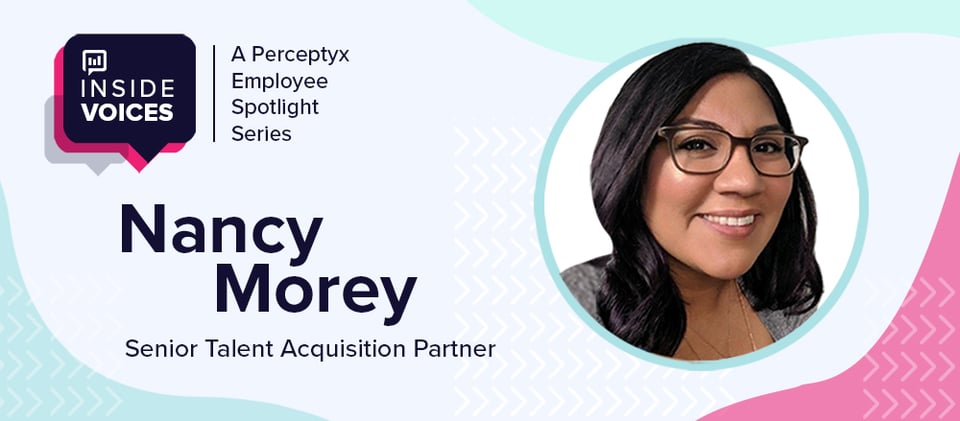 Inside Voices: A Perceptyx Employee Spotlight Series: Nancy

Deidre Moore
For many prospective Perceptyx employees – myself included – Nancy Morey is often the first person they meet. I could not think of a better ambassador for our company and its mission. Read the full interview with Nancy below to learn more about her path to corporate recruiting, and why she's a great person to know if you have a big jewelry purchase in your future!
How long have you been with Perceptyx, and what initially drew you to the company?
I've been with Perceptyx since August 2019. I actually found the opportunity on a whim. A former co-worker of mine saw the job listing first and thought of me. When I read through the posting I said, "You know what? I'm gonna give this a shot." I reached out to Beth (Alix) who is now our VP of People and took the opportunity to sell myself. I let Beth know if she felt I was a good fit, that I would be delighted to chat with her. And that's how it all started. The uniqueness of what we do here at Perceptyx is what really drew me to the company. We're literally amplifying the voices of employees all over the world. How cool is it to be a part of that cause?
I should also say that one clear memory of my interview process was being sent home with a slice of cake. The team was celebrating a coworker's birthday in the office, and Beth would not let me leave the building without a piece of cake in hand. I thought, "OK, I think this is a good sign." When I got home, I asked my husband if he'd like to enjoy some cake with me. He looked at me and said, "If this is the culture of the place where you're interviewing, I think you should really sell it. You need to work at a place like this." It's been a wonderful ride since that day.
In my past professional life, I was a marketer working in a company that sold to marketers. I often think about you and other members of the People team and am curious how it feels to be an HR and talent professional working within a company that is uniquely focused on serving and selling to people just like you. How would you describe the experience?
For me, it's surreal, but it also comes with a bit of weight on my shoulders. I really want to be a good steward of what we do here at Perceptyx, taking pride and responsibility to live our company's mission of enabling people and organizations to thrive. My customer is the talent – the people that want to work here. Being a talent acquisition professional in an HR-focused SaaS company makes my job interesting in the best way possible. I also feel very fortunate to be a consumer of all the great content and research our team produces to help professionals in my role, and I take advantage of that. I know my colleagues do as well. We talk about it, we read the articles and blogs, and we say, "How can we implement these ideas into our own day-to-day activities?" The data and knowledge that my colleagues and our customers share is a gift to me and my People Department teammates. I'm so lucky to have close access to some of the world's most brilliant people.
As a country, we're facing the biggest talent shortage in a generation. As a recruiter yourself, you've had a unique front seat to these shifts in the demand for talent. How have the workforce disruptions of the past two years affected your role specifically, and how have you adapted in response?
It's a crazy world that recruiters are living in today. I can attest to that! I think for me, in these unprecedented times, it has been more of a challenge to say, "OK, don't stop stepping up your game, Nancy, and hang onto your commitment to delivering a great candidate experience." It's so important, especially now, to really put myself in the shoes of a candidate and think two steps ahead about every interaction – from picking up the phone to initiate a first call, to preparing a final interview. Also, if they're not the chosen candidate, taking care to communicate that closure with respect. When I treat people well, I know karma will be good to me.
I come from a background in staffing where I was accustomed, prior to the pandemic, to people ghosting me for an interview, declining an offer because another company gave out some wild employee perk, or simply not showing up for work on their first day. I believe a lot of those early staffing years gave me the foundation to be prepared for a time like this. I've been very fortunate that we have not had a lot of declined offers thus far at Perceptyx, and I feel it's because of the way my team and I treat these candidates throughout the interview process.
I will say as a recruiter living in today's talent acquisition world, I have to also remember to give myself grace and be prepared for not having a perfect hiring track record. A mentor once told me "You know, Nancy, don't be so hard on yourself if someone didn't accept the job, or they joined us and it didn't work out. When that happens, never forget that people are unpredictable." I let that advice drive me to continue to give talent a wonderful experience, no matter what happens. If I just keep my head in the game, over time, my actions are going to help increase engagement and get candidates past the finish line to join this special company.
I love that you describe yourself as a "candidate therapist." How has the recruiting and interview experience changed given that (I imagine) you rarely meet candidates or new hires in person these days?
"Therapist" is just one of many hats I wear as a recruiter. Not being able to meet candidates in person has given me the opportunity to self-reflect and focus on silencing my own subconscious bias much more deliberately, making sure that I'm really attuned to that when I don't have an in-person experience to build upon. I think it's also important to remember the value of non-digital interactions that empower the candidate. Like picking up the phone and giving them tips to help them have a successful interview with a hiring manager. I'm big on that! I want to give them a little insight on who they might be meeting with, or the larger dynamics of a specific team or department within Perceptyx to help paint a clear picture of the role and our environment. This practice of prepping the candidate seems to give them a good foundation for seizing the moment and successfully selling themselves during a remote interview.
What would you say is the number one or top piece of advice you give candidates these days?
My number one piece of advice is always to be yourself. After that, I would say, do your homework on the company you're interviewing with, and ask good questions. It isn't just the company's interview. It is the candidate's interview just as much as it is ours. A combo of these three things makes for a successful interview, in my opinion.
I personally like to empower candidates and say, "Hey, ask those tough questions. And anything that I haven't answered for you in my call, make sure you think about that and write it down on a notepad and have it ready so when you're on that Zoom call with the hiring manager, you can ask smart questions to better understand the role you may be taking on." Interviews are a critical opportunity for the candidate to evaluate the company and determine if this is a role or an organization that meets their needs, and aligns with their career goals as well.
I couldn't help but notice that you also spent a few years as a bartender and server working in the US Virgin Islands early in your career. That must have been good practice for quickly building rapport with new people! Did any of the skills you learned as a "barstool therapist" translate to the corporate world?
Absolutely, yes! When I was 16 years old, my first job was as a hostess at a Mexican restaurant. I've always dabbled in the hospitality industry, from high school through college, and then got this opportunity to move to the Virgin Islands and work in fine dining. The big recession of 2007-2008 was in full swing when I officially moved down to St. Thomas but people in the hospitality industry were surprisingly thriving out in the islands. I learned so much as I grew in bartending and serving, strengthening my active listening skills when meeting people and hearing their life stories.
I was really fortunate to be in a place where our customers came from all over the world. This was also a time where I learned what it really meant to give someone a great experience. I even made Facebook friends with customers after they left the Virgin Islands because we had such a fun time meeting each other. I owe a lot of who I am professionally to my time in the hospitality industry. Literally serving others taught me the value of 'mise en place' ('putting in place') and to be like a duck, as the saying goes. You look graceful above water but underneath your feet are paddling like crazy and you make it look effortless!
At Perceptyx, we're all about helping organizations capture and respond to the voices of their employees. How has working here changed your own thinking about what it means to be an engaged, fulfilled employee?
Perceptyx is one of the first places in my professional career where I have felt like I can 100% be my authentic self. I believe it's because Perceptyx has such a wonderful, eclectic group of people that are brilliant in what they do, and they respect each other for it. I love that from day one, people have listened to my advice on interviewing, and are thankful for the knowledge I get to share with them. This makes me feel valued, and that's what I identify as a fully engaged employee. Any company can give you the tools to do the job, but when you have a team that is supportive of your strengths, works collaboratively, and lifts each other up, this really helps you as an individual to come out of your shell and share your special talents.
What voices have been most meaningful in influencing your own life and career?
For me, it's definitely my parents. They came to the states in the 1970s to build a better life for themselves and live the American dream. My mom immigrated from Mexico, and my dad from Ecuador. Growing up, I saw their struggles and I also saw how they never gave up. I know their love for me and my brother lit a flame in them to always keep pushing forward. I remember them always telling me, "Don't let anything stop you, Nancy. Always be the best that you can be, and do the best that you can do, with whatever life throws at you." They are the voices I hear when I'm struggling or doubting myself and they are the people that back me up and push me to be a better person.
At Perceptyx, you're also co-chair of the Culture Club. Can you share a little about that group and its mission?
The Culture Club officially came to life in January 2021, though we were brainstorming about this club behind the scenes well before that time. When the pandemic fully broke out, we all realized that Perceptyx needed an organized way to enhance belonging and connection during these lonely times. And so the Culture Club itself became an opportunity for us to create activities and programs that foster a sense of connection and belonging when we're not physically close to each other. We had remote employees even before the pandemic, so this was also a wake-up call for all of us that we needed to be more deliberate about our culture and what makes it so great. As my fellow co-chair, Natalie, once told me, "Culture is what you discuss with your loved ones around the dinner table 20 years from now." That's what drives me today as a co-chair: to ensure that we have this outlet for people to come together, bond, and just create good, long-lasting memories while they're here at Perceptyx.
What's one thing your coworkers would be surprised to learn about you?
I'm kind of an open book, but one thing I'll say is that I am a GIA-certified diamond grader.
Wow! Tell me more about that.
That's actually what had brought me to California. (I was born and raised in Texas.) My father was a goldsmith before he retired. He owned a jewelry repair and custom design shop. After I came back from the Virgin Islands, I was in limbo about what to do next and I thought, "Maybe I should take a stab at the family business." When I chatted with my dad about it, he said, "The best school in the world to study jewelry is GIA, and there are two locations in the States: California or New York." I'm a beach girl at heart, so I tend to follow the sun. So, I packed my bags and headed West to GIA in Carlsbad, Calif. I'm very proud to say I finished third in my class and immediately got a seasonal job at a jewelry store in LA selling engagement rings. As much as I love beautiful, shiny diamonds, I think I just realized it's not as fun talking to stones as it is talking to people.
What's your favorite thing about working at Perceptyx?
My favorite thing is that, from day one, I was given trust and an opportunity to really own what I do here at Perceptyx. And it's been such a great ride. I've been honing my recruiting craft with people that really care about the success of our business. Our efforts help HR professionals and organizational leaders around the world listen to employees' voices. To feel trusted to own my job and the fact that I get to do this with fun, talented people, that's my favorite thing about working at Perceptyx.