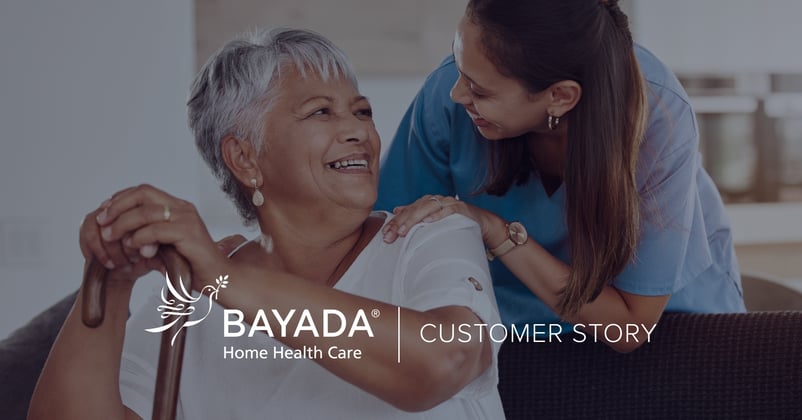 For BAYADA, Employee Listening and Action Planning Starts at Home
BAYADA is founded on the principle that healthcare gets better when people get better care at home — the place where they feel best. The organization's thousands of healthcare workers deliver the highest quality home healthcare services available, helping people remain safe and independent at home for as long as possible.
In the absence of a world-class listening program, however, determining precisely how connected employees are to the company's mission — and to each other — was a difficult undertaking. With that in mind, BAYADA partnered with Perceptyx in 2019 and began the process of evolving their listening program from an episodic and fragmented series of processes into a holistic, continuous conversation at scale with their employees.
Meeting Employees Where They Are
BAYADA has two distinct groups that comprise its workforce — approximately 25,000 clinicians and caregivers and roughly 5,000 support employees, known as office employees. The office employees, in turn, are split between those who work in corporate administration and support — HR, finance, IT, etc. — and those who work in offices based in local communities, directly serving and supporting the daily lives of the client population.
When Melissa Tempio assumed her role as BAYADA's Director of Employee Engagement and Organizational Development in October 2020, she quickly grasped how the distributed nature of the workforce presented a unique challenge — one further complicated by the safety demands of the COVID-19 pandemic. "Employees will go to their service office to pick up supplies, check in with the director and their managers, and have team events, but the majority of their time was spent within the homes of clients or other facilities like schools and senior living communities."
Unlike the office employees, who had ready access to computers and other devices, the majority of the workforce wasn't in a position to be easily surveyed for listening purposes. "These employees are mobile, they travel, they don't have set locations, and with a few exceptions, they really don't have computers."
Strategic Talent Partner Katelyn Buttler was with BAYADA prior to Tempio's arrival and recalls the selection process that led to the organization's partnership with Perceptyx. "At the time we were trying to figure out what to do with our listening strategy. There were disconnected surveys throughout the year, inner office surveys, and our yearly all-employee census survey."
For Buttler, one of the biggest challenges with the old internal forms of surveying was that employees didn't see it as completely confidential. "It was coming from a BAYADA office. BAYADA employees were looking at the information. I think that participation rates at the time were in the 20% to 30% range, very low, with mostly office employees participating. That's where we were."
BAYADA chose Perceptyx because it needed to partner with a provider that could elevate the organization's listening strategy. "We needed something that could grow with us, something the employees saw as confidential and safe, and that delivered data we could use to take action. Perceptyx took the time to understand our complex, multi-matrix environment — our diverse population of field and office employees," Buttler said.
From Episodic Listening to Continuous Conversations at Scale
When Percepytx began working with BAYADA, the organization's internally-managed listening program had outlived its usefulness and now presented a series of challenges. Tempio describes this listening program as "episodic" and "fragmented":
A single annual employee satisfaction survey
Numerous manual operations managed internally
Disparate lifecycle surveys
Heavily restricted access to employee feedback
Compliance-heavy processes
Upon arriving at BAYADA in October 2020, Tempio assessed the situation and, in conjunction with Perceptyx, offered her blueprint for change:
Transparent and timely access to survey results
Fewer compliance-related, check-the-box action planning requirements
Accountability aligned to survey items
Tracking organizational trends on an annual basis and team trends — which may change more quickly — on a quarterly basis
Empowering leaders to have continuous conversations that go beyond the numbers
Perceptyx jumped in and ensured that the evolution proceeded smoothly. "Something that's important for anyone else reading about our situation is that we had just transitioned over to Workday, so we needed a provider that could integrate with Workday and all of the other systems we use," said Katelyn Buttler. "We have many systems we use for our field and office employees, and some vendors were not comfortable with that. But Perceptyx listened and said, 'We can handle it, we'll make this work, we'll integrate where we need to.' And that proved to be a huge piece of the puzzle."
Lifting All Voices
Another piece of the puzzle involved reaching the field employees. "The voices of our field employees weren't coming through as we needed them to," Buttler said.
"That increase has been dramatic," said Melissa Tempio. "Over the past year and a half, across quarterly employee experience surveys instead of a single annual employee satisfaction survey, we have been able to increase those low participation rates of 20% and 30% up to 55% [which is a significant increase for BAYADA due to the challenges of surveying a field-based employee workforce]."
The solution, Tempio explained, involves the use of other communication systems employed by BAYADA. "We introduced a sharable link that's protected by a password and through that link, our directors can utilize those 30 or so other employee systems to post a sharable link in a secure chat feature we use, as well as in other similar features of those systems."
Leaders Have Access to the Data They Need
All this listening data is now much more accessible to leaders. "Prior to Perceptyx, data access was restrictive and it was on an internal dashboard that was hard to navigate," said Melissa Tempio. "When we initially launched with Perceptyx, we limited access to directors and above, and only allowed them to see the people who reported to them in Workday. For example, if a director had 50 people reporting to them in the Workday system, they would see responses for those 50 people."
However, due to what Tempio calls the "highly matrixed" nature of the organization, BAYADA eventually decided to provide open access to the entire dashboard so that all directors now have access to the whole organization and only have to run a simple filter to get the results they want. "As a strategic talent partner, it is a big piece of our role to be able to go in and see our whole practice, a division, or an office, so this truly made us partners in helping the offices and practices do their action planning," said Katelyn Buttler.
This action planning, Buttler explained, is heavily dependent on Perceptyx's data-driven insights. "We'll look at a practice level for each of us as strategic talent partners to see what the big themes are this quarter, and then look to see if a specific office is not doing great. I love how you can pull action plans and presentations straight from the dashboard. It's a wonderful feature, making it so easy to understand your results."
Perceptyx: A Strong Technology Foundation
For Melissa Tempio, getting the right listening technology in place has proven transformative, opening the frame for the continued evolution of the organization's listening strategy. "If you have the technology in place, you have something to lean on as you have all these conversations about getting the culture to a place where we as an organization are continuously listening and acting on what we hear from our employees. 2023 is going to be our most intentional and organized year of listening yet, where we're bringing together candidate experience, exit surveys, and a proposed new hire survey that follows more of an industry-standard approach. We've already got a strong foundation for listening in place to build on."
Read the full story to learn more about how BAYADA has partnered with Perceptyx to develop and implement a continuous listening strategy.