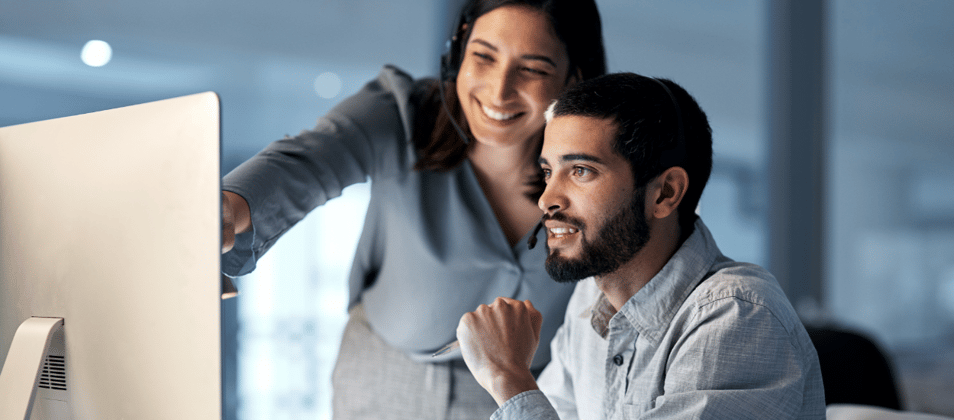 How AI-Powered Coaching Elevates Leaders and Transforms Organizations
Today's workplace looks radically different than it did a few years ago. Different styles of work — both hybrid and remote — have placed a greater priority on what The Josh Bersin Company calls "PowerSkills": empathy, design, communications, and management. As the economy continues adding jobs that Bersin classifies as "non-routine" such as social workers, designers, engineers, and medical professionals, LinkedIn has found that the most desirable soft skill for job candidates is emotional intelligence.
The Need for Emotional Intelligence
This increasing demand for emotional intelligence makes sense. In April 2022, the Harvard Business Review examined the "performance-compassion dilemma" facing these managers, noting that they may "feel torn between performance demands from above and calls for compassion from below." More recently, WorkLife reported that widely distributed workforces and limited mentoring time in actual offices could stall the professional development of future organizational managers and leaders. The subjective judgment of managers may suffer considerably in the absence of hands-on guidance, with research showing that increased power or authority can reduce empathy.
On the other hand, good management pays long-term dividends. Recent Perceptyx research on how compensation impacts employee retention and attraction discovered a strong correlation between good management and regret about leaving their former employer. While 58% of recent leavers felt some regret about quitting, that number increased to 92% for those who reported having great management at their former company. The percentage of employees willing to go back to that employer for the right offer also increased by roughly the same percentage.
Cultivate Intelligent Coaching Levels the Playing Field for Management Training
In such uncertain times, where might managers and leaders turn for objective feedback that can help them resolve the performance-compassion dilemma and address other organizational challenges?
This is the challenge that prompted Perceptyx to launch Cultivate Intelligent Coaching, a new AI-Powered leadership development product within its People Insights Platform. Cultivate Intelligent Coaching analyzes both active feedback from 360 surveys and opt-in passive listening signals from workplace communication channels, such as Slack, Google Workspaces, Microsoft 365, and Microsoft Teams, to identify a manager's blind spots and coaching needs. It then delivers hyper-personalized leadership insights and actionable recommendations to the manager via nudges and a metrics-rich personal dashboard. Receiving highly relevant coaching within the daily flow of work allows managers to put their newfound skills into practice immediately, track their progress, remain engaged in the coaching process, and deliver faster impact to their team.
Cultivate Intelligent Coaching is based on the Cultivate AI coaching platform, acquired by Perceptyx in February 2022. Unlike other digital coaching approaches, Cultivate uses AI intent models to interpret observed behavior and provide more meaningful insights into areas for development. For example, Cultivate not only identifies how often a leader engages with employees, it also understands the tone of those conversations and whether the manager is providing advice or asking for opinions, as well as how frequently they recognize and encourage their team members. This observation of management best-practice behaviors ensures more valuable and actionable coaching recommendations — and thanks to a privacy-first model requiring each user to opt-in, managers can rest assured that the content of their communication, along with the data about their behaviors, is not shared with anyone else in the organization.
AI-Powered Coaching Democratizes Leadership Development
AI-based platforms like Cultivate Intelligent Coaching remove the need to prioritize who gets coaching. All employees can get their own digital buddy that "sits on their shoulder" and helps them along, suggesting how to better communicate, collaborate, and work with others — and without taking any time out of their day. The AI syncs to the employee's everyday behavior as it provides continuous feedback. Think of it as the smartwatch for business relationships.
While a smartwatch, Fitbit, or Alexa device can be a great tool for day-to-day productivity, these tools do not help hone leadership skills, communicate better, or recognize people more equitably. Coaching is still seen as an inherently human capability: while one in three people thinks AI is better at maintaining work schedules than their manager, the same amount of people think their manager is better at coaching than AI. However, more and more of our communications are now digital. Microsoft's Work Trend Index from March 2021 shows meetings have more than doubled between February 2020 and February 2021, chats are up 45%, and 40.6 billion more emails have been sent.
All these digital communications do a lot more than transfer information. We send many signals without realizing it because our underlying messages are often unconscious. But the people we work with may draw their own conclusions, impacting their sense of belonging, engagement, retention, and overall experience — and ultimately their performance and productivity.
If we respond quickly to a team member, we show them they are important to us. Checking in more with some team members than with others can indicate bias and favoritism. The tone of our emails can be either directive or inquisitive, positive or negative. We may not always ask for opinions and instead, just tell people what to do.
New technologies can link to all these underlying messages, recognize patterns, and suggest solutions to improve, thereby making us better communicators, leaders, teammates, and salespeople. And that's where AI comes in. Natural language processing of email and chat messages, organizational network analysis to identify connections, meeting time analysis, and response frequency all provide a full picture of our digital communications. An AI coach, however, observes your digital behavior to help you get better at power skills like communication, leadership, and relationship-building.
After you opt-in and give the system permission to digest meetings, emails, and content, it starts analyzing all these factors and then provides in-the-flow insights tailored to you, with specific suggestions on how to improve. For example, if you are a people leader, the AI looks at how much time you spend with your direct reports, how quickly you respond to each of them, what tone you use with each, and how much recognition you give them. Then, when you go into a meeting with one of your team members, it emails you suggestions to improve your interactions. If you don't recognize that person as much as others on your team, it may offer an article on ways to recognize people, as well as quick tips to increase recognition. Similarly, if you are a team member, it gives you insights into your digital relationships with others and highlights improvement areas. In today's agile world, anybody might serve as a team leader, facilitating discussions, getting input, and driving work forward.
The Many Benefits of AI-Based Coaching
AI coaching helps "make the unseen seen," provides nudges to help with more effective collaboration, and develops skill sets to become a better leader, teammate, or salesperson. All of this can happen without interrupting the workday. Bite-size insights are served up when needed in the flow of work.
When everybody in the company can be a leader, everybody needs support to lead well. AI-based coaching gives each person insights to manage projects, teams, relationships, and people better. With new ways of working, the leadership capabilities your company needs are changing, too.

The benefits of AI coaching are significant for both the company as well as the employee. For companies, benefits include:
Easy to set up: AI-based coaching with technology like Cultivate, which plugs into your email, chat, and calendar system, is easy to set up, works with any email or chat system, and is ready to use without any training.


High participation rate and user satisfaction: Participation is about two to three times higher than in traditional voluntary training programs. People love it because it helps them learn and develop in the flow of work.


Positive behavior change: Whether your goal is to improve the digital relationships of your people or to cement specific leadership behaviors, the nudges and personalized insights help with learning.


Increased employee engagement and retention: Better communication, collaboration, and teamwork means happier employees — and that in turn increases engagement.


Culture change: Aggregating anonymous results to a team or organizational level shows patterns and areas of opportunity. In addition to the culture change that happens when leaders change their behavior, companies can also take broader strategic actions to shape the culture positively.


Better performance outcomes: When managers ask people for more of their opinions, they give them autonomy and agency — two factors shown to have a positive impact on outcomes. Similarly, recognition has been shown as a key outcome driver by various studies.
For employees and managers, benefits include:
In-the-flow development: Employees and managers are so busy, and many don't have time to take another training course that might not fit their needs. Customized, concise insights delivered when needed don't take a lot of time and make you a lot better.


Better digital communication and collaboration: Digital communication is at the core of how we work and communicate today. Getting real-time, always-on, personalized insights for improvement is a significant boost for managers who want to improve their skill sets.


Increased self-awareness and emotional intelligence: Research from Cultivate shows that eight in ten users of AI-based coaching say it has improved their self-awareness. When people see the impact their communication behavior has on others, they become more empathetic.


Increased trust in the company: When you provide people with a coach — human or AI-based — it demonstrates the company cares about them, and that in turn increases trust. Transparent leadership communication is another factor in trust, and the coach helps with that, too.
Partnering With Perceptyx Can Help You Cultivate Better Leaders Within Your Organization
Partnering with Perceptyx to implement Intelligent Coaching can help your organization address multiple goals and challenges:
Align skills with goals: Empower managers to develop the skills that matter with coaching tailored to 360 feedback and aligned with your leadership competency model.
Show the right next step: Continuously guide managers with AI-powered coaching based on their own digital signals from platforms like Slack, Teams, Google Workplace and Microsoft Office 365 that they opt-in to sharing.
Leverage data seamlessly: Give managers, HR business partners, and admins one central Listening Home from which to manage insights from all listening channels.
Expand coaching and improve ROI: Augment human coaching with scalable, continuous, and cost-effective coaching for every manager.
Create an engaging culture: Inspire manager confidence and trust through leadership best practices that promote engagement, and motivate their teams to do their best work.
To learn more, schedule a meeting with a member of our team.