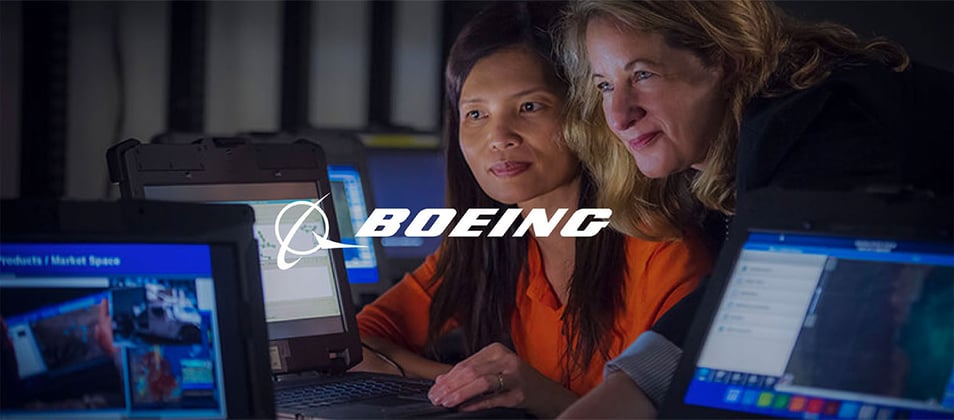 How Continuous Listening Supports a People-Focused Culture for Boeing
Boeing has led the way in the aerospace industry since its founding in 1916, designing innovative new technologies that connect and protect people while expanding the boundaries of the world in which we all live. To deliver on their mission, Boeing has placed a premium on using surveys to listen to the voices of its diverse, multinational workforce – a mixed population of tech-forward and manufacturing employees.
An Aligned Philosophy Focused on Action
Enter Perceptyx and its comprehensive listening and analytics platform. In 2018, Boeing was looking for the "complete package" in terms of survey capability, including a self-service application that would allow the company to replace its increasingly outdated existing tool. A new on-demand solution would need to be able to handle the volume of data that Boeing collected from its sizable workforce, and comply with all applicable privacy regulations while producing insights that managers could easily understand and utilize.
"Prior to Perceptyx coming on board, we were looking for a way to increase the ability for managers to take action on the results of the survey," said Frank Zemek, Boeing's lead survey specialist. "Traditionally, you would watch the survey activity spike up, and then see nothing afterward because there was no accountability and no visibility."
Perceptyx's ability to produce real-time survey data – both then and now – served as a significant selling point.
"We're not sitting on it a month before we get results," said Kristin Saboe, Ph.D., Boeing's Senior Manager for Employee Listening and Organizational Research. "That is important for showing action. On top of that, [Perceptyx offers] the ability to pull that data together in meaningful ways. With Perceptyx, we appreciate that we have a common philosophy in terms of an action orientation – you don't collect data unless you're going to do something with it."
Understanding the Employee Experience
With assistance from Perceptyx, Boeing's listening strategy is ongoing, continuous, and intended to ensure optimal employee outcomes. "All our metrics around employee sentiment need to drive a thorough understanding of the employee experience at Boeing, helping us grasp what is meaningful about that experience," said Saboe. "Because that's really the only way we create an environment that's the best place to work, which is what we aspire to be for our employees: a workplace environment people truly enjoy being part of everyday – making Boeing the employer of choice."
Listening Insights in Action
Boeing's quest to listen right down to the behavioral level is manifested through key initiatives such as "Seek, Speak and Listen." This particular initiative aims at encouraging people to achieve psychological safety through improvements in workplace trust and team communication.
Thanks to Perceptyx's on-demand capabilities, Boeing has been able to track the most granular details of this initiative. "We've actually seen great progress in the last year with regard to 'Seek, Speak and Listen,' and this team has been leading all the analytics around that because we can identify hot spots and show impact metrics at all levels, across the company. We are always excited to report success stories publicly," said Saboe.
COVID-19 Changes Everything – and Perceptyx Pivots to Help
After the COVID-19 pandemic began in 2020, changes in the nature of employee-employer relationships became inevitable, with issues related to remote and hybrid work taking the fore. Moreover, 2020 was a year during which rising tensions related to race and inequality had to be addressed across all aspects of life – including in the C-suite. Boeing, like other enterprise-level companies, confronted these issues head-on.
"When COVID-19 hit, a lot of things changed," explained Saboe. "Companies started taking worker well-being more seriously than ever, and national conversations about racial equality had to be addressed as well."
Under these circumstances, Boeing's relationship with Perceptyx proved invaluable. Dr. Kristin Saboe and her team were tasked with quickly pivoting to meet a host of new challenges – all the while ensuring that employee voices continued to be heard and amplified – and Perceptyx's agility ensured they could meet Boeing's evolving needs.
Not only did Perceptyx meet Boeing wherever they were at any given point along this process, they did so with continuity of personnel. "Having the same program manager since we started with Perceptyx has been helpful," added Zemek. "I have been with other companies where that seemed to change every year. They couldn't seem to hold on to a program manager."
The goal for Boeing, in Saboe's words, is to create a workplace "that people enjoy being part of and feel encouraged to live their best lives." With Perceptyx as a strategic partner, that future consists of fully understanding what it means to live your best life at Boeing. Given Boeing's laser focus on continuous assessment, the voices of the company's culture and people will come through loud and clear.
Partner with Perceptyx to Elevate Listening
Read the full story for more on how Boeing utilizes continuous listening to create a people-focused culture. To learn more about how our platform and services can help your own organization, schedule a meeting with a member of our team today.