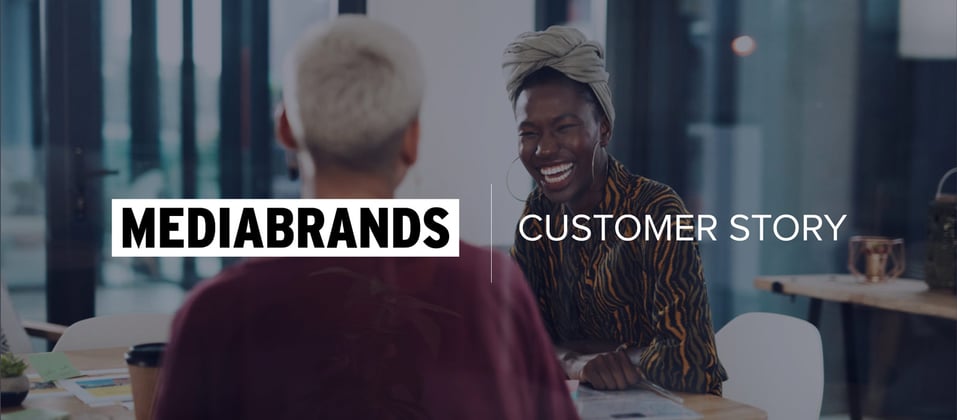 How Listening is Helping Mediabrands Deliver Actionable DEIB Insights
Interpublic Group (IPG) is a global provider of marketing solutions that boasts $10 billion in annual revenue and more than 56,000 employees in all major world markets. IPG describes itself as "values-focused, future-facing, and client-centric," with an "intentional focus on 'Inspired Inclusivity'" that helps to attract, retain, and develop the world's best people.
Mediabrands and Kinesso, two of IPG's companies, have worked closely with Percepytx to ensure that "Inspired Inclusivity" informs all aspects of their workplaces. Mediabrands, IPG's media solutions division, and Kinesso, the "Marketing Engine of IPG," used this partnership to elevate their DEI efforts and meet the demands of both clients and employees.
Employee Listening and Inclusion
Annalyn Jacob, Ph.D., Head of Talent Analytics and HR Operations for Mediabrands, was hired in 2020 to develop a talent analytics strategy that included establishing an expanded employee listening program. "My responsibility was to expand our employee listening program. We had our annual engagement survey that was run every other year, as well as our Culture of Inclusion survey run annually that was for all of the agencies under the IPG holding company umbrella, not just Mediabrands and Kinesso," she said.

Perceptyx had already been working with IPG to administer those surveys, but Jacob wanted to go further. After Hermon Ghermay was hired as Mediabrands' Global Chief Culture Officer, together with Renu Hooda, Kinesso's Chief Talent Officer, they decided to start building a narrative around inclusion: "We wanted to understand what inclusion looks like for us and our culture, how we would define it, and then figure out how to support the development of an inclusive experience for our employees."
Mediabrands and Kinesso also had diversity goals for their top 10 markets, along with a multi-year timeline going through 2023 that is in the process of being revised because many markets, in Jacob's words, "blew their goals out of the water." But they also had markets that needed more support to get there, requiring recalibration from Jacob and her colleagues.
Creating the Inclusion Index
When Mediabrands and Kinesso worked with Perceptyx to develop its inclusion survey, they chose to focus on a few key areas. One part of the survey concerned experiences with managers and team members, as well as perceptions of executive leaders.
Using the spring 2021 inclusion survey to set a baseline, Mediabrands and Kinesso created an Inclusion Index that enabled the companies to consistently measure their performance.
"It's a 5-question index, capturing experiences with your manager, your team, your perceptions of leadership, and also the two true outcome measures of inclusion: uniqueness and belonging. Uniqueness refers to bringing your whole self to work, being yourself at work. Belonging is the sense that you're part of this greater organization, that you belong here and have a place within this environment," Jacob said.
Building a Culture of "Inspired Inclusivity"
Perceptyx helped build Mediabrands' inclusion program, assisting with the identification of the five questions that comprised the Inclusion Index. "This index allowed us to track inclusion over time, letting us know that wherever we would see softness, we would have the benefit of a curriculum that was tied to the inclusion index – meaning we could reinforce what we saw in the data through education," said Mediabrands Global Chief Culture Officer Hermon Ghermay.
Ghermay stressed that improvements in leadership performance on surveys do not mean that the leaders are somehow creating the culture by themselves. "A group of C-suite leaders cannot build a culture – it has to be co-created, and the people represented within it have to be just as much architects of it as we are. Our global definition of inclusion came from listening to our people."
A culture of "Inspired Inclusivity" couldn't have been built without listening this way. "If we only talked to leaders, the picture would be much rosier," said Renu Hooda. "So it was really important to start with those voices in order to drive change in the organization. We needed to know what our true baseline was."
That meant working with Perceptyx to develop questions that would encourage employees to give candid feedback, Hooda explained. "We wanted to remove any biases in the questions, so we've been very direct and open with our employees so they can actually answer. It was important to start with this survey so we can build on our baseline and continue measuring it because if it's going downwards, we need to know what isn't working. And if it's going upwards, we need to know the good things we're doing so we can build on them."
DEI Drives the Business Forward
For Mediabrands and Kinesso, inclusivity is a business necessity. In the highly diverse, global, and competitive space in which the companies operate, potential and existing clients with DEI goals of their own require information about the performance of the companies with which they work.
"Our clients ask us for feedback all the time because they want us to represent them with an inclusion mindset in our own business," Renu Hooda said. "There wasn't even a discussion about it. It was an ask that was put to our leaders, and they were like, 'that makes perfect sense.' We're in the service industry. We have to be able to stand up there in front of clients and explain how we're listening to our people and driving change in the organization.
The data-driven insights from the survey led directly to an extensive 6-hour session with executive leaders, during which Ghermay and Hooda ensured they understood what it meant to center the concept of inclusion in their work. The session, which had perfect attendance from company leadership, helped leaders understand where they needed to be more present and how they could support their employees.
Progress Is Always in Process
As Mediabrands and Kinesso continue to grow, inclusion efforts will have to expand as well. The Inclusion Index and the inclusion curriculum will remain in place, but Hooda and Ghermay said they intend to center the concept of belonging in their curriculum.
"Our curriculum will give people tools and strategies they need so they can talk about belonging, but how do we go about doing that? Well, as we see different scores fluctuate on the listening we do, we'll be able to be a bit more clear on what we mean when we say this is acceptable behavior and that isn't. Or whatever the various measures are. So I think we'll always be calibrating that," Ghermay said.
Listening at the Right Times and in the Right Ways
With help from Perceptyx, Mediabrands and Kinesso remain committed to listening at appropriate times and in the right formats. "We're getting into the rhythm of listening, having earned our people's trust regarding what we're doing with this information," said Ghermay. "But we are really trying to balance how much we survey and what about to prevent survey fatigue. The inclusion survey is run twice a year, with one being a full survey and the other an index tied to specific questions. We'll continue to have that."
More than that, though, Ghermay and Hooda believe long-term listening will involve pulse surveying for regularly scheduled listening activities. "We need to understand the experience managers are creating for their people because even if leadership shows up in different ways, a manager who is making the employee experience difficult will impact your perception of working here."
The Perceptyx Advantage
As Mediabrands and Kinesso worked with Perceptyx on listening issues, leadership at the two organizations saw clear advantages to the partnership.
"We set up time to talk with (Perceptyx) consultants to say, all right, help us avoid pitfalls," Annalyn Jacob said. "And they spent a lot of time walking through that with us. We explained our needs and approach, our need for a cohesive message, but more importantly our baseline and benchmarks for the listening we were going to do because this was the first time we were doing it."
Perceptyx's consultants provided strategic advice about messaging as well as essential tactical guidance about the development of benchmarks and their implications for the future. "They dealt with things like, how would you even set a goal in an area if you're at 85% already," explained Jacob. "How would that even work for your next goal? Are you going to ask people to go up to 90%?"
Most importantly, Jacob explained, Perceptyx has been there at every step of the listening journey for Mediabrands and Kinesso. "We're building the culture as we build the tools, and Perceptyx's experience has been really helpful throughout the process."
Best-in-Class DEIB Solutions for World-Class Organizations
Perceptyx has deep expertise in helping organizations execute and measure DEIB programs as part of building a world-class employee experience. To read the full story of our listening partnership with IPG Mediabrands, click here. To learn more about how our platform's data-driven insights can support your organization's DEIB goals, schedule a meeting with a member of our team.