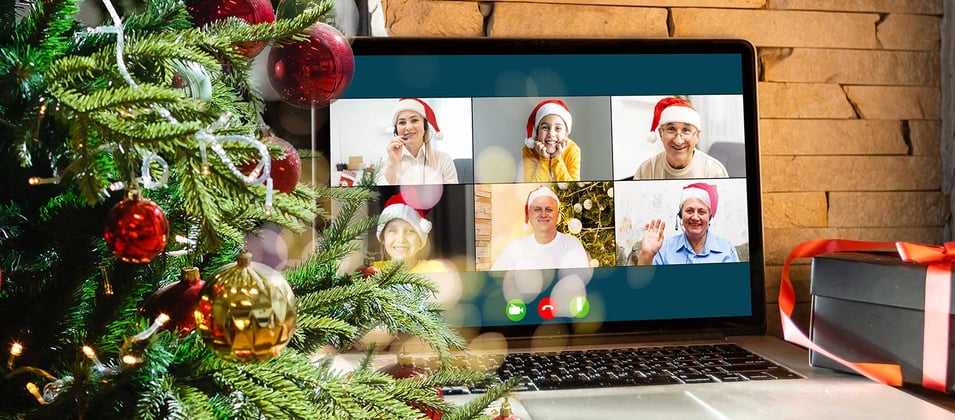 Did the Pandemic Kill the Office Holiday Party?
It's OK to have a little fun at work! As a matter of fact, data shows it's critical if you want to keep morale high, create strong connections between employees and managers, and reduce work-related stress that can impact effectiveness. Plus, teams that have good working relationships are often more productive and collaborative than those who work in silos – a very real struggle in the remote or hybrid working world.
For many employees, office parties were a prime source of levity and fun, yet COVID-19 put most of our traditional, in-person celebrations (holiday-themed and otherwise) on pause. Nearly two years later, as remote and hybrid work environments become more common, it's still complicated, but not impossible to recognize and celebrate occasions like holidays, birthdays, or big wins as a team.
Organizations just have to be attentive to the wishes and concerns of their employees, and take their opinions into consideration when planning group events. For this reason, employers with a culture of employee listening may have the advantage when it comes to celebrating successfully – whether virtually or in-person – in our new normal.
Create the Office Celebrations Employees Want
The holidays can be a stressful time of year for some people, and your employees are no different. Therefore, organizations should help employees reduce their stress this season – not add to it. That may mean adjusting your office celebrations or getting creative. But you don't really know unless you ask.
One way to discover how your employees want to mark occasions like the end-of-year holiday season is to ask them in a quick pulse or crowdsourcing survey. By collecting employee input and using that to plan your celebrations, you can get immediate feedback on your potential plans, and ensure that employees feel heard and included.
Build Camaraderie, Encourage Collaboration, and Have Fun!
Whether it's for the holidays, marking the close of a successful year during challenging times, or building excitement and momentum for the start of a new one, December and January are popular times for company celebrations. Plus, after working hard all year, employees deserve a little break and time to refresh and reconnect as a team even if team members are working miles away from each other.
When it comes down to it, there is no perfect way to celebrate, especially in a remote or hybrid work environment. But, there are plenty of options to include everyone (or at least try to), support positive well-being, and build personal connections that can pay dividends all year long. It is no secret that the pandemic and other workplace issues, like officism, have hit people hard, causing burnout, stress, animosity, or anxiety, which is why it is so important to bring your teams together and celebrate.
Joanna Gonos, director of internal communications and public relations for Plexus Worldwide, understands the importance of celebrating as a team. Plexus throws a holiday celebration for all of the employees local to their headquarters each year. It includes music, entertainment, dancing, dinner, drinks, and raffle prizes throughout the party. This event is something that employees look forward to. Unfortunately, the party was canceled in 2020 because of COVID-19, but it returned this year.
Being proactive about the continuing pandemic, the team hosted the party at an indoor/outdoor venue that allowed for people to gather outside, mingle, and dine under the stars, if they chose to. Additionally, the indoor dining hall at the venue was large and very well ventilated.
"The holiday party is an optional event, so we put the power back in the hands of our employees to decide what is best for them and their families," Gonos stated. "But based on the turnout, it was very successful. It felt like people were ready to gather and celebrate, and connect with their peers. Plus, the large outdoor venue gave people an added layer of comfort and it worked out really well."
The in-person event works well for Plexus because it has the majority of its employees located near headquarters. The company does have locations in other markets, and each of those offices plans its own holiday celebration, as well.
However, for companies more spread out or working remotely, virtual events may be the best option. And sometimes that means getting creative, like a virtual Secret Santa or Zoom meeting with holiday recipe sharing, trivia and even caroling!
"Our talent acquisitions team is setting up (Elfster) now," said Lisa Freiden Hammond, senior vice president of global human resources for Allscripts. "It's a great app for remote teams. It is a Secret Santa app that allows you to purchase and ship gifts anonymously. It is super fun!"
For Allscripts, setting up the Secret Santa is just the first step. They then have a virtual call on which everyone opens their presents and the Secret Santas are revealed. The company has a small budget to cover the cost of the gifts to encourage participation, but it is really more about the sense of togetherness. Additionally, for the holidays last year, suppressed by the pandemic, Allscripts hosted a global HR call that was interactive and featured holiday trivia and caroling. This year, they will be doing a virtual holiday escape!
Whatever your company decides to do this year, the most important thing is to come together, be inclusive, and do so in a way that recognizes all employee voices, regardless of location. Our research shows that employees want to feel valued, and they want to be recognized for their hard work, so don't miss this opportunity to say thank you and demonstrate your commitment to creating a great employee experience – fun included. 'Tis the season after all!