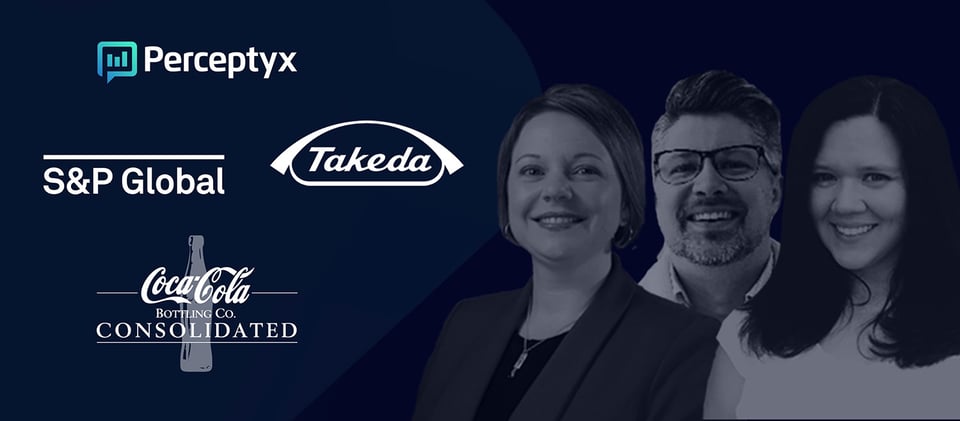 How to Design the Post-Pandemic Workplace: A Virtual Roundtable Q&A with Takeda, Coca-Cola Consolidated, and S&P Global
Is there an HR topic more pressing right now then how we'll return to the "not so normal" workplace? Earlier this week, Perceptyx hosted a customer roundtable to hear directly from HR leaders on the front-lines about how they're preparing their organizations --both employees and managers -- to thrive in a hybrid work world. Joining our host, Perceptyx VP of Professional Services Mark Gonzalez for the conversation were Meghan O'Brien, Senior People Agile Consultant with S&P Global; Laura Sherrill, Director, Teammate Experience & Engagement with Coca-Cola Consolidated; and Rob King, Senior Director of People Analytics with Takeda Pharmaceuticals. An edited version of that conversation follows. To watch the on-demand recording of the full one-hour session, click here.
Mark Gonzales: So I think the session today is coming at a really good time, panelists. Could you give us a bit more information about how your organization has started to think about this post-pandemic workplace? What decisions have been made? What's driving those decisions?
Rob King: At Takeda we are a global company, so each country has their own specific approach to what a return to work looks like. We started this work back at the end of the summer, early fall last year, and we took a quantitative approach. We launched a survey to all employees to understand their preferences on what flexibility looks like, and what their preferred workplace of the future would look like. We also conducted a virtualization potential exercise, where we tried to understand what roles could potentially be more virtual than others. And we came up with some global guidelines to help all of our business leaders in each country, in each of the business units, understand what Takeda's philosophy on return to work would be, while still empowering them to make the best decisions locally.
My team is involved in, once we launched all of our different hybrid working models, how do we ensure success? And not just from a productivity standpoint, but really focused on the employee experience. So we're leveraging a vast amount of data and technology to help ensure that regardless of the hybrid working model that people have, that they have an equal opportunity to succeed and have a great employee experience at Takeda.
Laura Sherrill: Our [situation] is probably a little unique. We are just US-based, and we are an essential business, so our doors never really closed. Within our corporate office settings we did drop the occupancy rate down to 10% early on in the pandemic. As vaccines become available, and the CDC within the US has started to open some things up, we have begun to increase that occupancy level to right now, about 40%.
We are still very much in a voluntary 'come back if you would like to' state. No further decisions have been made to mandate or force anyone back to work environments. What I have seen is great engagement from our leaders to start to encourage some in-person team meetings, where that collaboration could be really valuable. And then of course, we have spent a lot of time, similar to Rob, prepping our leaders and our workforce for how to lead effectively in a virtual setting. We also launched a survey just this last month. And so our leaders are now reviewing those results to see what some of those preferences are,, and to look at some of the productivity models for the business.
Megan O'Brien: Like the name suggests, we are a global company and we've got people in virtually every time zone. So lots of different offices in different countries experiencing the pandemic at different levels of intensity all the time. So each office, and the return to office plan, is managed at the local level with a lot of collaboration. As far as where we are, we've implemented a four phase approach, and we actually have this dial that shows you where you are in your journey from phase one to phase four.
Most of our offices are in phase one, where we're having soft openings, inviting people to come back on a voluntary basis, or with a split team. We are taking a global approach to hybrid work, of course, with a lot of input and flexibility for all of our various businesses and teams. But the idea is having days where we anchor in the office and days where it's flexible to work from home as needed. We're calling this our re-imagined workspace.
Mark Gonzales: I know that each of you have continued to do survey work, analytics work in each of your organizations. Can you talk a little bit more about how you've asked distinct survey questions, or are launching distinct surveys? Can you talk about how you've begun to gather data on this topic specifically? Any surprises in the data?
Rob King: I mentioned that we conducted a survey back in the fall to explore what our hybrid working model would be and how we're going to decide that. We also took quite a large focus on employee well-being, because throughout the pandemic, employee well-being suffered quite a bit, and our survey data was telling us that. That helped us understand the employee experience so we can develop programs. And not only help at the time, but to understand what we're going to need to provide in the future. And we've continued to do many pulses and localized surveys to support employee well-being along the way.
Everybody will be in a hybrid model come September globally, local regulations and outbreaks permitting. But when we go there, we're starting to look at implementing a continuous listening platform, as opposed to having this ad hoc or annual survey. We're starting to work with Perceptyx to build out a continuous listening program so we can keep our eye on the things that matter to our organization in a very agile and continuous way. And this is not just typical HR things like engagement and well-being, but we'll also partner with our peers in IT and real estate, to make sure that employees feel they have the technology, the resources and the physical space to continue to collaborate and innovate. Those are things that, as a large pharma company who's science-based, are at the heart of the work we do.
Megan O'Brien: One thing we did just this May was we brought the return to office questions back into our survey, even though we'd already established the plan. We had basically scrapped all of our plans last year in favor of listening more around our response to COVID-19. But even after the plans were made and we'd begun communicating out, we thought, let's ask anyway. And it was really interesting because even though we came at it with very similar questions, the responses people were giving are showing this shift in how people are thinking about the role of the office. It became less about, "I'm just waiting for a vaccine," and more, "how do I plan to use the office when I do come back?"
Laura Sherrill: We just launched our survey last month. It closed a couple of weeks ago. So we're really still digging into the details, but from a top-line perspective, one of the things that I was excited to see from an engagement perspective is the desire to use office space for collaboration, innovation, thought leadership. I was also extremely encouraged to see that, as I look back at our prior engagement surveys, those teams with higher-performing leadership, and in particular local leaders at the manager/supervisor level (we always say in the engagement world, it is the manager!), felt the most connected. These are higher level leaders focused on serving their teams in alignment with our purpose and values as a company to serve others and pursue excellence.
Rob King: Sorry, Mark. I forgot to talk about a surprise and it just occurred to me. When we investigated employee well-being in our meeting culture, specifically on "are people able to disconnect and what does working in a more virtual environment look like?", we expected that when we looked at the data we would see a difference by gender overall. We had some theories that maybe females would have more of an impact just based on traditional gender roles in some countries. And it turned out that that wasn't the case until you actually overlaid whether they're a manager or individual contributor. And we actually found that female managers were disproportionately impacted compared to the rest of the population. And that was really, really surprising.
This mindset is now percolating into the way we're talking about what we're going to measure going forward. Because even though we're going to come out of this pandemic world and maybe some of the caregiver or daycare challenges are solved, when you go into a hybrid model, it doesn't mean that you have a fixed schedule anymore, and we might be replacing some problems with others. By understanding some of those impacts, specifically on female managers, it's led us to think a little bit more about what that experience might be and what maybe some of the potential areas for concern will be going forward.
Mark Gonzales: No, it's a great point because we're seeing themes emerge from our own research and from our customers that are really aligned with what you're saying, that this is still a dynamic evolving situation. We shouldn't take anything for granted. So the opportunity to continue to stay close, to ask and respond and ask again, is something that continues to be emerging. Flipping topics just a little bit and being intentional around attrition and retention. In April, I think we saw the highest number of folks leaving jobs voluntarily. 2.7% of the workforce voluntarily left. There's been talk about this tsunami, people reacting to the conditions that you're talking about. Have you had conversations around this impending "turnover tsunami"? Have you talked about onboarding and retention in a more deliberate way post pandemic? Meg, maybe we'll start with you if you don't mind.
Megan O'Brien: Some of this started even before the pandemic, but it has definitely become an area of increased focus and intensity, as we're beginning to see the job market pick-up. At S&P Global, we are obsessed with creating a world-class experience for our people. Of course, that comes with enhanced policies and benefits, particularly around flexible work practices and support for caregivers. We've also been investing in tools to improve the onboarding experience, whether that's interacting with IT or interacting with HR and creating a really seamless and easy experience for onboarding.
When we think about teams and managers, some of the work that we're doing is establishing those hybrid work norms. We're creating working promises for virtual teams and leaders. I like to think of this as a framework by which we can live and show up to work. We're also rethinking the performance experience so that people can thrive in their careers and have a deeper connection with their managers and teams.
Rob King: We're still in the investigation mode. We've obviously read about this tsunami. We haven't necessarily seen it in our data yet, but we're not assuming that it won't happen. We are focused on just making sure that when we do go back we have the best possible experience for our employees. We're in an extremely competitive industry, competing for talent, especially in the Boston area. Every major pharma is here. So we know that the winners and losers in our industry might be determined by success in implementing new ways of working. We are starting to do some modeling and some analytics work using surveys and asking more 'intent to stay' type questions to see if we could detect some latent desire to leave the company, or if there's an issue there.
I think the silver lining in the pandemic is that we're more laser focused on the employee experience. I love some of the terms that Meghan was using. We use the term social contract a lot, but I like "working promises." I might co-op this from you! I wouldn't say that we've made any major changes yet, but we are building up our measurement systems so that we can detect these issues with leading indicators, as opposed to waiting for turnover to spike.
Laura Sherrill: From a learning and development perspective throughout the pandemic, we did build some additional online capabilities. The team has done a fantastic job of building engaging content that our new hires can engage in and even provide a live senior executive welcome two times a week. So regardless of what day of the week the new hire begins, within those first 48 hours of joining, they get a live executive welcome and build some connections via an online environment.
Where we're looking now, because much of our work is driven toward hands-on product and hands-on skills, we're working on reopening our learning centers, providing collaborative spaces for folks to learn in and practice their skills.
The biggest thing from a retention perspective I would add is, throughout the pandemic, we have really worked hard on communication, and it really started last year since the survey. We run our survey every year in September. Most of our team members spend more working hours with their customers than they do with us. So we've really worked hard to use our One Team communication tool that is available for all team members on their personal or work devices to push information, share business results, share cultural videos, to continue to help them stay connected to our culture and our brand.
At the corporate centers in our office settings, our HR leadership team has done a fantastic job of leading what they call coffee talks. There's a little bit of a business update, but then heavily focused on guidelines, safety, COVID requirements, even some good education to keep in mind to keep yourself personally safe such as vaccination availability, benefits spotlights, how we're supporting our teammates through benefit enhancements.
Mark Gonzales: We launched a LinkedIn poll last week asking folks about specific elements of their organization's hybrid workplace strategy, and what's the most challenging. You can see things like in-office health and safety, meeting employee expectations, managing the culture, and then this is an interesting one, executive attitudes regarding remote work.
There appears to be a real divide between what employees want and what senior executives want. How are you seeing this dynamic play out in your own organizations, and how are you seeking to bridge the gap and find common ground? Are your organizations doing anything specifically to help managers prepare for leading in a hybrid model?
Rob King: Our CEO has a very defined philosophy on coming into the office. He wants to see people coming in some number of days every week, just to make sure that we don't lose our culture. We're 240 years old and perhaps the most values- and culture-driven company I've ever been a part of. It's actually quite amazing to see, and we don't want to lose that, but at the same time, people need flexibility in their lives.
In Takeda's operating model, we're very locally empowered. Even if we have the central global policy it should be two or three days a week, it's still up to each of the business units and countries to make their own decisions.
For some of our sales organizations, for instance, this is almost business as usual. They operated in a hybrid work model prior to the pandemic, and so it's not much of a change for them. But for organizations like research and development, this is a big deal. How can you continue to do lab work and ideate with each other virtually? We've set global guidelines, but we've allowed a lot of flexibility so managers can determine what's right, employee by employee.
Each business unit, as they make the decisions on what it'll look like, they are preparing all of the managers with guides and training on how to handle these situations. But we've also had more of a focus on what we call quality conversations. For us, performance management, we don't have ratings, but the way we handle performance management is not necessarily a yearly event. It's supposed to be an ongoing conversation where employees and managers are having open discussions. These issues should be part of those ongoing quality conversations that are occurring frequently.
Megan O'Brien: We realize that when we're talking about hybrid work, it's important that we all play along. One of the solutions that we have in place is this anchor flex model. Each senior leader has set a minimum number of anchor days for their business. That helps give people a baseline to start from of, "Okay, I know that I need to be in the office one day a week," or, "I need to be in the office two days a week." From there it cascades down, and teams can decide together, which two days we're going to go in or do we need three instead. There's some flexibility that comes with it.
With managers, we talk about working promises that include things like fostering psychological safety, inclusivity, having clear expectations, and cultivating interconnectedness. To help create this sense that if you're not in the office, you're still together, you're still working together and collaborating.
Laura Sherrill: Mark, our experience really aligns with Meghan and Rob's in that we do empower our local leaders to make some of those decisions based on the work that's in front of them and the assignments that they have for that time in the business. From a gap perspective, one of the things we've done is set the expectation that all meetings will have a Teams link attached to it so that is always an option. Prior to COVID, there were many, many meetings that I attended, but there was no opportunity to dial in or to join virtually. It was just the conference center room and great, we'll see you there. What I've seen is our senior leaders also model that. They include Teams links on their meetings as well. That really helps folks feel that, hey, it's okay, because our senior leaders are modeling that.
From a manager transition perspective, we have an online resource called Wellness at Work that we continuously update via our learning and development team. It helps managers really support their teams through content: caring for self, caring for your team, how to drive productivity. That is really where our IT team has done a great job of coming in, supporting us in some basic training.
Then, how do I lead a virtual team? Our corporate learning manager has taught classes around virtual presentation skills and how to show up virtually and set your meeting agendas in a way that drives dialogue in a virtual setting.
Mark Gonzales: I want to shift gears a little bit and actually we've got an audience question as well that touches on equity, inclusion, and diversity. We know from the research there's been a disproportionate impact on certain demographic segments and populations - working moms, caregivers, for instance. How are these or other DE&I concerns factoring into your planning?
Rob King: This is an extremely important thing for us as we're looking at our measurement strategy and how we implement new ways of working. I gave the example earlier about when we were looking at our well-being data, we did see a difference with female managers and how they were experiencing the pandemic. If you were to imagine, in a very hypothetical world, where all women in your company have a role where they're completely virtual or coming in just one day a week, but men are in the office every single day.
You may have inadvertently created an environment where there's an opportunity for bias in career opportunities, promotional opportunities, etc. that you wouldn't pick up on for quite some time until you start to look at lagging indicators around promotion or turnover. We want to understand what our working models look like on all the various subgroups. That's a pretty well-defined concept within the US, but globally it's harder to define. So we are working with our global diversity group to understand those factors. One is to ask people what their perception is. Are they working in a diverse and inclusive environment?
There's also being able to look at more passive behavioral data and understand, "are the networks changing?" Are any subgroups, or at least the people in the office, getting more opportunities and exposure to senior leadership? We're using email and calendar data to understand how those networks are being formed and how they're changing so we can organically try to find ways to make sure there's equity across the board. It's something we're building into all of our measurement systems, and it's actually one of our guiding principles in the way that we handle all people data, which is to avoid introducing or reinforcing existing bias in our models.
Megan O'Brien: I was just thinking, Rob, so glad that you said that about the calendar and email data. I think that's something we might need to co-op over here! It's also been a big topic of conversation at S&P Global, and I work really closely with our people analytics team and our DEI team to dig into our sentiment data and pair it up against other data sources that we have, like feedback from our employee resource groups, promotion, and attrition as well. Early on, we did begin to see a difference in willingness to return to the office along gender lines globally and seeing the impact that being at home has had on women and particularly caregivers, both mothers as well as elder care, its something that we've been keeping an eye on.
It has informed some of our decisions when it comes to the kind of support we're offering, how are we implementing this hybrid model in a way that it's not punitive for you to be at home when others are in the office and create that equal playing field. I love the idea of being able to bring workplace analytics into the mix as well because that's a great way to look at it through other lenses. And like Rob, we also track a lot of sentiment and behavioral data as well.
Laura Sherrill: Our women's group has been more active than ever through all of this. And most, if not all of their content is really focused on that work-life blend, how to support families through this, how to care for self through this. So we have taken more of a supportive stance to ensure that our women employees have that additional level of education and support with executive presence. And then honestly, building on those relationships that we all got a wonderful opportunity to grow from in the height of the pandemic. We did promote having videos on to say hey, bring your child over into the camera, let's meet your dog, let's say hello to your spouse, your significant other, those others in your household to really drive some team spirit, particularly on local teams. We really want to support our local leaders in those conversations with their teammates so that there is transparency, there's empathy, there's mutual respect.
Mark Gonzales: I think this'll be an area that will continue to evolve as we understand the impact on things like psychological safety, and the overall employee experience for underrepresented groups. We've got a few minutes left. What advice would you give to your peers who are here on Zoom? Talk about lessons learned that might help other organizations.
Laura Sherrill: I think the most important thing is to find a way to hear the voice of your teammates, whether that's through a formalized survey or small listening feedback sessions where you can utilize your local Teams channels, your Zoom channels, things like that. Find a way to hear the voice of frontline teammates and give them the opportunity to be involved in the planning that's ultimately going to affect their work each and every day. That is really where we focus as an organization. The best way to serve our team is to hear them, to listen to them and to ensure that their voice is heard in the room where those decisions are being made.
Megan O'Brien: I echo Laura completely. I think that you just don't stop listening. Even if you think you know the answer or you've got the external research, there's always something more that you can get from people and you are absolutely going to want to add the follow up question, right?
Rob King: That's super important. I echo everything you both said. I'm very biased. Obviously, I lead the analytics team and so one piece of advice is to use data. One thing that I remind my team about is that it's more important to get this right in the long-term than it is to get it right right away. We do our best, understanding that there's no way we're going to understand all the issues. We just need to set ourselves up in a way that we can get the voice of the employee and understand what goes on so that we can continuously adjust things and make things better for everyone. But to echo what Meg just said, it's not all data. You still need to go out and talk to people, especially if you're in a global organization. I have to constantly remind myself and my team not to take an overly American point of view on everything that we do.
Mark Gonzales: I appreciate that. And no doubt, it's not an easy solution. You've got to continue to gather data and then do something with that data, take action that's meaningful. I want to say thank you to all of our panelists. It's been a pleasure to spend some time with you, learn a little bit more about the work going on in your organizations.