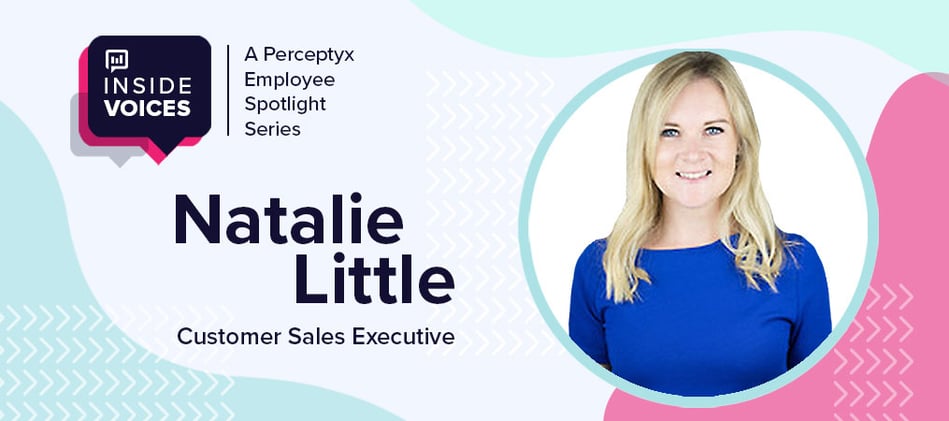 Inside Voices: A Perceptyx Employee Spotlight Series - Natalie Little

Deidre Moore
Our blog series featuring some of the amazing team members behind the scenes at Perceptyx continues! This month we're chatting with Natalie Little, a member of our Customer Sales team based in London. Natalie is a true veteran of the employee listening marketplace, having spent more than 10 years at Korn Ferry and IBM before joining Perceptyx 3 years ago. In our conversation, Natalie shares her thoughts on how our customers' approach to listening has evolved, the importance of managers who know exactly when to push you into that next role, and why its important to embrace your own seat at the table. Read our full interview below.
How long have you been with Perceptyx, and what initially drew you to the company?
I had previously worked with Jeremy Bailey (European VP of Sales for Perceptyx) at IBM. He called me up and said, "I'm working for this amazing company, they're growing in Europe, and we have a role here," which was the first Relationship Manager role in Europe. I was employee number four in the UK and the first female, which for me was just really unique. I had previously worked at Korn Ferry and IBM so had come from big corporate companies for the first 10 years of my career. I saw joining Perceptyx as an opportunity to shape something – to have input and a voice – and that was what I was most attracted to. I met with Beth Alix (Perceptyx's VP of People) and the hiring manager at the time and instantly knew that this was what I wanted to do, and where I wanted to be. That was three years ago. I can't believe it.
You've been in the employee listening arena for a number of years, including, as you mentioned, stints with IBM and Korn Ferry. What are the biggest changes you've seen in this marketplace over that period?
It's funny because I worked at IBM selling technology, then I went on to be a consultant. So I've experienced "both sides of the fence." I really liked that Perceptyx brought those two things together. You hear people say all the time that the uniqueness of our tech working alongside our consulting and services expertise is really where we excel for our customers.
In terms of the market shift, customers aren't satisfied with a once-a-year, point-in-time survey anymore. And it's not just about surveys, it's about everything that surrounds that, including passive listening, so our recent acquisition of Cultivate is right on the nose with what customers are asking for. They want to connect all the dots and take action with the insights they gain. HR also has more of a seat at the table now than they did perhaps five or 10 years ago, and those people need data to make good business decisions. I hear customers ask all the time, "What's next, what are others doing, how can we evolve our strategy?" It's multi-layered now, and for me, this has been the biggest shift over the last three to five years.
In your role, you work closely with our customers in Europe to craft and execute their listening strategies. Of course, the pandemic has been a challenge for every region, but are there acute workforce challenges you see in Europe that might be unique to that region?
I don't know whether it's unique in Europe in terms of listening, but I think what is unique about Europe in general, compared to the US, is that as you go from Italy to Spain to Germany, its critical to understand those regional and cultural nuances, how customers do business, and what's specifically important to them. Our customers vary so much and therefore we really flex a lot more here in terms of the solution, how we present data, and how we address local culture because each country is so specific in what they're trying to convey and even how they communicate. On top of that to make things even more complex, there are different data regulations, and then layered again with the pandemic, every country had completely different rules. So even though Europe is close-knit in terms of geography, it's really kind of blown apart how we work with individual customers here. As a team, we have to be on the ball and listening to what's happening for them, and at what point, and be really sensitive to the nuances in each country of the customers we're working with.
At Perceptyx we're all about helping organizations capture and respond to the voices of their employees. How has working here changed your own thinking about what it means to be an engaged, fulfilled employee?
It's really highlighted the value of personal relationships at work, particularly the manager relationship, and the fact that transparency and trust are vital. Particularly, being remote, the bosses that I've had all through my time at Perceptyx have been at least seven hours behind me time-zone-wise, so that's tricky to navigate in itself. Overall, how connected you are with your team, and the trust you have with your manager, all play a hugely vital role in how engaged you are as an employee. Feeling like you're making a contribution, and having clarity about where the business is going and how you play into that.
What voices have been most meaningful in influencing your own life and career?
Definitely my family, including my now-husband. Having people who push you and challenge you, who help you to believe in yourself even if you don't feel quite ready for the next role or the next step. That's been really valuable for me. I've been really fortunate over my career, not just here, but also when I was just starting out, to have had managers who really took a chance on me. They flung me into a big role that was probably a step ahead of me, but looking back now, I wouldn't be where I am if I hadn't taken that risk.
What's one thing your coworkers would be surprised to learn about you?
When I was just starting to take off in my sales career, I decided to put it all on hold and go backpacking on my own for six months. So I paused my career, against the advice of my manager at the time at IBM. He was like, "You're at a really good point, are you sure you want to do this now?" It was a huge risk because I was on a good trajectory, but I knew if I didn't take the opportunity then, I never would go again. People are most likely to be surprised by this because today I can barely take a week off without looking at my email!
In your work life, what's one tool you can't live without?
I think the boss might kill me if I don't say Salesforce! It's how I track my deals, it's how I get quotes out, it's how I do contracts. So I literally could not do my job without it, even if it is a love-hate relationship sometimes.
What's the best piece of advice you've ever been given?
This was probably more applicable advice when I was just starting out, but it has always stayed with me: If you feel like you're in a room full of senior people, and maybe you feel shy about raising your voice or asking a question, remember that you're there for a reason. You've been invited into that room so your opinion, your question, is just as valid. I've worked in very male-dominated industries and have frequently been the only female in a room of much more senior people. I would often lack the confidence to ask those questions, but as someone once said to me, "well, you're there for a reason, you've been invited to the table, so speak up."
What's your favorite thing about working at Perceptyx?
Oh, easy – the people here! I think everyone probably says the same thing, but I've never been at a company before where I have felt you can be your full self, even with our leaders. I remember distinctly meeting John Borland (Perceptyx CEO) and Mark Gonzales (SVP, Consulting), on I think, day 5. They asked about me and my life, where I lived, and my family. And that was the priority over, "where have you come from, where have you worked before, what's your experience?" That's still true of our culture today. As we grow, our leadership models the behavior of caring about you as a person first, which I love. Even though many of my co-workers are on different continents than me, I don't think I've ever felt part of such a strong, connected team. We're genuinely friends for life.