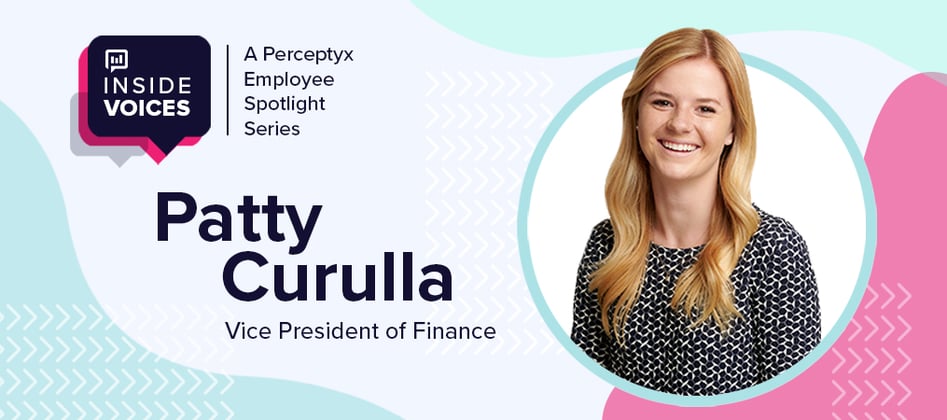 Inside Voices: A Perceptyx Employee Spotlight Series - Patty Curulla

Our blog series introducing the folks behind the scenes at Perceptyx continues! This month we're chatting with Patty Curulla, our VP of Finance. Prior to joining Perceptyx, Patty spent several years with Healthline Media, a digital health and wellness company. She began her finance career at JP Morgan Chase in the Chicago area, where she still resides today. In our conversation, Patty shared her thoughts on the power of mentors, her big Polish family, and why you can't "sweat the small stuff." Read our full interview below.
How long have you been with Perceptyx, and what initially drew you to the company?
I joined Perceptyx a little over two years ago. I knew joining the company at that time that we were going to go on a great journey and that's exactly what has kept me inspired and excited. The employee experience space is continuing to grow and become a top priority for companies. I loved what the product was focused on and believed in the management team.
Tell me a little about your career journey in finance. Have you always been a "numbers" person?
I have definitely always been a numbers person! I genuinely love math, problem-solving, and most importantly…Excel 😊
At Perceptyx we're all about helping organizations capture and respond to the voices of their employees. How has working here changed your own thinking about what it means to be an engaged, fulfilled employee?
I think it's one of the best examples of how Perceptyx has impacted me as a peer, leader, manager, and friend. I'm constantly learning about employee engagement. It has made me more aware and intentional as I approach meetings, my management style, and just everyday work. I have always believed that as long as you have good intentions, it will all work out. But I'm learning that it's more than that and you have to keep learning how everyone has a different background and put in the work and effort to ensure you and your team are engaged and fulfilled.
What voices have been most meaningful in influencing your own life and career?
I've had a consistent mentor throughout my career, and I strongly believe it's valuable to make sure everyone finds that person for themselves and becomes that person for someone else. Advice, when you have enough background that you understand the full picture through a long-term mentorship, is extremely valuable both on the receiving and giving end.
What's one thing your coworkers would be surprised to learn about you?
Because we have such a great and open culture at Perceptyx, I think many of my coworkers already know a lot about me! But with our exciting growth and a lot of new team members joining us every day, something they might not know is Polish was my first language and I have a huge family. They are my #1 priority (4 sisters, 3 nieces and nephews, and 30+ first cousins. Family parties are always a ton of fun!)
In your work life, what's one tool you can't live without?
That is very easy, Excel of course!
What's the best piece of advice you've ever been given?
Don't sweat the small stuff. I love the simplistic approach to it and while it's easier said than done, there's too much to worry about if you're treating the small stuff the same as the big stuff.
What's your favorite thing about working at Perceptyx?
The evolving nature of the industry we work in and seeing how agile we continue to be to evolve with that change. I've been so impressed and inspired by how much we have done in just the two years I have been with the company and can't wait to see where we go next!
Interested in joining our team and working with more colleagues like Patty?
Check out our open positions and apply today!