A Fresh Look at Retaining Women in Today's Changing Workforce
The year 2020 has brought new challenges to obtaining and retaining top talent given the level of uncertainty in the world and in workforces globally. As employees struggle to balance family obligations and work priorities, organizations are scrambling to learn more to offer the support and flexibility necessary to retain those with caregiving responsibilities.
In this session, Dr. Ellen Lovell, Senior Consultant at Perceptyx, and Emily Killham, Client Data Researcher at Perceptyx, shared research findings and facilitated a discussion with three leaders on supporting women in the most effective way: Dr. Bethany Dohleman, Director of People Insights at AbbVie, Lauren Mutz, Director of Employee Engagement and Team Performance at BAYADA Home Health Care, and Sandy Sullivan, Founder and Partner at The Alchemy Group.
Emily first shared insights garnered from a nationwide survey of over 1,500 working adults, asking about the childcare responsibilities carried by men and women, as well as how both have managed. For families with young children, women are carrying a heavier load than men when it comes to childcare responsibilities, both during and outside of their working hours: Nearly 55% of women carry 75% or more of the responsibility, compared to only about 41% of men. Interestingly, those women caregivers providing at least 75% of the care during the workday report less distraction and productivity loss than their male counterparts, even when compared to men who provide less than 25% of the childcare. However, women are feeling less support from their managers and organizations when compared to men. With women burning the candle from both ends, seemingly keeping it all together while maintaining high levels of productivity despite less support, the immediate concern of this childcare imbalance is the loss of these women from the workforce. One third of women said they would need to make a change to their current working arrangement in the next six months, and 23% have already looked for a new job with different or fewer hours. This is a critical time to look inward at talent practices and ask the question: Are we supporting women in the most effective way?
Women's Intention to Stay
Emily shared compelling data that "old-school policies," such as onsite childcare, flex schedule, or extra time off, have little impact on women's intent to stay with their organization for the next 12 months. Instead, organizations who are empowering women to self-impose their own flex schedules and managers who are understanding of women's unique needs are 1.5x and 1.7x, respectively, more likely to have women intend to stay. Reflecting on these data, the panelists reminded us that we are all "in the same storm, but in different boats with different levels of water." Sandy shared that organizations need to shift from a focus on policies and procedures to asking the right questions in order to gain a true perspective of the needs to fill. Bethany cited AbbVie's internal research that employees are 10x more likely to realize the policy benefit when it is supported by one's direct manager. Quoting Lauren, "our expectation is we want managers to check in on you, not up on you." From Lauren's perspective, there is a need for programs and policies, but at the end of the day it comes down to the manager-employee relationship. Often, employees feel they need the "permission" from their manager to take advantage of new programs and policies, and managers need to listen and respond in the "moments that matter" to have a positive impact on their team.
What Drives Actual Attrition for Women?
Emily also shared insights from our client employee lifecycle database, evaluating actual drivers of attrition. Whereas themes like Pride and Engagement predict subsequent attrition for both men and women, Employee Empowerment is 3X stronger at predicting attrition for women as compared to men.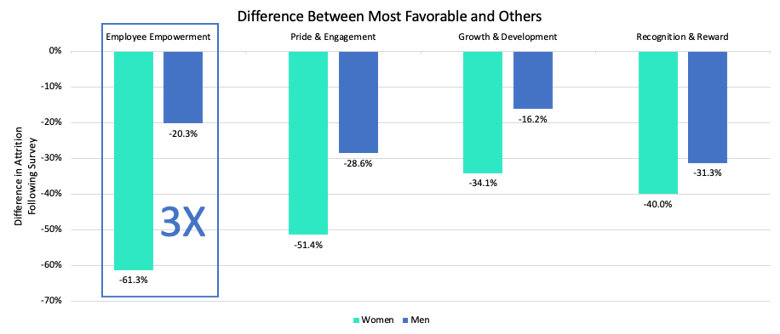 Sandy shared, "We want empowerment...it's not that complicated," and organizations are only a few, book-end/balancing questions away from empowering employees:
What has been the most challenging aspect of the last two months?
What has been the elixir in the last two months?
In one word, what are you thinking, feeling, or experiencing right now?
Sandy encourages organizations to sunset the question, "how are you doing?" The common responses to this question, "fine," provide little to no information, whereas the right questions, according to Lauren, can help demonstrate care and empathy, as well as how one can individualize their approach to best meet needs. The panel also highlighted the importance of active listening to the responses to these questions, aiming to listen 80% of the time, with only 20% talking/responding. There is also a universal follow-up that helps deepen understanding and the manager-employee relationship: "Please, tell me more about…" Indeed, this panel believes managers and organizations have the superpower to upgrade their questions to really drive perspective, engagement and retention, and it is important for both employees and managers to have brave, transparent conversations. For example, what flexibility means to a manager might be quite different from his/her direct report. There is nothing more powerful than a one-on-one conversation to start unpacking what does great look like, what does flexibility mean, etc. to meet each person's unique needs.
The Time to Listen is NOW
As Ellen shared, continuous listening and, more importantly, continuous acting is a strategic way for "HR to empower managers to empower employees." Lauren said that, during the more turbulent times, they have shifted to more ongoing listening during moments that matter. Panelists agreed that BAYADA's approach of "listen first, build second" goes a long way to showing the importance sequence of events: 1) we asked, 2) we heard your pain point, 3) here's what we are going to do, and 4) we ask again to make sure we're getting it right. Too often companies start with the assumption that "we know," and while their assumptions are often correct, it is a mistake to also assume employees understand "the why" behind new changes, policies, procedures, and/or benefits. Bethany added that "culture stands out in a crisis," and is really proud how continuous listening and acting has improved the employee experience in 2-3 weeks instead of the typical 2-3 years.
As Sandy stated, "this listening thing is huge" and is the key to help companies see, hear, and ask the way forward.
Seeing The Way Forward
The Perceptyx platform gives you the flexibility to adapt your listening strategy to rapidly changing real time events. Combined with support from our analytics experts, our platform can help you keep your finger on the pulse of your people's needs, so you can provide the support they need during these uncertain times. Get in touch to see how we can help your organization navigate successfully through the COVID-19 pandemic.