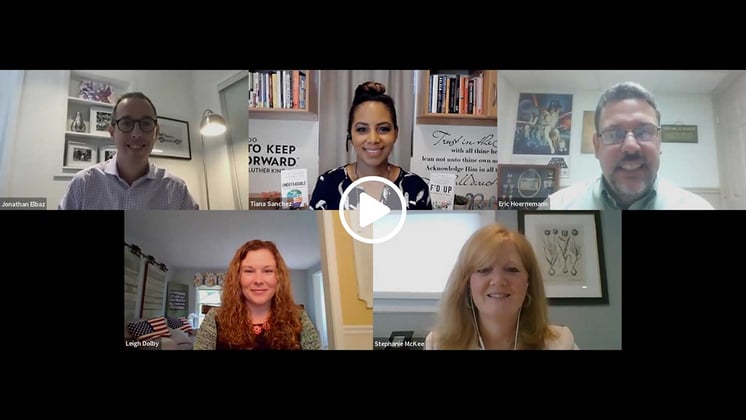 Insights Discussion: Mitigating Long Term Implications of the Pandemic on Your Employees: Strategies to Reduce Stress and Burnout [Recap]
As the impact of the COVID-19 pandemic continues to be felt, employee stress and burnout are becoming a significant and growing concern. The majority of us were abruptly transitioned to remote work where we scurried to set up "home offices," get our kids situated in new homeschool environments, navigate business calls with dogs barking in the background, and, in many ways, have had to rethink how and when to do our jobs. And our essential workers have endured working in tumultuous environments, where health and safety concerns are also met with uncertainties at home. It's easy to see why employee mental health is being challenged. So, what should organizations do to help reduce stress and prevent burnout during these times? How can we be proactive in taking additional steps to address employee well-being and keep employees healthy, motivated, and engaged as the impact of the pandemic continues to be felt.
Jonathan Elbaz, Director of Consulting at Perceptyx, facilitated a discussion with four leaders on how organizations can mitigate the long-term implications of the pandemic on employee well-being: Tiana Sanchez, CEO and Founder of Tiana Sanchez International, award-winning executive coach, situational leadership trainer, podcast host, speaker, and best-selling author; Leigh Garino Dolby, Sr. Director of Global Talent Management at Haemonetics; Eric Hoernemann, Talent Lead at Grainger; and Stephanie Nix McKee, Vice President of Corporate Human Resources at IPG.
Compounding Concerns
Before jumping into the panel discussion, Jonathan reviewed some of the insights Perceptyx has uncovered since the beginning of the pandemic. For example:
More than 60% of employees have spent at least a moderate amount of time worrying about long-term financial security and physical health and well-being. Similarly, more than 50% of employees have spent at least a moderate amount of time worrying about stress, burnout, exhaustion, sleeplessness, and/or depression.
The shift to remote learning has put a greater strain on working mothers in particular. Whereas 1 out of 4 mothers are carrying the entire caregiving burden during the workday, only 1 out of 10 fathers are doing the same. Organizations providing the flexibility to work with children learning in the home are significantly more likely to retain working parents over the coming months.
Prior to the pandemic, only 8% of employees worked from home exclusively. When the pandemic ends, 33% want to work from home exclusively, and only 15% of employees want to return to the physical workplace each day.
Communication to Address Employee Concerns
With employee concerns changing and compounding in VUCA times, the panelists agree communication is paramount:
Frequent and action-oriented. Eric shared there were "two Graingers," where the experiences of their essential and remote employees were quite different. Grainger launched a variety of surveys to understand how they were weathering the transition to new work environments. The insights gathered from these surveys caused Graniger to adjust their policies and benefits, with a continuous focus on keeping all employees safe.
Macro to Micro. Leigh discussed how Haemonetics took a macro to micro approach with communication. The pandemic affected every colleague, at every location, all around the world, to some degree. Communication and decision making began at a holistic level, to best serve all, then targeted communication and actions for certain employee segments (e.g., vulnerable populations, essential workers), and then finally at a personal level, discussing tailored benefit offerings (e.g., personal loans from 401(k), expanding back-up childcare).
Starts from the Top. Tiana discussed the importance of "higher and better communication" from the top down. Grainger, for example, held weekly town hall meetings for several months. When nothing in this world seemed predictable, Grainger's reiteration of their core values on a weekly basis served as a guiding compass to address employee concerns and direct positive action. Stephanie also reiterated this point: Setting the tone at the executive level, and tricking down messaging showed their employees that leaders care.
Transparency. Stephanie added that in uncertain times, it is important for leaders and employees to know exactly what is expected of them. To this end, scripting leaders with talking tracks can go a long way to settling nerves, helping both leaders and employees anticipate and feel comfortable with organizational expectations.
Time to Promote Empathy
Tiana suggests that empathy - being able to understand, share, and act upon the emotions of others - is the "secret sauce" to engage and approach someone who may be experiencing stress and anxiety during these turbulent times. She offers a highly practical, 4-step S.T.O.P. method, that everyone, regardless of their EQ, can leverage to demonstrate empathy:
SHARE a personal sentiment. "Working from home with my children has created a great deal of stress for me and my family."
TAKE a pulse. "I'd like to know how you are feeling?"
OFFER an empathy statement. "Tell me more about that. I cannot imagine what you must be going through right now."
PROVIDE a resource...but in a QUESTION. "What can I do to help alleviate some of the stress and anxiety you are experiencing?"
In a world where so many leaders "tell, tell, tell," the S.T.O.P. approach hones the art of asking questions to build relationships and demonstrate empathy - when others need it the most. Eric shared how Grainger is using team meetings to ask what is going well, where are we struggling, and how we can help and continue to do more. Having these "brave" conversations help mitigate the stress and burnout of what seemingly feels like "living at work."
Organizational Response During Civil Unrest
The murder of George Floyd and recent shooting of Jacob Blake have stirred racial tensions and civil unrest. All panelists point to the importance of their organizations doing the right thing and taking a stance. Leigh shared their CEO provided an immediate video response and reminded employees of their employee assistance program and other available resources.
With so many companies running to diversity and inclusion or unconscious bias training, Tiana first suggests a diversity audit to understand the strengths and blindspots to fuel the organization's response and strategy. What's exactly written in your policies and procedures? What are your values and what do you stand for? When you neglect these areas, problems compound and take longer to solve. Tiana also shares, "do not should on yourself." With hindsight being 20/20, it's easy to focus on what you should have done. Instead, start driving change, now.
The Return to Work
Work in the future will likely never look exactly the same as before the pandemic. As Tiana mentions, "out the window is the notion that working from home doesn't work." Just as we didn't think this would work, it leaves room to think of what else is "impossible" and begin to challenge these beliefs to uncover what else we may be missing out on. Stephanie shared that with the infrastructure and technology today, they have proven remote work can be successful for the typical office worker. One caveat she asks is, "what kind of culture do you want to have?" Aligning with Perceptyx research, they are finding large generational differences in return to work preferences. Whereas younger employees want to return to the physical workplace as they see it as highly social, older employees want more of a hybrid working model. With distributed roles being a large success, Leigh mentioned that the return to work will broaden their talent pool. Sooner than later, organizations are going to be attracting, recruiting, hiring, and engaging talent far beyond the small radius from the physical workplace. Globalization will continue to accelerate with greater numbers of remote workers and advances in communication and collaboration technologies.
As John Maxwell said, "If we're growing, we're always going to be out of our comfort zone." COVID-19, civil unrest, return to work and school...these and more have undoubtedly put all of us out of our comfort zone - a ripe environment for growth and learning. After great reflection and learning, these organizations are continuing to humanize the workplace and care for one another.
Seeing The Way Forward
The Perceptyx platform gives you the flexibility to adapt your listening strategy to rapidly changing real time events. Combined with support from our analytics experts, our platform can help you keep your finger on the pulse of your people's needs, so you can provide the support they need during these uncertain times. Get in touch to see how we can help your organization navigate successfully through the COVID-19 pandemic.