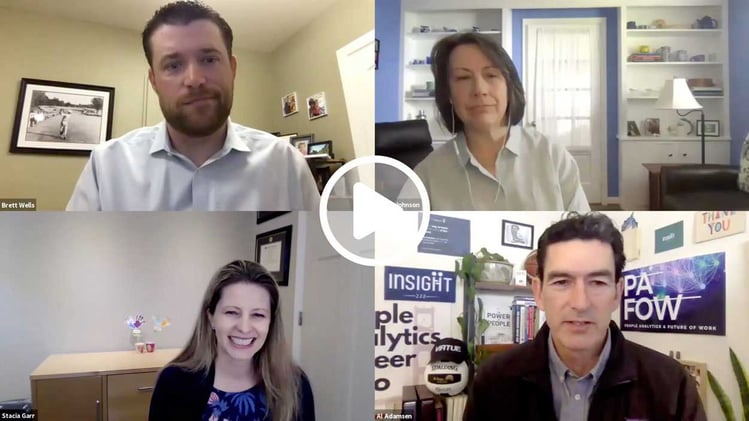 Insights Discussion: Recovering from COVID-19: How People Analytics Can Be Used to Create the Responsive Organization of the Future, Today [VIDEO & RECAP]
Given the current challenges associated with COVID-19, an organization's ability to quickly respond and adapt to changes is more critical now than ever. Although the path to our "next normal" may be a long one, there are some tools to help clear the way. People analytics has always been a key differentiator among businesses looking to remain agile and on the leading edge. In today's environment, HR leaders are leveraging people analytics to respond more quickly and decisively to employee needs by using the voices of their team members to predict performance and how best to solve problems that arise as a result of COVID-19 in real time.
This Session
In this session, Sarah Johnson discusses the impact of people analytics with Al Adamsen, Founder of PAFOW; Stacia Garr, Co-Founder of RedThread Research; and Brett Wells, Director of People Analytics at Perceptyx.
The discussion centers on how to help HR connect the dots for their key stakeholders by combining innovative new approaches that are tightly aligned with business needs. When done successfully, this combination produces "wow" moments of success for organizations. Part of that success comes from understanding who owns people analytics. This can vary between – and even within – companies. Whether people analytics reside in HR, on the executive level, or beyond, it is important that the insights gained from those analyses are delivered to the right audience.
Perceptyx offered complimentary surveys to companies facing the challenges of COVID-19, and has shared the resulting insights in this session. This is our opportunity to influence how people work and determine how organizations will function moving forward.
COVID-19 Survey Insights
This is the moment for people analytics. This is the time when we have the attention of leaders who really want to really hear what is happening in organizations. Human Resources and people analytics are uniquely positioned to understand the complex nature of the work environment and use employee feedback to make business decisions. Using more than 300M data points across more than 100 global enterprises, Perceptyx analyzed results from the complimentary COVID-19 surveys to understand the forced migration from a physical workplace to either mixed or remote workplaces as organizations moved swiftly to accommodate workers outside of their traditional locations in an effort to keep businesses running. Based on this data, we see some apparent and significant indication that some individuals may want to remain in mixed or remote working situations beyond the pandemic timeframe.
Given this information, organizations can use people analytics to understand employee needs and make decisions about policies that optimize productivity, satisfaction, and other behaviors. As an example, when split by age, individuals between the ages of 26 and 46 prefer remote working arrangements, whereas those older and younger increasingly want to remain in physical workplaces. This may be due to familiarity of practice, or (in the case of new-to-career workers) the desire to make new workplace connections and impressions. Additionally, differences based on region, leadership, personal needs, and levels of engagement were discussed. The next logical step is to link these insights to other productivity data and understand which objective outcomes are affected by working remotely. The conclusion however is clear: remote work is here to stay.
Using a Model of Responsiveness to Inform People Analytics
RedThread Research shared pertinent findings recently published about the responsiveness of companies. Their research identified four key layers that act as lenses to responsiveness. These layers include respect for employees, distributed authority to make decisions, transparency and collaborative growth, and, most importantly, trust. With this research, they found psychological safety is critical to both engagement and productivity of work. Experimentation that combines transparency and growth is in high demand, given that there is no established playbook for how to move forward. This reinforces for all of us the importance of being straightforward and honest in all organizational communications and decisions as we move into our next normal.
How Do We Ensure People Analytics are Used To Solve Problems Moving Forward?
New trends in people analytics provide HR the opportunity to have a coveted "seat at the table." Pinpointing the right problems to be solved is a new way of selling the utility of people analytics, and partnering with HR leaders and executives to sponsor and inform the process is critical to success. Panel members discussed using a growth-mindset to align the needs of partners, who are no longer customers, and focus on understanding the problem fully before pivoting to identify a solution. Additionally, having transparency when discussing building up a people analytics function will show that small wins can gain trust to solve more complex problems as relationships are solidified. People Analytics functions must start thinking like a business and utilize tools, strategy, marketing, and communications to make a statement and prove how they can inform the most critical decisions impacting an organization.
Seeing The Way Forward
The Perceptyx platform gives you the flexibility to adapt your listening strategy to rapidly changing real time events. Combined with support from our analytics experts, our platform can help you keep your finger on the pulse of your people's needs, so you can provide the support they need during these uncertain times. Get in touch to see how we can help your organization navigate successfully through the COVID-19 pandemic.