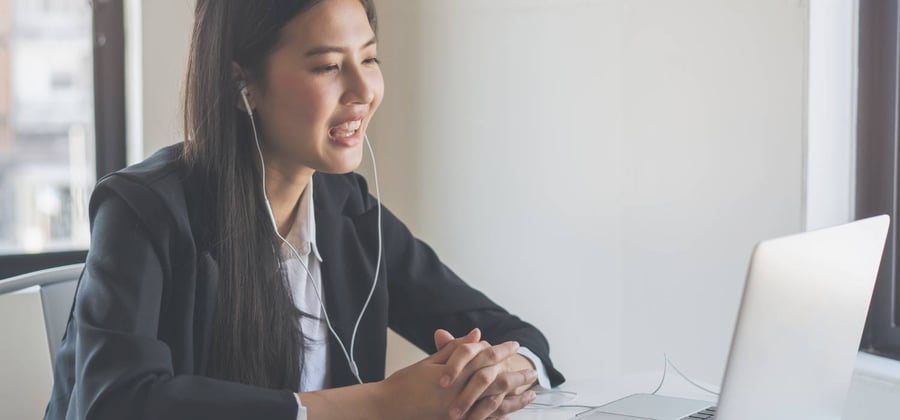 Employee Listening During COVID-19: 6 Lessons Learned
If you are interested in learning more about organizational response specific to COVID-19, visit our COVID-19 Response page for resources, research, and insights about helping employees navigate this unprecedented situation.
While the COVID-19 pandemic has been painful in many ways, forcing companies and employees to rapidly adjust to new ways of working, it has provided a wealth of insight on the value of employee listening. In this Perceptyx Innovations Conference video presentation, Lauren Beechly, Director of Client Counseling at Perceptyx, shares the six main lessons learned. If you'd prefer to watch the presentation rather than read, click on the video above.
It's hard to look past the negative consequences of the pandemic—2020 was a year of uncertainty, ambiguity, volatility, and change, and it presented many challenges for human physical and mental health as well as job losses. But despite the negatives, our research has shown some positives. Contrary to what you might expect, we've seen elevated levels of employee engagement and satisfaction with the employee experience across industries.
When we looked at our research database of 12 million employees from around the globe and compared employee perceptions from 2019 to early 2020, they remained relatively stable. But when we compared pre-COVID perceptions to those of the COVID era, we saw elevated levels of engagement across industries, even among health care workers who are working on the front lines of the pandemic. Employee responses indicate that the overall employee experience improved as well. Our data indicated that in 91% of organizational metrics in our database there were improvements on these scores—and the magnitude of change was significant, 4.5% vs. the typical 0% overall. In particular, metrics related to leadership, communication, and change management improved an average of 8%–17%.
The 9% of metrics related to engagement and employee experience that declined were specific to team effectiveness, open communication within teams, and how teams cooperate to get the job done. This is perhaps not surprising, as remote work may impose barriers that make it more difficult to collaborate. These metrics present opportunities for improvement.
6 Important Lessons About Employee Listening
From our research using the Perceptyx database, here are six insights for organizations on how to weather the pandemic and prepare for a new normal at work:
Listening demonstrates that employee opinions are valued. COVID-19-era surveys revealed the value of seeking feedback at this time. The organizations included in our research asked different questions than usual, often in targeted pulses to pinpoint issues relevant to the moment. When organizations tailor survey content, it communicates to employees that their opinions about the day-to-day experience are valued; failure to ask relevant questions can appear tone deaf. Overall, we found that connection, leadership perceptions, and well-being are the main drivers of engagement today. The research underscored the need to be listening all the time, but especially during times of change.
Listening communicates that well-being is valued. People bring their whole selves to work—along with their stresses. Our research shows that it's important to listen to understand how we can better support employees. Employees dealing with the negative consequences of unmanaged workplace stress are more likely to experience negative health outcomes and lower engagement. Surveys can uncover the barriers to managing stress successfully, whether those stresses are related to tools, support, resources, work pace, cooperation, flexibility, or manager support.
Listening guides data-based decisions and actions. Perceptyx research underscores the critical importance of taking action based on relevant, timely data. We found a stark difference between organizations that ask but don't act, and those that ask and then follow through with action. Only 8% of those that asked for feedback but failed to act on it saw improvement in engagement scores; of those that acted frequently, 74% saw improvement in their engagement scores year-over-year. In terms of action during the pandemic crisis, connectedness, manager support, and leadership stood out as important engagement drivers—although drivers such as feeling valued, perceiving opportunities for growth, and feeling like they were part of a winning team continued to be important. The takeaway: Actions speak louder than words.
Listening helps leaders understand different perceptions. Surveying helps leaders understand how employee perceptions differ across the organization and across different groups, which can inform targeted actions. During the pandemic, we've had new demographic groupings based on where employees work—remotely or on the front line. The perceptions and needs of these groups diverge significantly.
We've also seen changes in levels of engagement based on tenure. New employees, who tend to have higher engagement levels, now have lower engagement scores. This may be the result of remote onboarding and the difficulty in helping new hires feel connected and supported.
We found that many women were struggling with the work changes imposed by COVID-19; a third of working mothers indicated they needed changes in the work environment, and 23% were looking for work with fewer hours or a different schedule. Policies and procedures were not enough to address the issue. What mattered was empathy, particularly when women were asked, "What do you need?" Women were more likely to indicate they intended to stay on the job when managers understood their unique needs. When working mothers were empowered to set a flexible schedule for themselves, they were more likely to indicate their intent to stay.
Listening helps evaluate effectiveness of actions. Surveying to evaluate the effectiveness of actions is just as important as taking action. For example, one organization that offered enhanced COVID pay found it was not universally popular; while half of employees had positive reactions, the other half were concerned with the offering's equity and fairness. Another organization that had stepped up its communications found that some employees had to start work an hour early just to read the communications, which highlighted the need to streamline data. Remember that effective listening is an ongoing process that also offers information about interventions, allowing them to be evaluated and if necessary, changed.
Listening drives better business outcomes. Research from the Josh Bersin Academy showed a strong relationship between listening and acting and business outcomes. The most favorable outcomes were for organizations that listened and acted quickly. Again, action is the key here—as the Perceptyx research cited above shows, of organizations that listened and acted, 74% saw improvement in engagement scores, while only 8% of those who listened but failed to act saw improvement.
While all of the above are important even in "normal" times, the COVID-19 pandemic has underscored their value. As the world moves past the pandemic over the next year, these lessons will retain their value, and help organizations that apply them transition more quickly into the new normal of work.
See the way forward to greater engagement.
The Perceptyx platform gives you the flexibility to develop an employee listening strategy that fits the needs of your organization—and helps navigate disruptive changes like the COVID-19 pandemic. Combined with support from our analytics experts, our platform can help you keep your finger on the pulse of your people's perceptions, so you can help them be the most engaged and productive—even during challenging times. Get in touch to see how we can help your organization weather disruptions while maintaining engagement.