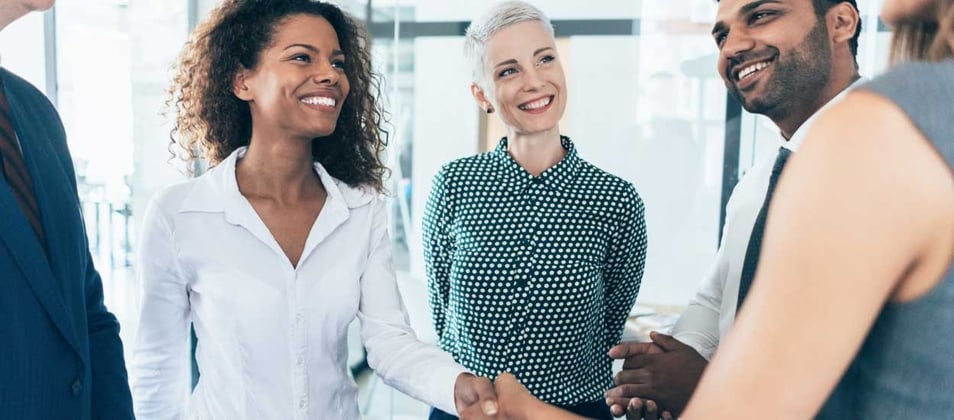 How to Measure the Employee Onboarding Experience

Your company's employee onboarding experience really sets the tone for new hires. Coupled with the hiring and interview process, it presents your first chance to make a good impression and ensure new employees feel welcome and ready to thrive in their new role.
Your onboarding program should enable employees to do their job (by providing the right equipment, teaching them the relevant technology systems, and introducing them to their managers/co-workers, etc.), as well as set them up for future success by ensuring they feel a sense of belonging, have a clear understanding of their job objectives, and have access to available growth opportunities.
So, when it comes to measuring your company's onboarding process, how can you get all of the insights you need to ensure you're providing the best experience for employees while also focusing on the best outcomes for your business?

Onboarding Survey Best Practices
More and more companies are placing an emphasis on lifecycle surveys as a means to better understand their employee journey, starting with onboarding. However, when it comes to onboarding surveys, many organizations tend to focus on hygiene factors such as workstation setup and basic orientation to the company policies and procedures. (For example, checklist items such as, "Did you have a computer, phone, and the software needed to conduct your daily assignments on day one?") Unfortunately, that approach leaves a lot of data about the new hire experience unexplored.
At Perceptyx, we believe onboarding surveys should provide as much insight into your complete onboarding program as possible. They not only need to make sure employees have the necessary equipment and programs to do their job, but they also should seek to understand what's working or not working in the onboarding process, and how to connect that experience to business measures such as employee retention.
Through our research, we've discovered that you cannot get a complete view or understanding of the entire onboarding process in just one survey. It's our best practice recommendation to conduct a series of three surveys at critical touchpoints in the initial phase of the employee journey.
1. New Hire – This survey would take place around 2-4 weeks into an employee's tenure. In this early touchpoint, you are determining if the new hire felt welcome and was given the tools and resources to do their job. You should seek feedback on whether their initial expectations were met, and also ask about their reasons for joining the organization, the hiring process, and their first impression of the company. Typically, at this stage, if employees are asked about engagement, we see engagement scores around 90% or higher. (Of course, while this sounds great, it may not be a true measurement since new hires are not yet fully immersed in the company culture.)
Example questions at this milestone may include (to be rated on a 5-point scale):
"I was provided the information I needed to feel prepared for my first day."

"I have the technology tools/resources I need to do my job effectively."

"I was made to feel welcome by my manager."

"I feel I made the right decision in joining the company."
While you need the survey to be thorough enough to provide the necessary insights, you also want people to take the survey earnestly and provide thoughtful feedback. Therefore, to get the best participation rates, new hires should be able to complete this onboarding survey in 5-10 minutes.
2. Within 3 Months – At this point, new employees are becoming more immersed in the culture and operations of the company as well as their day-to-day job duties. You can also start to get real data on employee engagement. This is a good time to ask more in-depth or emotional questions that measure their perceptions of the onboarding process as well as their sense of belonging and fit with the company.
Example questions at this stage may include (to be rated on a 5-point scale):
"My onboarding experience has set me up for success."
"I feel like I belong at our company."
"My job makes good use of my skills and abilities."
"I would recommend the company as a great place to work."
Again, with this survey, you want to encourage active participation to get the most data. We recommend keeping this survey to 5-10 minutes to complete.
3. Within 6 Months – Most employees will be fully trained and incorporated into their roles at this point. They have been with the company long enough to build relationships, accomplish tasks, perhaps even had a performance review. You can now ask them questions that enable you to get a better understanding of the full employee experience for new employees. This survey should address key facets of employee experience, like future career and growth opportunities; diversity, equity, and inclusion dynamics; manager and coworker relationships; as well as critical drivers of employee engagement.
Example questions at this stage may include (to be rated on a 5-point scale):
"There are career opportunities for me at the company."
"My manager provides useful feedback on my performance."
"My work gives me a sense of personal accomplishment."
"I intend to stay with this company for at least the next 12 months."
Because this survey goes deeper and is the most meaty and all-encompassing of the onboarding survey cadence, it may be a little longer than the first two. It should take employees about 10-12 minutes to complete.
Perceptyx research shows that employees who onboarded during the pandemic had less clarity about their new roles and felt less connected to their team and the organization. Read the full report on this potentially damaging 'failure to attach.'

VIEW NOW
Organizing Onboarding Data
Surveying new employees is great. But then what? How companies aggregate, analyze, and react to the data they glean from employee onboarding surveys is what's really important.
The first step is knowing when to collect, review, and report on the data. Our onboarding surveys are "always on," allowing our customers to enroll new hires on an on-demand basis for a constant stream of new survey data throughout the year. Therefore, it's important to set time periods for when you have a sufficient volume to aggregate data and surface meaningful insights to make informed decisions.
For large enterprise corporations that are bringing in dozens of new employees each week, it may be a good idea to look at monthly, or at least quarterly, trends and create report summaries to show leaders how your onboarding is performing and if your new employees are having a positive experience. If your onboarding volume is lower, then a yearly summary looking at trends over a longer period may provide more meaningful data. "Chunking" your real-time onboarding data by appropriate time intervals surfaces insights that help you make any decisions or adjustments to your future onboarding efforts.
Of course, analysis and reporting is one step. Creating ownership for the priorities and recommendations resulting from the data, and taking the appropriate follow-up actions is just as vital. Make sure you have a dedicated owner or sponsor for the follow-up communications, action planning, and monitoring of actions taken.
Determining Insights from Employee Onboarding Data
Onboarding survey data will help you measure the onboarding process more holistically, surfacing the things that are working well and drawing attention to elements of your approach that need attention or correction. But getting onboarding right isn't just good for employees, it has a business benefit as well. The cost of re-recruiting and re-training new talent is costly. However, as noted in our work with clients, if new hires successfully make it past the one-year mark, attrition rates plummet. In fact, statistics compiled by Click Boarding found that 69% of employees who had a positive onboarding experience are more likely to remain at the employer for three years.
However, there is definitely more to learn from onboarding surveys than just improving that process. By compiling the data you glean from onboarding surveys with other surveys, such as census, lifecycle, and pulse, you get a better picture of the overall employee experience.
"Connecting the onboarding experience to other moments that matter is really critical to using that data strategically and maximizing the impact," said Megan Steckler in our "Getting More Out of Early Lifecycle Surveys" webinar.
With the Perceptyx platform, it's easy to link data across surveys to tell the whole story of the employee's journey. Our lifecycle report allows us to look at the relationship between different surveys, and compare data across each survey that an employee participates in. This information can be useful in determining potential impacts to your employee experience as well as predicting future impacts, such as employees' intent to stay.
How Does Your Onboarding Experience Measure Up?
There is no one-size-fits-all solution for an employee lifecycle survey program, including onboarding surveys. It truly comes down to an individual company's goals and what insights they are looking to derive from their listening program. However, there are some best practices to follow to get the best results.
At Perceptyx, we work with organizations to determine the right onboarding survey strategy for them, considering factors such as their program goals, specific questions to be addressed, budget, timeframe, projected workforce growth and attrition, and more. Our consultants then collaborate with your team to design a survey that addresses these questions and uncovers how your onboarding program is impacting new employee sentiment, as well as the larger employee experience. Additionally, our platform permits the survey to be designed in your company brand, allowing it to look like a cohesive part of your communications program, which can help employees feel more comfortable in participating.
Get a Sense of how Perceptyx can help your organization design the best employee lifecycle survey program. Connect with our team today.