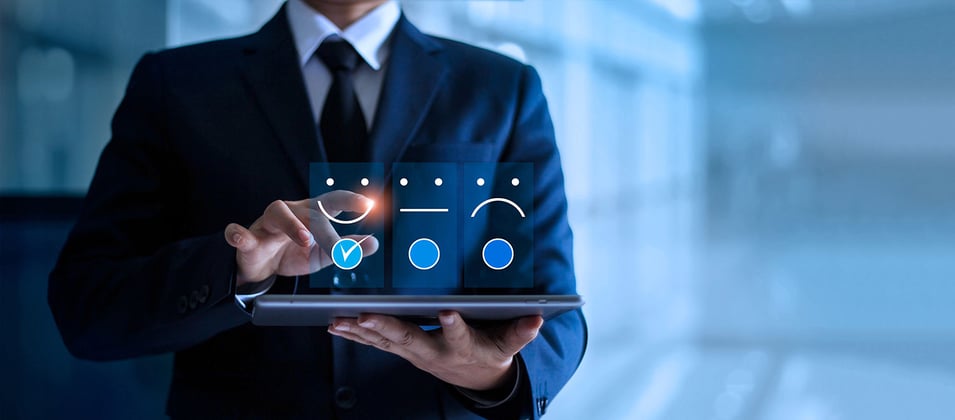 Webinar Recap: Measuring Employee Experience vs. Customer Experience
An organization's employees and customers have distinctly different experiences. The employee-employer relationship is far more complex. People devote much more of their lives to their jobs than they do to the companies they buy from.
In our recent webinar, Perceptyx VP of Enterprise Surveys & Analytics Sarah Johnson partnered with Forrester Research Principal Analyst, Employee Experience David Brodeur-Johnson to break down why measuring employee experience (EX) requires a decidedly different strategy from customer experience (CX).
Conventional Wisdom About EX is Wrong
Forrester defines employee experience as, "the sum of all the perceptions people have when working in their organizations every day." A positive employee experience isn't just achieved through recognition, compensation, and workplace perks. It stems from employees feeling a sense of accomplishment from the work they do.
The challenge lies in determining how to foster a positive experience, particularly as more organizations move to a hybrid workplace model. Forrester's research shows that the number of people who work remotely is three times higher than it was before the pandemic. Organizations will need to figure out how to position every employee for success as they work from home.
The Keys to a Positive Employee Experience
When organizations create environments where people can succeed, high performance follows. According to Forrester, organizations with high EX enjoy 81% higher customer satisfaction and half the turnover compared to organizations that struggle with EX.
So what does it take to achieve high EX? There are multiple predictors, most notably work autonomy, manager support, career advancement opportunities, and doing work that contributes to the organization's success.
These predictors are driven by both the organizational and personal resources employees are provided. That means giving them the tools, resources, and technology needed to do their job, as well as trust, guidance, support, and recognition.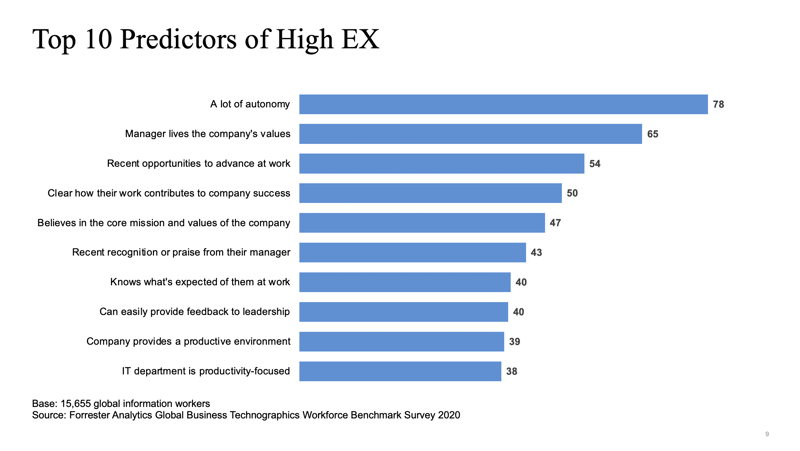 Organizations must start with a vision, map the employee journey, and, most importantly, measure the right drivers of employee experience. Using the data that's collected, the organization can then determine where and how to act to continue to improve the employee experience over time.
Why EX Requires a Different Approach Than CX
While more organizations are recognizing the importance of employee experience, EX measurement programs differ greatly from organization to organization. Forrester finds that HR leads EX efforts about 25% of the time. In most cases, it's led or influenced by a variety of departments, most often the customer experience team.
Why doesn't a CX strategy translate to EX? Employees and customers have inherently different experiences, which call for different measurements. While the customer experience is strictly transactional, employees have a deeper relationship with their employer. People spend a minimum of eight hours a day working and interacting with multiple people from different levels of the organization during that time.
An EX program requires a completely different set of questions and actions—both of which depend on the employee experience the organization hopes to create and the business goals it needs to accomplish. The purpose of a positive employee experience is to enable employees to perform so the organization as a whole succeeds.
There's also a big difference in who uses the data when comparing EX and CX measurement results. EX data is used across the organization—managers view team reports, regional leaders review location-specific reports, and senior leaders assess organizational-wide EX data.
While CX data is limited only to the teams who are responsible for the transactional relationships, EX data spans every nook and cranny of the organization. That means everyone in the organization has a role in improving the employee experience. Post-survey action items are set by leaders, managers, and HR and communicated to every employee who is asked to hold the organization accountable to those commitments.
The bottom line is understanding the employee and customer experiences requires completely different strategies, measurements, and actions. To learn more about what separates EX from CX, watch the full webinar on-demand.