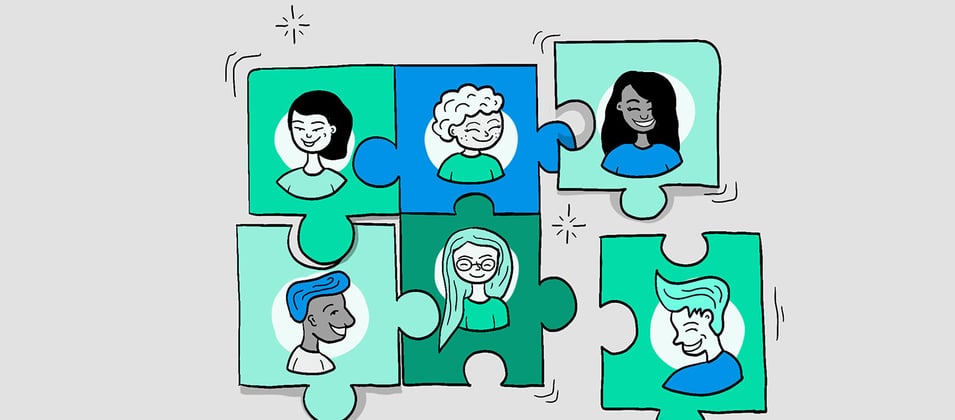 30 People Analytics Leaders to Learn from in 2022
The field of people analytics is booming. (Just look at LinkedIn. In a recent search, we found more than 12,000 job openings for people analytics practitioners at all levels.) As one of our customers, Sean Robinson of Goodyear commented on our recent webinar, "just as your CFO has a P&L sheet of financial assets they use to make decisions and drive business success, people analytics can provide the CHRO's P&L sheet for our most important asset – our people."
We're pleased to honor these people analytics leaders as pioneers, trailblazers, and community builders. Not only are they dynamos in the field, enabling their peers and clients to make data-driven decisions that result in a better employee experience, but their passion – and their eagerness to share that passion with others through books, webinars, podcasts, and other forms of media – is what truly sets them apart.
Your People Analytics Thought Leader "Follow" List for Ideas, Inspiration, and Data-Driven Insights
Jonathan Ferrar, CEO of Insight222®, is the authority, or at least the author, on people analytics. With his co-authors, Jonathan has published two books on the subject, The Power of People: How Successful Organizations Use Workforce Analytics To Improve Business Performance and Excellence in People Analytics: How to Use Workforce Data to Create Business Value. He is also a board member of Chartered Institute of Personnel & Development, a board advisor to TrustSphere, and a prominent and sought-after speaker on HR strategy and people analytics. His firm, Insight222, helps HR professionals develop the skills they need to utilize people analytics and runs myHRfuture.com, which provides online training for HR practitioners.
Bethany Dohleman, Director of People Insights for AbbVie, is an impressive leader in the people analytics space. With a storied career that includes stops at Nike and Monsanto, Bethany now leads employee lifecycle strategy and data analytics for AbbVie, specializing in talent and equality, diversity, and inclusion. She also serves as the program chair for the People Analytics Consortium, a member-driven people analytics organization that shares best practices for retention, engagement, and workforce analytics.
Lilia Hayrapetyan, Global Head of People Analytics and Insights at Citi, is an active member of the Society for Industrial and Organizational Psychology and an accomplished speaker on people analytics, continuous listening, HR strategy, and more. Prior to her tenure at Citi, Lilia showcased her people analytics skills at a number of high-profile organizations, including PepsiCo and Pfizer, where she led the design and execution of the company's inaugural and two subsequent annual global engagement surveys for 80,000 colleagues, as well as pulse surveys and focus groups.
Prasad Setty, Vice President of Digital Work Experience for Google Workspace at Google, is not only an expert in the field of people analytics, but he also shares that knowledge with others through Acumen Academy and as a lecturer at Stanford University. Prasad forged Google's data-driven approach to business management and developed innovative rewards, recognition, and well-being programs. He is also a board member, executive education, for The Wharton School and a published author on Forbes.com.
Rob King, Senior Director and Head of People Analytics for Takeda, is passionate about people analytics and is happy to chat about it. Whether you want to talk about trends, how to build a data-driven organization, or just get some career advice, Rob is open to connecting and accepts calendar invites through sprintful.com. Rob leads a team focused on helping the company's leaders create data-driven talent strategies and the foundation and processes for strategic workforce planning as well as culture measurement and employee engagement. He also volunteers his time as the co-organizer of the Boston People Analytics Meetup group and as a master lecturer for the Metrowest Chess Club.
Sean Robinson, Director of Integrated Global Talent Management at The Goodyear Tire & Rubber Company, specializes in talent management, employee retention, performance management, leader development, data analytics, and employee survey design and management. Through his work at Goodyear, where he started as the manager of global performance and succession planning and worked his way up, Sean was able to return to his Ohio roots. Previously, he worked for Molson Coors as the manager of global assessments and engagement, and as an industrial/organizational psychologist as well as an adjunct professor at Marquette University.
Dawn Klinghoffer, Head of People Analytics with Microsoft, was lured into HR through her love of data. She has worked for Microsoft for more than 20 years, originally starting in the finance department. However, when the company needed someone to mine its data warehouse for gold, she took the reins and hasn't looked back. Dawn now leads the people analytics team that works to deliver on Microsoft's vision of data-driven HR. Dawn is also a frequent podcast guest, including appearances on People Data for Good and Digital HR Leaders with David Green, and has written numerous articles, including this recent one for the Harvard Business Review.
Serena Huang, Global Head of People Analytics, Visualization, and HR Technology for PayPal, is a highly effective data analytics executive who has worked for many notable companies in her decade-long career, including GE, Koch Business Solutions, Kraft-Heinz, and Deloitte before arriving at PayPal. Serena shares her people analytics expertise as a frequent contributor, speaker and podcast guest, as well as in her own LinkedIn newsletter, From Data to Action.
Ben Taylor, Chief AI Evangelist at DataRobot, is at the forefront of machine-learning and artificial intelligence and how those technologies can benefit business. A veteran thought leader on AI, he strives to push the boundaries of data science. Ben is an entrepreneur at heart and has started numerous ventures. His most recent, Zeff, was acquired by DataRobot. As he says, he "makes AI technology that doesn't exist," and seeks to use it to transform and automate enterprise functions that result in better business outcomes. Get more valuable insights from Ben here.
Keith McNulty, Global Director of Talent Science and Analytics with McKinsey & Company, literally wrote the textbooks on people analytics. He's published two of them and wrote a chapter in another: Handbook of Regression Modeling in People Analytics, Handbook of Graphs and Networks in People Analytics, and Using Data in Organizations (Book Chapter with Alexis A. Fink). A 20-year veteran of McKinsey, Keith is an applied mathematician/statistician, psychometrician, and data scientist, and uses his vast knowledge and understanding of data in his everyday life. Check out his blog to see how.
Brett Wells Perceptyx's own Global Head of People Analytics, is our in-house people analytics guru and frequently quoted expert in the field. He strives to bring people analytics to life by applying what he learns through the data in compelling and accessible ways that help solve a wide range of real-world challenges for customers. Brett has served as a trusted advisor to dozens of Fortune 500 companies, and his research, which has been featured in Forbes, Bloomberg, the LA Times, SHRM, and other media outlets, is helping to shape market behavior and influence new thinking about the future of people at work.
Alexis Fink, Vice President, People Analytics and Workforce Strategy for Meta, co-authored a chapter in Using Data in Organizations with another name on our list, Keith McNulty, and has an extensive list of published material in her name. Prior to Meta, she worked at Intel and Microsoft, leading teams to solve issues in organizational transformation, organizational culture, leadership assessment, and human capital management. Alexis is a Fellow of SIOP, received SIOP's Distinguished Service Award in 2019, and was Chair of the IT Survey Group, an industry consortium dedicated to employee surveys.
Heather Whiteman, Assistant Teaching Professor in Data, Design and Development for a More Just World at the University of Washington, is a self-proclaimed people data enthusiast and has the resume to back it up. She is an expert in people analytics, talent transformation, and the future of work, and she spreads her wealth of knowledge to her students and the larger community through her YouTube channel. Heather is also the U.S. representative for the International Organization for Standards (ISO) Technical Advisory Group TC 260, which is focused on creating global standards for human capital measurement, reporting, and public disclosure.
Dave Ulrich, Rensis Likert Professor at the University of Michigan Ross School of Business, has numerous accolades in the HR world, including being ranked as the #1 management guru by Business Week, one of the world's top 10 creative people in business by Fast Company, a top 5 coach in Forbes, and recognized as one of the world's leading business thinkers by Thinkers50. He's also authored a number of bestselling books and more than 200 articles that have influenced the way people think about human resources and people management. It's no wonder Dave's been called the "father of modern HR" and "HR thought leader of the decade."
Adam Grant, organizational psychologist at The Wharton School, University of Pennsylvania, is a top-rated professor, the author of multiple bestselling books, a popular TED talker, and his WorkLife podcast tops the charts. He's also been named one of the world's 10 most influential management thinkers, listed on Fortune's 40 under 40, and won distinguished scientific achievement awards. Plus, he's been name-dropped by J.J. Abrams, Richard Branson, Bill Gates, and Malala Yousafzai to name a few.
John Boudreau, Senior Research Scientist and Professor Emeritus at University of Southern California – Marshall School of Business, is yet another brilliant author and academic to make our list. He has published more than 200 books and articles as well as numerous large-scale research studies addressing the future of global HR, HR measurement and analytics, HRIS, and so much more. John is a Fellow of the National Academy of Human Resources, the Society for Industrial and Organizational Psychology, and American Psychological Association and was the recipient of the 2018 Heneman Career Achievement Award from the Human Resources Division of the Academy of Management. Learn more from John through his LinkedIn Learning course.
Stacia Garr, Co-Founder and Principal Analyst of RedThread Research, took the knowledge and experience she gained by working at Bersin by Deloitte and Gartner to start her own human capital research and advisory firm in 2018. As a thought leader on talent management, leadership, diversity and inclusion, people analytics, and HR technology, she is a frequent speaker and writer who has appeared in Fortune, Forbes, The New York Times, and The Wall Street Journal as well as in numerous HR trade publications. Stacia is also a Top 100 influencer in HR technology and in diversity and inclusion.
Kathi Enderes, Vice President of Research at The Josh Bersin Company, has a passion for making work better and more meaningful for everyday people. Her more than 20 years of experience in human capital, talent, and performance management, change management, and leading the research for the world's largest HR community, makes her an easy addition to this list. As the research partner for Josh Bersin Academy, Perceptyx has been lucky to work with Kathi and the Josh Bersin team on numerous research studies. Check out her wisdom and insights here.
Al Adamsen, Founder and CEO of People Analytics & Future Of Work and Talent Strategy Institute, is passionate about helping people develop their careers and inspiring leaders to do the same. He is a globally known expert, advisor, educator, and leader in people analytics, talent strategy, workforce planning, and so much more. He hosts the People Data for Good Podcast, has been featured in leading magazines, webinars, and other media, and publishes the People Data for Good newsletter.
David Green, Executive Director and Member of the Board at Insight222, is a world-renowned speaker, writer, consultant and all-around expert on people analytics, data-driven HR, and the future of work. He's also the host of one of the industry's best-known podcasts, Digital HR Leaders with David Green, the co-author of Excellence in People Analytics: How to Use Workforce Data to Create Business Value, and publishes a newsletter regularly. He also volunteers his time with HR Open Source to ensure more HR practitioners get the resources they need.
Alessandro Linari, Head of People Analytics for Vodafone UK, is a veteran in the data and technology space with more than 20 years of experience as a data scientist. He introduced people analytics to Vodafone UK and built the function to help maximize organizational value by aligning priorities across HR and the business. Alessandro's article, My Experience Building a People Analytics Function, made David Green's list of the best HR articles in October 2021.
Richard Rosenow, Director of People Analytics & Automation (PA2) at Argo AI, loves that data science in human resources is on the rise and is always ready to learn more about people analytics as well as share his expertise on the subject. He strives to make people analytics more accessible and does so through his blogging and numerous speaking engagements. Richard is also an advisory board member on AI and ethics for Arena Analytics and The Conference Board.
Michael Moon, Global Director, Learning Experience & People Analytics at Align Technology is an expert in human capital management and people analytics and is passionate about finding the balance between growing a business and treating employees well. In addition to her work driving HR strategy, creating a best-in-class learning experience, and amplifying employee voices at Align, Michael is also a well-respected lecturer at Columbia University, an active conference speaker, researcher and writer on topics covering a wide range of people analytics, HR, and human capital management, and a member of SIOP, SHRM, NEHRA, and the Actor's Equity Association.
Patrick Coolen, Global Head of People Analytics, HR intelligence & Organizational Design with ABN AMRO Bank strives to make HR a more evidence-based and data-savvy industry. He is helping to do that by being a frequent speaker and writer on the topic at conferences, summits, podcasts, and multiple publications. Patrick is a thought leader in people analytics, continuous listening, organizational design, survey management, employee experience, and strategic workforce planning.
Madhura Chakrabarti, Global Head of People Insights & Analytics with Syngenta, is a pioneer in the field and is showcasing that through her work, writing, research, and interviews (like this recent one with RedThread Research). Currently, she and her team are working to use advanced analytics to answer business and talent questions, upskill the HR function to include data fluency, make people insights and analytics scalable, and improve employee listening to help solve unique business problems. Madhura is keeping busy but still finds the time to chair a special committee for SIOP!
Manisha Singh, Vice President People Analytics, Digital & HR Operations for AstraZeneca, wants to make sure organizations and employees are ready for the future! She does so by bringing together the power of big data, artificial intelligence, robotics, blockchain, and digital. Manisha is a champion of progressive people management practices and strives to use her business acumen, passion for fairness, and enthusiasm to create sustainable business and futuristic operating models. Beyond her work, she shares her vision and expertise through volunteering with the Josh Bersin Academy, MIT, Presencing Institute, and PCC Quest.
RJ Milnor, Head of People Analytics at Uber, has an impressive people analytics resume, working for a number of well-known companies, but his passion for the industry makes him really stand out. He's truly invested in improving the employee experience through unlocking the value of people data and actionable insights and empowering leaders to make evidence-based decisions on that information. In addition to his work at Uber, RJ has spoken at more than 1,000 events in 35 countries and has been published in myriad books, articles, and journals. He also volunteers for the Josh Bersin Academy and is an advisory board member for HR.com.
Gustavo Canton, Analytics Thought Leader for Starbucks, is a master of research, machine learning, artificial intelligence and analytics, enterprise talent strategy, organizational development, change management, employee experience management, and more. He is quick to innovate and find optimum solutions to complex problems. Gustav is an excellent leader helping to shape the future of people analytics and long-term analytics infrastructure and is a Six Sigma black belt.
Melissa Kantor, Vice President People Analytics and Insights and Head of Product, People and Talent for LEGO Group is well-versed in all aspects of people analytics. She has a technical background but is also fluent in business analysis, project management, finance, supply chain, and global HR IT. She's the perfect fit to modernize people data, analytics, and technology at LEGO Group. Melissa is also active in the HR and project management communities, volunteering to mentor new PMs and business analysts and writing for SHRM's whitepaper series.
Jeffrey Seitz, Senior Director of Talent Analytics, Target, believes trusting in data is essential to relying on it, building on it, and utilizing it for analytics, human resources, and ultimately, communicating to the workforce. He has worked hard to collect trustworthy data to transform the people and talent analytics function at Target, and it will be exciting to see what he does in the future.