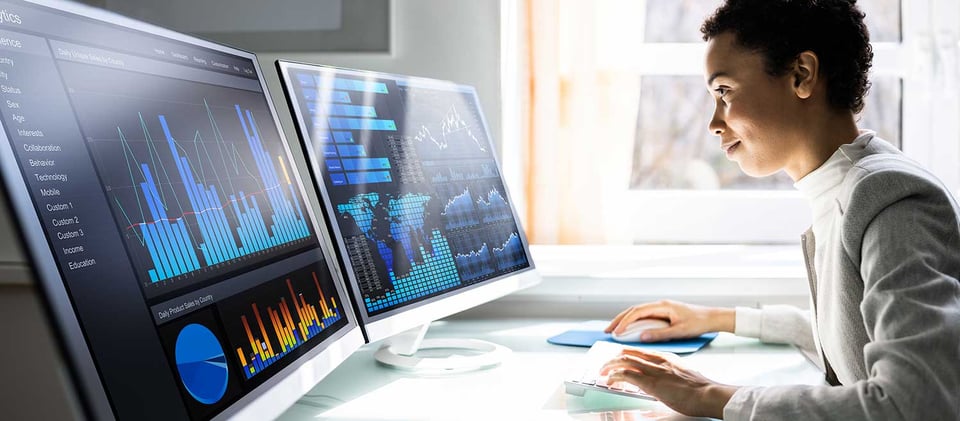 People Analytics Software: What It Does & Why You Need It

Your finance department doesn't rely on guesswork. Neither should your human resources department.
People analytics is more than just a rebranding of HR analytics: It's a methodology that answers crucial business questions by identifying trends in employee behavior. With appropriate implementation, people analytics solutions enable leaders to make data-driven decisions that effectively solve problems.
Perceptyx's people analytics platform is comprehensive, powerful, and flexible. We can help your organization ask the right questions – and take relevant actions to support beneficial outcomes. Our platform allows you to:
Gather accurate and timely employee sentiment data with point-in-time surveys, real-time crowdsourcing, and always-on listening
Integrate with your existing HRIS systems to get advanced analytics of engagement patterns and trends by employee demographics
Create custom listening solutions that address your organizational goals
Contextualize your survey insights with the Perceptyx Benchmark Database, the industry's most comprehensive dataset of employee feedback
Fill out the form to see a demo – or read on to learn why a comprehensive people analytics solution is an essential resource for your organization.
What is People Analytics Software?
People analytics can be defined as the process of collecting data to understand trends in employee behaviors and perceptions. People analytics software utilizes that data to form relevant insights, which can be used to mitigate or remove the barriers that cause low employee engagement, undesirable attrition, and other organizational problems.
A people analytics platform can help your organization answer key questions including:
How do we drive engagement for employees who work remotely?
How can we build a more diverse and inclusive workforce?
How do we address high rates of voluntary turnover?
Why are we losing our high-potential female leaders?
How do employees perceive our company culture has changed since the acquisition?
How does our employee engagement compare with other organizations and across time?
Ultimately, people analytics goes beyond the what to answer why trends occur. With a robust employee listening strategy, human resources professionals and business leaders can accurately assess organizational challenges – without the guesswork.
Pre-packaged people analytics software tools are limited in scope, and implementing them into existing human resources systems can be difficult. Transforming the collected data into insights requires time and expertise. And those insights may have significant restrictions – a non-custom analytics system can't compare data with other organizations or provide guidance for using survey responses effectively.
Simplify Data Collection and Analysis with a People Analytics Platform
Perceptyx provides high-quality insights by combining the best practices of employee listening with targeted data analysis. Our platform enables your organization to:
Ask the right questions. Perceptyx's team identifies best-practice survey items that pinpoint trends in engagement, turnover, and other areas of concern. Our senior consultants work with your team to identify the survey items that drive better business outcomes.
Take a flexible approach. Perceptyx provides access to pre-built survey solutions, validated by domain and industry experts. Our team can also design targeted listening campaigns, and all data remains connected within the system to deliver additional insights over time.
Identify trends throughout the employment lifecycle. Our platform is built on continuous listening, which recognizes the limitations of point-in-time surveys. From onboarding to exit surveys, full-lifecycle data helps leaders make confident decisions.
Leverage the power of external data. Find out whether your organizational challenge is an industry-wide problem – and learn what other organizations are doing to build relationships with engaged employees.
Utilize data you're already tracking. Your human resource information system (HRIS) tracks useful information about training expenditures, employee turnover rates, and other key metrics. Perceptyx integrates with HRIS systems to bring that valuable data into the conversation.
Get a Powerful, Streamlined Approach to People Analytics with Perceptyx
People analytics is a journey, not a one-time project. The Perceptyx platform lets you take the first crucial steps – and as your practice becomes more complex, our solutions evolve to facilitate more effective decision-making.
Whether your goal is to accelerate engagement, retain talent, or create opportunities for open dialogue with all employees, Perceptyx can help you transform listening signals into actions that matter. See a demo to see how Perceptyx fuels enterprise growth by identifying the barriers that impact company performance.