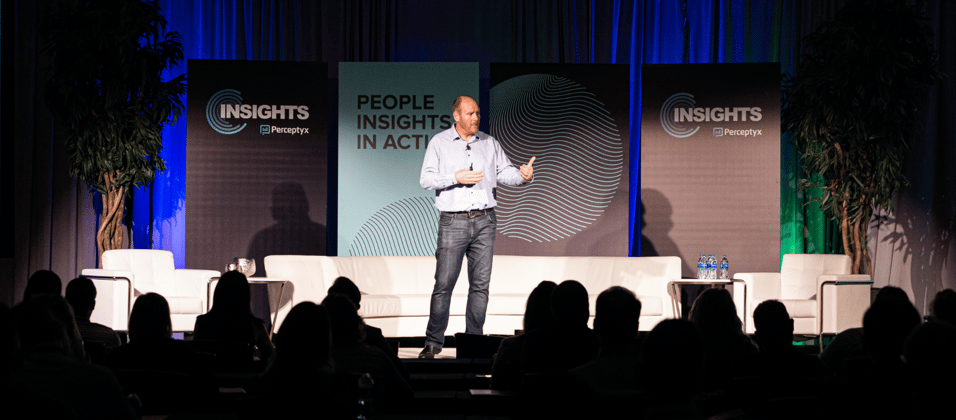 Perceptyx INSIGHTS Conference Connects People Leaders and Ideas
INSIGHTS 2022, hosted in Austin, Texas spanned three days – May 16 to 18 – and was attended by representatives of more than 140 organizations. The conference marked a successful return to live events not just for Perceptyx, but also for the 80% of attendees reporting that this was the first in-person conference they had attended since the pandemic began.
Across keynote speeches, panel discussions, and smaller breakout sessions, People leaders from Perceptyx and the many organizations with which it partners explored the state of employee listening and people analytics as it has evolved during one of the most turbulent periods in history.
Although no summary of INSIGHTS can replicate the many personal connections that were forged or rekindled, here's a snapshot of just some of the compelling content and discussions shared during the conference.
Opening Keynote: John Borland, Chief Executive Officer – Perceptyx, "Leading Through Uncertainty With Employee Voice"
CEO John Borland laid out Perceptyx's mission and values, describing how the company has spent the past nineteen years showing world-class organizations how to achieve organizational success while improving the employee experience.
Borland explained how employee listening and people analytics evolved over the past nineteen years. "The days of conducting an annual employee survey and then rolling out an action plan have changed," he said. "COVID has accelerated the need to open more listening channels. There is no one-size-fits-all model for a listening strategy. Each of you here in this room has a unique listening strategy. We need a more continuous listening approach, from both a services and a product standpoint."
He also described how Perceptyx has grown over the last three years from 150 employees and 250 customers to 400 and 625, respectively, while achieving a Net Promoter Score© (NPS) of 74. He also reviewed the acquisitions and continuing integrations of CultureIQ, Waggl, and Cultivate, which added significant product capabilities to Perceptyx's core offerings, helping the company transform into a true, multi-product SaaS platform.
Borland noted that the Perceptyx platform is so powerful because "all of this data funnels into one place, driving the right insights, letting you see around corners to drive the greatest impact in your organization."
Keynote: Seth Mattison, Founder and CEO – FutureSight Labs LLC, "Navigating What's Next: Talent Insights for the Future of Work"
Seth Mattison took the stage to explain how there is no single future of work, but rather many distinct futures of work. Before diving into these futures, he also offered a word of caution: "The reality, if we're not careful, is that we're going to return to the past of work, falling back into old habits and old practices."
After recapping many of the challenges faced by HR leaders during the previous three years, Mattison offered three key insights about the future of work:
Frameworks, not formulas – "If we were designing work without this 150-year history of work behind us, what would we do?"
Culture – "When companies talk to me about why they're bringing people back into the office for three days a week, I remind them that culture lives in the heart of your people, not in the building. What does it feel like to belong to your organization?"
The HR Moment – "If 2008 was the CFO's moment, this is the moment for HR leaders. You must stand tall and articulate a vision of what the future of work can be for you. You must claim your seat at the table. You must say, 'I'm committed to building a human-centered and heart-led future of work.'"
Sham Telang, Chief Technology Officer – Perceptyx, "Put Your People in Focus with the People Insights Platform"
Building on CEO John Borland's earlier keynote speech, Perceptyx Chief Technology Officer Sham Telang explained in detail how the company's products have been built with the versatility and flexibility to meet each organization's unique listening and actioning requirements.
"When we build our features and functions, we think about how our features will function to help you leverage your subjective and objective data to achieve greater organizational success," Telang said.
Telang said that Perceptyx is trying to solve the problems of:
Disjointed or fragmented data
Confusing user experience
Lack of an actionable nexus between employee experience, behaviors, and actions
Manual reporting and analytics
Perceptyx addresses these four problems by offering four platform capabilities – Monitor, Listen, Enable, and Activate. These four capabilities are provided by four products that can be bundled together for a comprehensive solution:
Ask – the traditional Perceptyx employee experience and engagement product
Sense – Perceptyx's lifecycle and Pulse survey product, with Cultivate's passive listening capabilities
Dialogue – created through the Waggl acquisition, this product enables crowdsourcing, conversations, pairing, and voting using conjoint analysis techniques
Develop – this product pairs the Cultivate acquisition with Perceptyx's 360 offering to provide feedback on employees' behaviors to provide insight into their "blind spots"
When combined, these four products enable all four capabilities, creating a holistic listening strategy for organizations.
"Our Listening Home integrates all four of these products in a single place, a single view," Telang said. "The future of all organizations will involve continuous listening, continuous learning, and dynamic action – done at scale."
Breakout Session: "An 'Ecosystem' Listening Model for a Disparate Workforce"
Speakers:
Shanna Daughtery
, Global Manager for Associate Development – Ahold Delhaize;
Nick Hayter
, Director of Client Consulting – Perceptyx
Shanna Daughtery and Nick Hayter provided an overview of how Dutch multinational retail company Ahold Delhaize has evolved its listening approach to accommodate a disparate workforce spread across multiple locations. Ahold Delhaize moved from a top-down annual census survey with rigid questions that focused on data important to the business to an annual census survey with continuous listening and AI nudging to measure what matters to associates while strategically driving continuous improvements within the business.
Through an "analytics to action" program intended to help HR business partners understand the new listening system, linkage analysis determining the relationships between employee experience and store performance, and a leadership development program analysis, Ahold Delhaize was able to create an up-to-date and responsive listening ecosystem.
Breakout Session: "Overcome the Burnout Era through Continuous Listening and Action"
Speakers:
Conrad Kresge
, Senior Employee Experience Analyst – Norton Healthcare;
Lauren Beechly
, Director of Customer Consulting – Perceptyx
In this session, Conrad Kresge and Lauren Beechly discussed how Norton Healthcare – a 17,000-employee healthcare system located in Louisville, KY – dealt with issues related to burnout. From 2010 to 2018, Norton Healthcare conducted an annual engagement survey of its workforce before partnering with Perceptyx in 2019 to conduct an annual census survey, new hire surveys at key milestone dates (6, 12, and 18 months), topic-specific pulse surveys (on well-being and return to work), and an exit survey for departing employees.
2020 survey data showed increasing employee sentiment related to burnout, which the World Health Organization (WHO) defines as a "syndrome conceptualized as resulting from chronic workplace stress that has not been successfully managed." Norton Healthcare understood that burnout was leading to decreased productivity, increased turnover, increased workload for employees who stay, and adverse patient outcomes for people serviced by the healthcare system.
Improved communication, employee recognition, increased self-assessments for employees, and resources such as career development and the employee assistance program (EAP) led to 2021 survey results showing a significant increase in the percentage of employees reporting that Norton Healthcare helped them deal with stress and burnout. Micro-pulse functionality added to the employee listening program will enable even more fine-grained manager engagement with their teams, as well as real-time feedback for problems that arise.
Breakout Session: "Flex Your Agility Muscle and Accelerate Decisions by Crowdsourcing Employee Insights"
Speakers:
Evelyn Swanson
, Senior Director of Learning and Organizational Development – Core & Main;
Adam Tanner
, Vice President of Solutions Consulting at Perceptyx
Evelyn Swanson and Adam Tanner offered an inside look at how U.S. water, sewer, and fire protection distributor Core & Main utilized crowdsourcing to gather ideas and communicate with employees during the pandemic. Like other organizations with which Perceptyx has partnered, Core & Main began increasing the volume of the crowdsourcing it did, covering areas such as culture, innovation, COVID protocols, onboarding, DEI, pulses for associates added in mergers and acquisitions, and individual team pulses to track goals. All this "pulsing" has enabled Core & Main to crowdsource answers to key questions, allowing them to launch targeted, data-driven initiatives that address COVID, issues with customer experience, and career development.
Breakout Session: "Boeing Case Study: Innovative Approaches to Continuous Listening and Acting at Scale"
Speakers and Moderator:
Frank Zemek
, Employee Relations Specialist for the Employee Engagement Survey – Boeing;
Kristin Saboe
, Senior Manager for Employee Listening, Research, and Talent Strategy – Boeing;
Kristen Bernard
– Vice President of Product, Perceptyx
In a session moderated by Perceptyx VP of Product Kristen Bernard, Frank Zemek and Kristin Saboe of Boeing detailed how their organization has been expanding their ongoing surveys – which capture employment milestones and sentiment on specific topics – to include more pulse surveys and nudges. This expansion will enable continuous listening via sampling, nudges to encourage the adoption of good habits and best practices, and an increasing volume of quarterly data insights. Supported by Perceptyx, Boeing's future state of listening will encompass continuous listening at scale and yield enhanced data-driven insights. Boeing's commitment to surveying is considerable: there are currently 2800+ Perceptyx Ask self-service user accounts, 350-400 surveys created monthly by users, and 100-150 "live" surveys approved and deployed each week.
Breakout Session: "Reimagine Employee Experience Design Using Personas and Journey Mapping"
Speaker:

Laura Kunitz

, Principal Organizational Effectiveness Consultant – C.H. Robinson



Laura Kunitz discussed transportation services and third-party logistics company C.H. Robinson's approach to elevating the employee experience through a combination of employee listening, design thinking, employee personas, and journey mapping. This enabled C.H. Robinson to do a great deal of surveying and experience mapping as they prepared to bring their employees back to the office. They were able to determine that organizational culture was widely described as "collaborative" and had strengthened over the pandemic, that productivity was increased with effective technology in place but also accompanied by increased stress (due to blurred work-life boundaries), and that employees had mixed emotions about returning to the office.
With this information in hand, C.H. Robinson was able to craft unique survey-informed "personas" for different types of employees, such as "in-office, "hybrid," and "remote," with accompanying real-life examples of each persona and employee experience journey maps for the transition back to the office. C.H. Robinson saw such success from this project that HR now plans to intentionally curate an "EX Mindset" across the entire HR team.
A Community and Customer Feedback Loop that Drives Innovation
The 2022 INSIGHTS conference reinforced the notion that HR leaders learn not only by listening to their employees, but also by listening to each other. Having listened to and learned from over 600 customers running thousands of projects, we have architected the Perceptyx platform to deliver the feedback, data, and insights that help HR leaders craft the right strategies for retaining top talent, keeping employees engaged, and ensuring that company values and behaviors align with employee expectations.
By tracking feedback throughout the employment lifecycle – and enabling key comparisons with data from other organizations within your industry – Perceptyx helps leaders connect the dots between insights and actions. And at conferences like INSIGHTS, we extend those dotted lines across organizations, facilitating knowledge sharing throughout our growing community of People leaders.