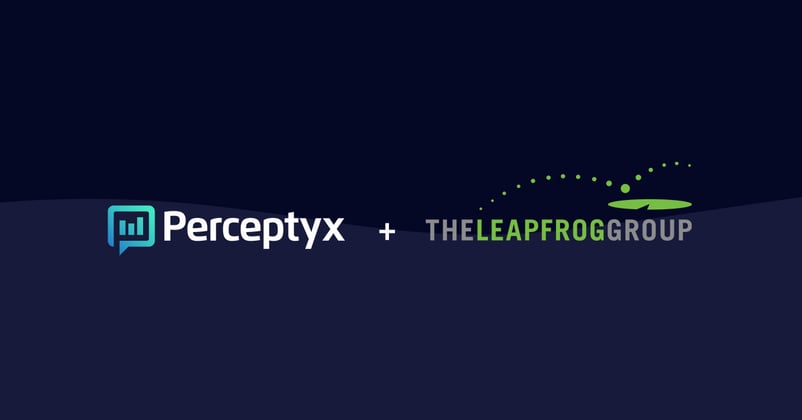 Perceptyx Receives Leapfrog Approval for Innovative Approach to Hospital Safety Culture Survey
Survey delivers targeted, actionable, and inclusive insights to help leading health systems improve safety culture
TEMECULA, Calif., March 7, 2023 (GLOBE NEWSWIRE) – Employee listening leader Perceptyx announced today that Leapfrog Group – a premier health care industry safety and quality data publisher – has approved Perceptyx's Safety Culture Survey for use in hospitals that want to achieve the highest safety and quality grades.
Perceptyx's survey is an innovative approach to assessing and improving safety culture within healthcare organizations. At only 14 items, this solution provides healthcare organizations with valid and reliable data without distracting employees from other mission-critical work. Perceptyx's survey is faster and more actionable than alternatives, and draws on its product Dialogue to provide real-time ideation and voting for both frontline and administrative staff.
The survey is administered using Perceptyx's People Insights Platform, enabling organizations to efficiently identify and prioritize the best actions to drive meaningful improvements in safety culture.
The Perceptyx Safety Culture Survey's fast and agile profile makes it less intrusive to a healthcare professional's everyday routine, and more focused on ensuring that every person in the organization feels they are physically, emotionally, and psychologically safe. Validation research with leading healthcare organizations and recognition from healthcare accreditor, Joint Commission, support the survey's measurable positive impact. A pilot last year with BJC HealthCare confirmed an empirical positive relationship between the methodology and outcomes like patient advocacy and infection rates.
"When healthcare organizations emerged from the pandemic, the trauma that millions of workers had suffered was clear in the engagement data. Safety became a priority everyone was interested in improving, regardless of whether you work directly with patients or in support roles that enable successful patient outcomes," said Lauren Beechly, PhD, Director of Healthcare Consulting at Perceptyx. "Only measuring safety culture perceptions was no longer sufficient either. Leaders needed to quickly identify actions from all employees to actually improve safety outcomes. The Safety Culture Survey's novel crowdsourcing method accomplishes just that, providing a listening channel for employees to co-create solutions to actually improve safety culture and safety outcomes."
Top healthcare organizations choose Perceptyx to help their employees and business thrive
Perceptyx works with many of Becker's 40 largest healthcare systems, including top-ranked systems like BJC HealthCare, Banner Health, NYU Langone Hospitals, and University Hospitals. Perceptyx research in December showed that, except for a short-lived rise in mid-2022, steep declines in healthcare engagement continue and have reached the lowest levels to date.
All healthcare organizations are dealing with a serious talent shortage, especially among nurses. Recent research by human capital advisory firm The Josh Bersin Company noted that the healthcare industry will be short 2.1 million nursing professionals over the next three years – and many hospitals report turnover among nurses as high as 60%. Retention is one strategy Josh Bersin Company recommends to close this yawning talent gap. But retention strategies must be informed by getting detailed and regular feedback from those in the clinical setting and those in the "back of the house" who work to make the hospitals run smoothly.
"Staying on top of employee engagement measures – and in particular showing nurses, caregivers, and other healthcare staff that you want their feedback about a safe workplace environment – is key to slowing down the flood of workers exiting the healthcare system," said industry analyst and thought leader Josh Bersin.
Given the seriousness of the talent crisis, hospitals are investing more resources in understanding employee experience and engagement, and survey data is crucial to those initiatives.
"Listening to staff is a critical element not only to safety, but also to the overall workplace experience," said Beechly. "Nurses and caregivers are at high risk of burning out. With the current and looming shortage of qualified and competent caregivers, leading healthcare organizations are prioritizing feedback and action platforms like Perceptyx to understand needs and act quickly to keep their best people, ensuring the success of the organization's mission."
Well-being is one of three critical areas of focus for the Healthcare Voices at Work consortium, a community of more than 90 of the nation's most prestigious healthcare organizations committed to addressing today's top healthcare challenges through the power of employee voice. Sponsored by Perceptyx, the 2023 Spring Summit will be co-located with Perceptyx's annual INSIGHTS 2023 Conference from April 3-5, 2023 at the Omni La Costa Resort & Spa in Carlsbad, California. The consortium summit is an interactive, collaborative exchange for healthcare leaders to share new ideas and strategies emerging from the voice of employees which are positively impacting the healthcare environment.