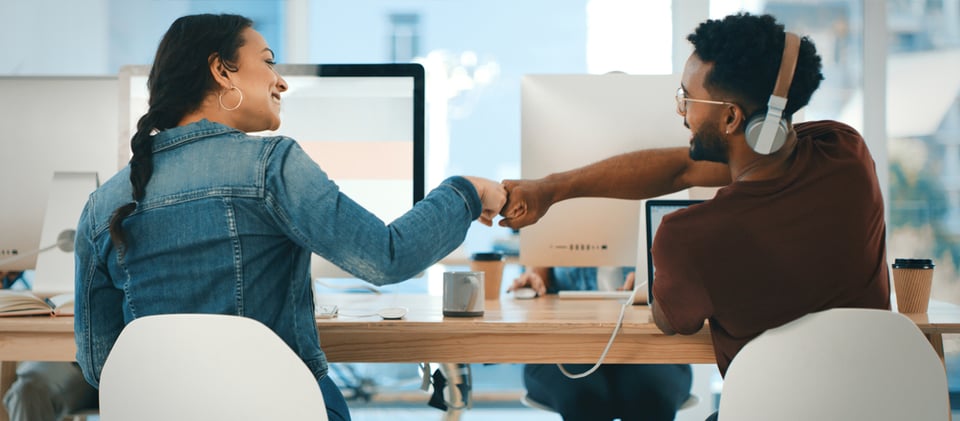 Return-to-Workplace Surveys That Drive Engagement

As you prepare to bring employees back to the office, you have to think about how the return to the workplace will affect them – and what does that mean for your business?
When work policies change, organizations need to provide their teams with adequate support. To manage the challenges, leaders must accurately identify the factors at play and take data-driven action. That process starts with listening to employees and addressing their concerns directly.
Perceptyx can help your organization build a better listening strategy. Our return-to-workplace surveys combine best-practice survey content and organization-specific items, enabling leaders to find the pain points that affect their employees. We provide comparisons with data from organizations with highly engaged workforces, providing the guidance for a more effective approach.
Our employee listening platform combines different listening methodologies to provide accurate insights.
Perceptyx return-to-workplace surveys begin with best-practice content, which we build by leveraging data from millions of respondents across hundreds of organizations.
We work with your team to identify outcomes and areas of concern and build outcome-specific survey items, ensuring that each survey delivers actionable data.
By comparing responses across the employee lifecycle – from recruitment to exit surveys – we're able to help our clients find emerging trends, anticipate concerns, and track key employee engagement drivers.
The result: higher engagement, improved management of voluntary attrition, and smoother transitions when work changes.
Return-to-Office Surveys Identify Barriers to Engagement
The pandemic has accelerated the growth of remote and hybrid work. Many people have become accustomed to the flexibility of working from home, but for many employers, the benefits of in-person collaboration are too substantial to ignore.
According to Pew Research, 20% of employed Americans said that they worked from home before the coronavirus outbreak. In December 2020, during the height of the pandemic, 71% were working remotely, and most recent statistics from Owl Labs state that 80% of workers expect to be remote at least three times per week post-pandemic. The rapid change in work practices can cause conflicts when some employees are asked to return to the office:
Recent Perceptyx research

indicates that two out of three workers want to remain remote at least part time.
50% of employees said they would look for a new job if their employer required a return to the office.
50% of respondents said they would take a 3-5% pay cut to keep working remotely.
Intent to stay is a primary indicator of employee engagement, which is instrumental in achieving successful business outcomes. People who are engaged with their work express more intrinsic motivation, a stronger intent to stay, and more pride in their organization.
When work changes dramatically, effective employee listening is a critical factor. Perceptyx data show that companies retain top talent – and maintain high levels of engagement – by understanding what employees value and by taking decisive action to make improvements.
By accurately identifying your team's preferences, concerns, and expectations, you can avoid a negative impact on engagement and voluntary attrition. Employees will encounter barriers that affect engagement when heading back to the office, including concerns about:
Health and well-being
Child care arrangements
Commute times
Future work flexibility
Return-to-office surveys typically include workplace safety survey questions and productivity survey questions, which can be translated into actionable insights. However, all survey items should be tailored to your organizational goals.
How Perceptyx's Return-to-Office Team Enabled C.H. Robinson to Manage Remote Work Changes
In 2019, C.H. Robinson partnered with Perceptyx to gain a holistic view of the employee experience. During the pandemic, the company consulted Perceptyx when creating management strategies – including return-to-workplace policies.
Perceptyx survey data showed that about half of employees were comfortable with the idea of returning to the office, but others had concerns about safety and work-life balance. Through pulse surveys, employees expressed a preference for staggered scheduling, physical distancing, and frequent cleaning – simple risk mitigation strategies that could be implemented immediately.
"We knew it was critical to get both the employee and leader voices to validate what we were planning and fill in gaps," said Nikki Tollefson, principle change consultant at C.H. Robinson. "Getting targeted feedback gave us the confidence to be thoughtful about giving people what they needed when they needed it."

Read more about our work with C.H. Robinson here.
Leaders Need a Data-Driven Strategy to Manage the Return to the Office
Your organization's workers may be receptive to the idea of returning to the office – or they may have valid concerns that need to be addressed. If you're not listening to them, you won't know and run the risk of disengaging or losing your employees. Leaders need to understand the barriers that affect employees; with a strategic approach, acting on employee experience data can mitigate or remove those barriers.
Our team is ready to help your organization establish a better employee listening strategy. To learn more, contact Perceptyx for a consultation.