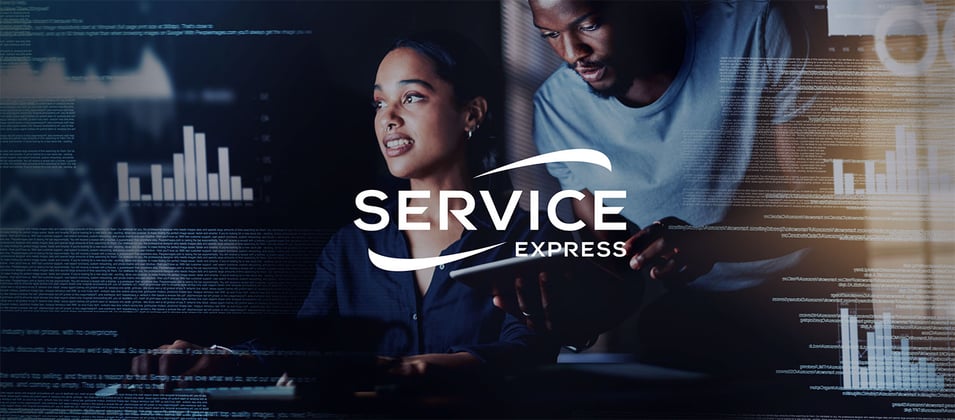 Service Express Elevates Employee Listening to Drive Business Results
Founded in 1993 and headquartered in Grand Rapids, Michigan, Service Express — an industry-leading data solutions provider — understands that employee listening is critical to identifying the evolving needs and priorities of its workforce.
For Chief Human Resources Officer Gretchen Murphy, employee listening also is central to the Service Express Core Value. "We cultivate a culture of growth that empowers our people to achieve their personal, professional, and financial goals. That means helping people build their lives in the time that we're at Service Express. It's not just a job — it's an opportunity to build your life. It's how we hold people accountable for performance, how we operate in a flexible environment to meet people where they are and to be most effective in how they work. Listening is a critical piece of this because it allows us to understand what our people want and need to be successful."
Beginning in 2017, Service Express partnered with Perceptyx to elevate its listening strategy. "We were working to bring our engagement survey out of the house," said Murphy. "If you've been doing it in-house for a while, you'll know when it's time to look for a partner. And Perceptyx knocked it out of the park. When we saw how they handled our every-other-year engagement survey — we realized this strategy was going to work out very well for us."
How Confidentiality Drives Trust
In the first year of its partnership with Perceptyx, Service Express posted extremely high across-the-board results. "Our consultant cautioned us that our scores were going to be great because people still might not trust the confidentiality of the survey," Murphy said. "They noted that our scores could conceivably go down over the next couple of surveys because people will begin to feel more confident that they can be honest."
With the latest set of survey insights in hand, Murphy believes that the reliability of the data is the highest it has been thus far. "This year I am even more confident about saying, 'This is what's really going on.' And thanks to Perceptyx, we're not just getting the results, we're analyzing them to learn more about engagement in specific jobs as well as engagement within the organization. We're using those two lenses to try to understand where people are feeling a sense of loyalty, connection, and belonging."
Listening to What People Need
Thanks to its listening program, Service Express was able to make an immediate impact related to employee benefits. Gretchen Murphy and the Benefits team utilized listening to investigate what the specific issues with employee benefits actually were. "The open-ended comments helped here, because it's not only the scores associated with the questions, but the comments that helped us pinpoint concerns related to deductibles, biweekly premiums, and network provider."
Without those open-ended comments, Murphy explained, the Benefits team would be left trying to make sense of some otherwise-confusing data. "It's one thing to say, 'I'm not happy with our benefits.' It's another thing to say, 'I actually like our benefits.' But neither of these results helps us figure out where the concerns are regarding our benefits."
Perceptyx Delivers Decades of Industry Expertise
For an organization like Service Express, which is in a rapid growth phase and committed to moving up the listening maturity curve, Perceptyx's platform and expertise have worked in unison to deliver world-class outcomes. "The platform is easy and intuitive. If I can navigate it, anyone can. So that's just invaluable, and Perceptyx is always road-mapping how it will improve," said Murphy.
On top of that, Perceptyx's consulting expertise has brought decades of industry experience to Murphy's team. "I can't say enough about the value of the guidance and consultation we've gotten through this process. The platform is great, but the people are even better. A company like ours needs that extra help when going from in-house to partner. On the engagement side, Perceptyx's consulting has been essential."
When asked what other companies moving into the world of listening partnerships should consider, Murphy stressed the value of the partner's expertise. "My biggest advice in the listening space would be…listen," said Murphy. "We knew enough to know we needed to know more to be effective. So take a step back and let the experts guide you through that process."
The ability of Perceptyx's consultants to deliver the executive presentation also helped with leadership buy-in, Murphy said. "Our consultant presents the summary of the feedback and answers questions directly to our Executive Leadership team. Perceptyx's resident expert tells our leaders, 'Here's what you're seeing, but I want you to think about it this way.' And the leaders get it."
In Gretchen Murphy's professional opinion, listening is a must-have, not a "nice-to-have." "In today's world, where things are changing so rapidly, the most critical thing you can do is invest in understanding what's going on with your employees both personally and professionally. This is information you need at your fingertips. Perceptyx is truly helping us make a better company."
Read the full story to learn more about how Service Express leverages its partnership with Perceptyx to drive continuous improvement in its culture and mission. To discover how our platform and services can help your own organization, schedule a meeting with a member of our team today.