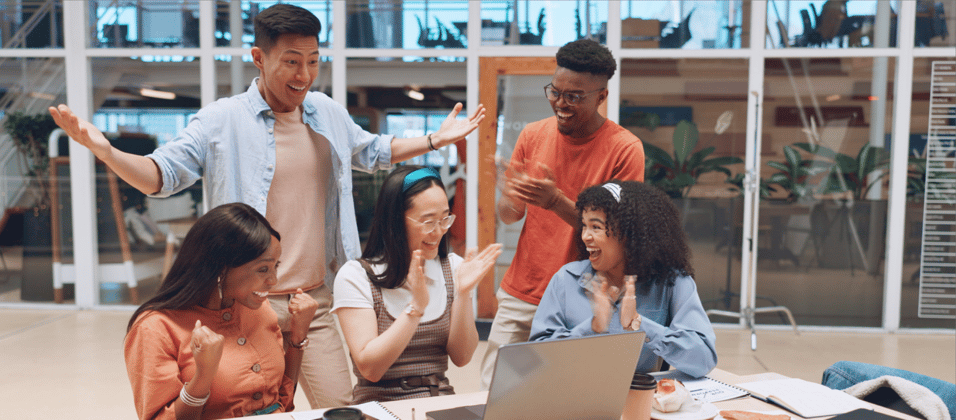 The Business Impact of Great Managers

The impact of great management on workplace outcomes and employee health and well-being cannot be overstated. A good boss can make your work life feel a lot like a walk in the park, even on days when it's more of a hike. You feel heard, encouraged, and inspired, resulting in increased productivity and loyalty towards the organization. Employees who are currently working for their stated "best boss ever" report many positive descriptions of their work environment and are more likely to cite good health outcomes, as well as a lower incidence of negative coping behaviors.
The Good Manager Effect
Most organizations have tracked and attempted to improve employee engagement for many years. Managers are a central influence in employee engagement and the data from our latest research report, The Management Behaviors That Make (or Break) a Great Employee Experience, are clear: Those working for their best boss are 2.5x more likely to be fully engaged than their counterparts working for their worst boss. These employees are more likely to exert extra discretionary effort, advocate for the brand, and stay employed for the long term. When employees feel supported, cared for, and have a trusting relationship with their manager — all hallmarks of a great employee experience — these sentiments flow naturally.
The halo effect of a great manager relationship is also a more positive perception of your day-to-day work experience. Great managers facilitate interdepartmental cooperation in a way that bad managers do not. Of those with the best boss ever, 80% report favorable cooperation with other departments as compared with just 25% of those working for their worst boss. Furthermore, employees with the best boss are more likely to experience positive outcomes related to career development and a shared future with the organization. They are also 5.3x more likely to connect with the future vision of the organization, 2.7x more likely to feel supported in their skill and career development, and 5.7x more likely to say they really belong in their organization as are their counterparts working under their worst boss.
Good Management Improves Employee Well-being
The positive effects of great management extend to employees' sense of positive well-being at work. They are more likely to say that workplace stress is manageable, more likely to report a reasonable workload, and are more positive about their work-life balance than are those who work for their worst boss, regardless of how many actual hours the employees are working. In addition, they are 5x more likely to feel their health and well-being are a priority for their organization.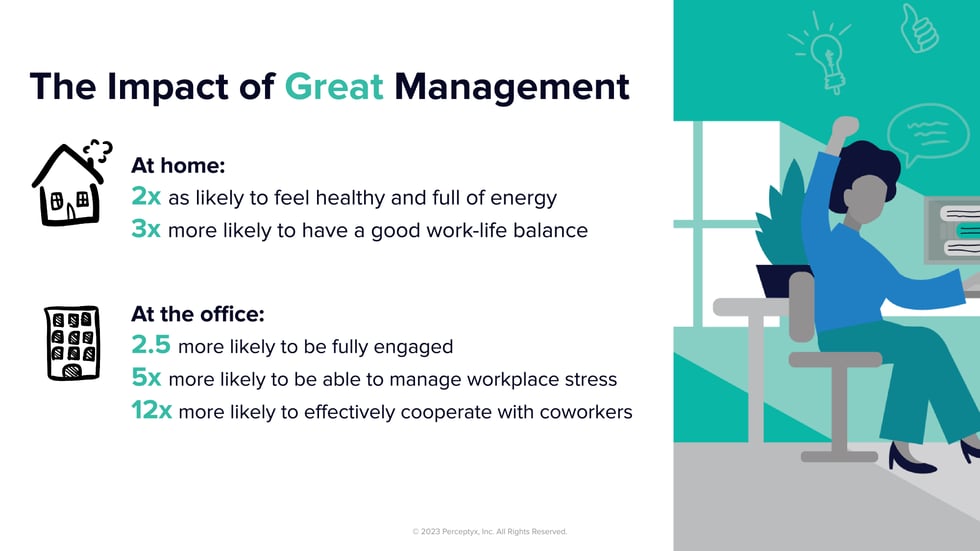 Those with their worst manager feel the effects of this conflict in their personal lives. These employees are more than 2x as likely to report that stress from work has made it difficult to enjoy activities in their personal lives, caused them to behave poorly with family and friends, or engage in negative coping behaviors such as substance use. Sleep disruptions are also prevalent among those with bad bosses: they are more than 3x as likely to report stress from work has made it difficult for them to sleep.
With all of these outcomes — and more — on the line, organizations that prioritize the development of effective managers will reap the rewards for their employee experience, as well as their bottom line. By investing in the development of great managers, organizations can cultivate a positive work culture, drive productivity, and retain top talent — all while staving off burnout and negative health effects on their employees.
Our full report, The Management Behaviors That Make (or Break) a Great Employee Experience, analyzes the state of management in 2023 and offers practical strategies to promote positive leader behaviors, enhance employee engagement, and maintain a healthy, productive workplace. We also invite you to view our recent webinar for a deeper dive into the subject. Click here to download the report or watch the on-demand webinar.