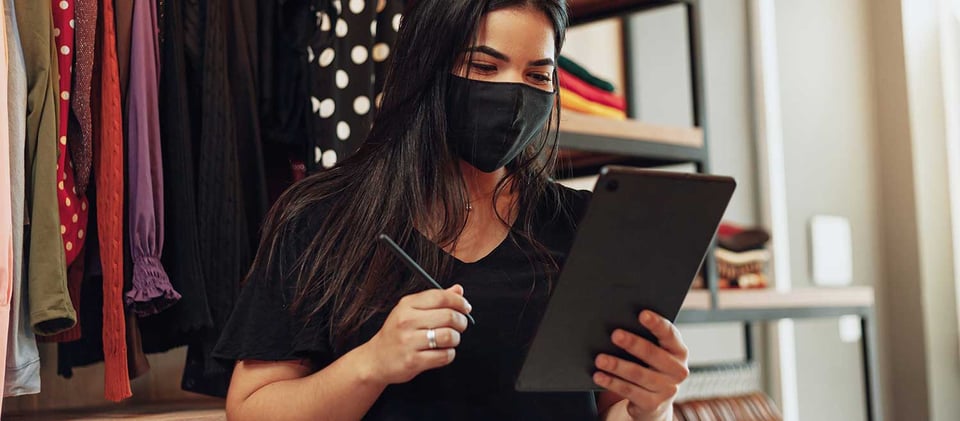 The New Face (Covering) of Retail in the Time of COVID-19

There is no doubt that COVID-19 will make this holiday season look different than it has in most of our lifetimes. Experts are saying to celebrate small. Zoom waived its 40-minute limit on free meetings for the U.S. Thanksgiving holiday. Netflix has designed a new virtual movie night application. People around the world are thinking about how to create new traditions or miss a year of the old ones to keep everyone safe and healthy.
The new "Zoom workforce" has been researched extensively, as have workers in the healthcare and food retail industries. But Perceptyx researchers wanted to shine a light on the non-essential retail workers during this holiday shopping season. What are retailers around the world doing to support their front-line employees? And, which of those supports, if any, will prove beneficial for drawing in customers as well?
The 2020 Holiday Season
Perceptyx conducted a survey of 1,200 Americans and found that more than three-quarters of them are planning to celebrate the holidays at least somewhat differently than last year, with 35% saying they intend to completely alter their Hanukkah/Christmas celebrations.
The differences start with how they intend to do their shopping. Thirty-three percent of those surveyed say they plan to make a significant change in their shopping habits from previous years, and that means more items purchased online or with contactless pickup. In fact, six out of ten say they plan to do at least 70% of their holiday shopping online this year—more than twice the number who did so last year.
Retailers Adapt
Most retail organizations are adapting to the reality of the pandemic. For example, Wal-Mart announced its traditional Black Friday would be replaced by a Deals for Days promotion to give employees Thanksgiving Day off and spread the crowds out over weeks instead of hours. PlayStation and Xbox released new consoles available online only, avoiding the long queues of a "midnight sale" on release day. More and more retailers are offering online shopping with contactless pick up. Even small local retailers are making changes, delivering to porches and scheduling appointments for shopping.
Much of this is done to compete for customer business, but the best organizations are also putting similar new plans in place in response to what they have learned by listening to their employees.
Employees Need To Feel Safe and Supported
Throughout the pandemic, Perceptyx survey respondents have expressed a need to feel safe in the workplace and supported by the organization.
A supportive manager is one of the most important things an organization can provide to ensure employees stay engaged. Manager support for making individual decisions about health and well-being is one of the most important factors in creating an engaged workforce right now. Those employees who feel supported are four times as likely to be fully engaged (emotionally and psychologically connected to their organizations) than those who do not feel supported in making their own health decisions.
But this isn't a new need—or unique to the pandemic. What is new is the fact that many employees don't feel physically safe in their own workplace. This is especially true for front-line employees who must be present in the workplace whether they feel safe or not. Employees who feel safe when returning to the physical work environment are 1.4 times as likely to be fully engaged than their counterparts who don't feel safe.
For the most part, the need for physical security has been heard. Changes in sales and business practices are making social distancing possible. Many retailers have installed plexiglass barriers at the point of sale; nearly all are requiring and providing face coverings for employees; and most require customers to wear face coverings as well. Some organizations are getting even more creative by offering hazard pay, staggered shift start and end times, and staggered breaks to ensure common spaces are minimally populated.
When Perceptyx asked the retail workers in our sample to rank the things their employers were doing in order to keep them safe, a clear pattern emerged: Employees don't need fancy, they need the basics. Regardless of an employee's level of psychological connection to an organization, the top three things they wanted were safety precautions for staff (face coverings and distancing), safety precautions for customers (face coverings and distancing), and employer-provided protective equipment and supplies.
It's important to note that even with the safety precautions in place, front-line workers still need supportive managers, especially when it comes to enforcement. Fully engaged retail employees are three times more likely to report that if a customer refuses to comply with safety procedures, their manager would have their backs.
Customers Notice Values, But Old Drivers Win Business
A majority of customers plan to increase their online or pick up shopping because they are worried about their own health (69%) and the health of workers (66%). However, the Perceptyx Research and Insights team discovered that, even for consumers who closely follow the corporate values and treatment of employees where they shop, first and foremost customers want a fair price and product availability.
Assuming those are already in place, one key factor emerged in pandemic shopping: Customers want to see health and safety procedures when they decide where to spend their holiday dollars. This is true regardless of whether those customers are making few changes to their in-person shopping habits or opting for contactless pickup. But the most important thing for customers is that they can witness the procedures in action. When asked to rank the relative importance of several factors in making purchasing decisions, stated company values and treatment of employees consistently ranked among the bottom third of factors, but the health and safety conditions they could see—masking, social distancing, cleaning procedures—consistently ranked higher than even customer service in a consumer's choice of where to shop in person.
Where is the sweet spot?
Retail executives are trying to balance the desires of their customers with the needs of their employees during this unprecedented year, all while trying to keep stores open and profitable. The most successful organizations are already doing the right things: listening to and supporting their employees, and targeting customers with price and product availability. And when it comes to all the new things employers are trying, there is a (surprisingly simple) sweet spot at the intersection of these needs and wants:
Retailers that provide visible, clear, and enforced health and safety policies within the store environment create a place where customers feel safer to shop, employees feel safer to work, and the bottom line ultimately remains stable.