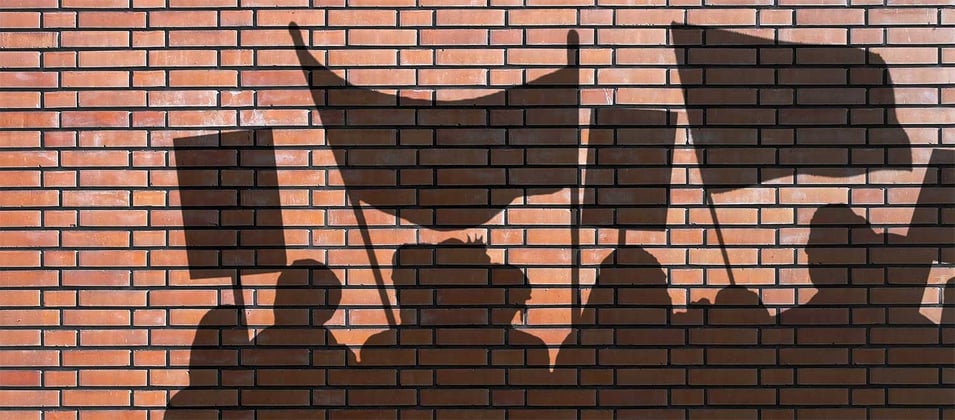 The Next Generational Clash in the Workplace: Corporate Activism

Organizations looking to coast into a quiet summer of normalcy may end up getting burned. In just the past 90 days, we have seen the "Don't Say Gay" bill in Florida, the anniversary of the murder of George Floyd, and dozens of mass shooting incidents. Now, as we await a decision from the Supreme Court on the fate of Roe vs. Wade, many organizations and their leaders are left wondering how, or even if, they should respond to the political issues of the day.
New research from Perceptyx provides some timely answers to these complex questions. A survey of more than 1,200 adults in the United States conducted in June of 2022 shows that about 2 in 3 employees want their organizations to be part of the conversation on at least some of these issues, while the rest say that in general, companies shouldn't be involved in politics. However, when probed about specific issues, only 1 in 5 was still able to say "none," illustrating that for a large majority of employees, the personal, political, and professional are highly connected.
Percentage of employees who think their organizations should take a stand on each issue, either publicly or privately. Source: Perceptyx, June 2022.
Select issues, such as environmental sustainability or racial equity, that have become commonplace for organizations to make statements about or take action on are the most popular and expected for employees as well, while political issues that remain hot buttons, like abortion or gun control, have fewer employees calling for action. Many organizations may breathe easier with the knowledge that less than a third of employees are calling out the most controversial issues of the day as something they want their companies to take a position on, but there's more to the story. The data vary considerably when viewed through the lens of political party, state of residence, and – most importantly – age.
Where red and blue states diverge on questions of company activism
Employees reported that to date, their companies have most often taken public positions on environmental and racial justice issues (about 1 in 4). But companies are less likely to have taken positions on controversial issues that have dominated recent headlines, such as gun control and abortion rights (with less than 1 in 7 reporting public stands). Far more employees who work in blue states (a state that voted Democrat in the last presidential election) want their companies to get involved in politics compared to their red-state counterparts. Twice as many employees in blue states (46%) said that their company should make a public statement about the Roe v. Wade decision compared to red-state employees (24%). However, even employees in red states are split as the decision hits closer to home. When asked about specific company actions, employees whose companies are headquartered in so-called "trigger states" – where abortion bans are set to take effect immediately should Roe v. Wade be overturned – are nearly twice as likely to want a private statement and 50% more likely to want a public statement than those in red states without a trigger law.
Liberals report wanting their companies to take public positions on political issues much more than conservatives or centrists, but age matters most. The data showed that 6 in 10 younger, more progressive employees want their companies to take a stand, compared to only about 1 in 6 older, more conservative employees. Young conservatives are more than twice as likely as over-45 conservatives to want their companies to take public stands.
Younger workers need to see values in action
Nearly three-quarters of employees, regardless of age, are motivated by their company values. However, more than three times as many employees under the age of 45 want their employers to take those values public when it comes to political issues. Businesses often consider the impact on their brand and reputation with customers when choosing to take a public stance on a potentially controversial topic. However, this data shows that it may be even more important to weigh the influence on their employment brand, especially among younger employees. This difference is more pronounced than when these same groups are asked about patronizing businesses as a customer – where political statements and activities are still important, but less so.
Organizations who are looking to attract and retain workers in this younger demographic should note that they are 2.5 times as likely to say it is important to work for a company that makes public statements about political issues, and 3 times as likely to take those political statements into account when considering an organization for future employment. However, even among those employees over the age of 45, nearly 1 in 4 consider this an important factor in choosing an employer.
What actions should employers take in the current climate?
Although many employees hesitate to say their organizations should be involved in political issues, three-quarters of employees were OK with at least a single action. Of those who think their organization should take some stance on the important issues of the day, about three in four favor some kind of public action, ranging from a company statement to lobbying and donating money to representatives. About 6 in 10 favor some kind of private action, ranging from a statement to employees to canceling sponsored events or closing offices in states where policies differ from company values. A significant portion of the workforce (40%) wants both public and private actions.
Organizations cannot spend all their time responding to the political topics of the day, but the data is clear that they cannot remain completely silent either. So how should an organization respond? Each organization will have to gather the data and make a decision that is aligned with the brand image they want to project – for customers, shareholders, and employees – as well as the corporate values they have committed to honor.
Gather the data. What are the corporate values you espouse and do they resonate with your employees?
Determine alignment. An organization cannot speak to every cultural or social topic of the day, but when an issue is directly relevant to their stated values, that is often the best opportunity for leaders to assert a position, provide a benefit, or take a specific action.
Act with purpose and integrity. If equity is a core corporate value, it would be seen as a mismatch to remain silent about a policy that allowed for discrimination based upon a person's racial identity. On the flip side, employees may not be expecting action on gun safety, when it comes out of the blue.
As the demographics of the workforce continue to change, it will become more and more important for organizations to adapt to what the next generation of workers want from their employee experience – even when the action may be contrary to what leaders themselves might desire from that same experience.
Not an "easy button"
Taking a public stand can be a mixed bag for employers – and the data bear that out. When a topic is more controversial, employees are less likely to say they want their company to be vocal. However, even on the most controversial issues of the day, such as gun control and abortion, a significant number of employees want some company action. Nearly half of employees (45%) want a company to take public positions on gun control, and nearly 4 in 10 (38%) said the same about abortion rights. But the results are mixed – about 1 in 4 would prefer no public position on either issue.
There will always be some risk of negative feedback when taking a public position, so some companies might opt to simply remain silent. But not taking a stand also carries the risk of alienating some groups within the company, so it's essential that a company is authentic in the issues it pursues, is willing to make sacrifices for a position, and has a plan of action for how to communicate that position thoughtfully. Most importantly, the position itself has to align with the company's previously stated values and mission.
An insights-driven approach to corporate activism and social responsibility
HR leaders play a critical role in navigating the pitfalls and promises of corporate activism and ensuring that all employees – regardless of age, race, gender, seniority, or political persuasion – feel that their voices have been heard.
As an experienced listening partner, Perceptyx applies state-of-the-art technology and best practices to the process of conducting these essential conversations, elevating all voices to help organizations make informed, timely decisions about how they engage in the issues of the day. To learn more about how Perceptyx can help your organization, schedule a meeting with a member of our team.