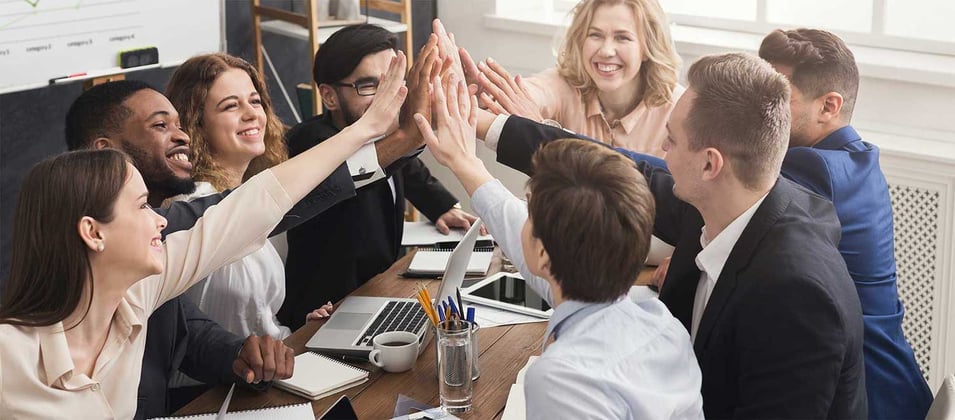 The Role of Belonging in Your DEIB Strategy

The concept of belonging, like the other components of DEIB (diversity, equity, and inclusion), has suffered lately from definition creep and ambiguity. Belonging has a specific definition, representing a sense of acceptance, inclusion, and identity as a member of a specific group. Belonging is the idea that you have enough security and support in the workplace to be yourself – and to thrive while doing so.
Belonging belongs in your DEIB strategy
We often talk about equity and inclusion, but belonging deserves its own space in a workplace strategy aiming to create connectedness among all employees – especially those who previously felt marginalized.
Although a related concept, belonging isn't the same as inclusion. Here are a few major differences between these two concepts:
Belonging is an outcome variable affected by inclusion and equity activities. When you are successful with inclusion and equity, a high sense of belonging will follow. That makes belonging a key variable HR departments should track over time.
Inclusion assumes that there are insiders and outsiders, with actions taken to include those outsiders. It's an assumption that, ironically, already treats groups differently within the company. Belonging is agnostic on that insider/outsider dynamic. It simply measures how connected you are to your peers.
Measuring inclusion activities on employee surveys points us to those practices that drive belonging.
Measuring belonging tells us whether employee engagement is likely to go up or down in the near future.
Measuring DEI requires the B
When I talk to organizations that genuinely want to create a listening program, they ask how they can build a reliable framework that will track DEIB measures accurately. It's definitely not a one-size-fits-all situation, but here are a few best practices that should drive strong results in the field:
Measurement plans must go hand-in-hand with a corresponding action plan. One of the most frustrating parts of a DEIB initiative can be convincing employees that it's an authentic program with positive aims and goals. If you put off an action plan or have an improvisational approach on how you will react to a measurement – whether it's expected or unexpected – then DEIB efforts are likely to be seen as less genuine. You should be clear on what measures you're using, how frequently you're listening (ideally at least once per quarter), what technology you're using to listen, and what the next steps will look like once results have been compiled.
Make the listening program an inclusive act in itself. For example, I don't recommend using only multiple choice questions. Open-ended questions or crowdsourced feedback is always better because it allows more people to express why they might not feel like they belong. New technology, like Perceptyx's Dialogue product that enables real-time feedback to survey-takers, can solicit more accurate and expressive feedback.
Old-style engagement questions taken once a year are not adequate to track a sense of belonging. While companies in the past would not ask questions about belonging on an annual census, today we ask items like "I can be my authentic self at work" at least once a quarter so we can see trends throughout the year.
DEIB performance predicts future success
Measuring belonging can't be seen merely as a "DEIB initiative" – it's a core measure that can predict future success. Research shows that workplaces with high measures of belonging demonstrate a 56% increase in job performance, 50% drop in turnover risk, and a 75% reduction in sick days. For a 10,000-person company that works out to an annual savings of $52 million.
The future of belonging measurement depends not just on asking the right questions, but asking them often and consistently through a regular listening program. In the ideal program, a mature company will devote resources to a listening plan that includes belonging as a regularly measured indicator. You should measure it across all employees while paying special attention to traditionally marginalized groups like people of color or internal groups that previously had low belonging scores.
A thoughtful action plan, designed to "raise all boats" of belonging, can prove to be the difference between reversing a belonging deficit or seeing a negative turn overwhelm the company culture. By working with a partner like Perceptyx, you can ensure that belonging belongs in your DEIB strategy by developing and tracking the right metrics to understand your employee experience and drive continuous improvement over time.
Schedule a demo today to learn more.