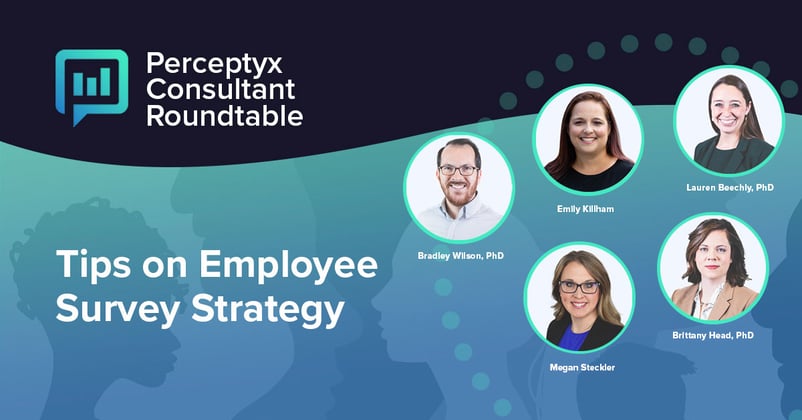 Tips on Employee Survey Strategy: Perceptyx Consultant Roundtable
As the world of work continues to change, employee listening programs must adapt as well. The drivers of engagement are changing, as is what employees are looking for in an employer. Organizations need to understand these shifts and the impact on their larger employee experience, complete with data and analytics that spans the employee lifecycle. For that, they must move from a culture of episodic employee surveys to a culture of continuous employee listening.
In our recent Perceptyx Consultant Roundtable, Director of Research and Insights Emily Killham, Directors of Client Consulting Lauren Beechly and Megan Steckler, Director of Consulting Excellence Bradley Wilson, and Senior Consultant Brittany Head discussed new ways organizations are adapting employee surveys to better understand the needs of their workforce. Here are the top employee survey strategy tips we extracted from that conversation.
4 Key Employee Survey Strategy Takeaways
1. Employee listening programs can and should be adaptable. There is no one-size-fits-all listening program that will work for every organization. However, it's safe to say that all listening programs need to adapt to the unique needs of the company, and ask the right questions at the right time.
2. Ask scaled questions to dig deeper into the data. The more detailed and timely your survey data is, the better the story it will tell. Additionally, more filtered data can also help in tailoring approaches to specific employee population groups.
3. Your speed to action must match your speed of listening. Simply put, don't ask the question if you are not prepared to act on the response. By responding to surveys quickly and communicating appropriately, you remove the risk of survey fatigue. People tire of providing information if they feel its being ignored. That's why organizations must prioritize action planning. Additionally, your organization must have a communication plan in place for sharing the action plans in a timely manner, so that employees know something is being done.
4. Create more collaborative, real-time conversations with employees through crowdsourcing. By giving employees an opportunity to share their ideas, and then vote on still more ideas suggested by their peers, you are creating a 2-way dialogue. With this approach, employees become an active contributor, helping to co-create solutions to problems that directly affect them. This is very empowering for employees and gives leaders a head start to quickly act on the identified issues.
More to come from the Perceptyx Consultant Roundtable…
Our in-house consultants are truly experts on employee listening, trends and ideas for improving the employee experience, using people data to tell a story, and so much more. That's why we're excited to continue the Perceptyx Consultant Roundtable into 2022. At the end of each quarter, we'll conduct a new roundtable and bring you the most timely insights and data from our team. Don't forget to check out the first three blogs from this most recent roundtable discussion addressing employee engagement trends, the impact of COVID-19 and employee attrition, and the renewed focus on diversity, equity, inclusion, and belonging.