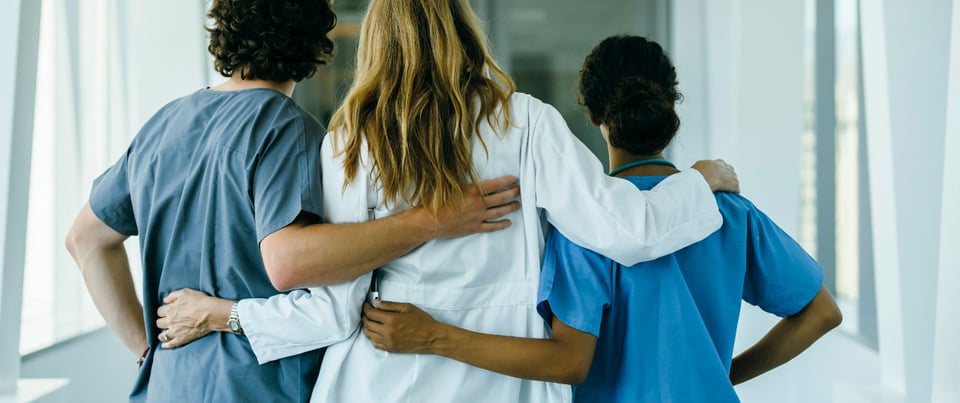 Understanding Employee Burnout in Healthcare

After a temporary positive uptick in employee perceptions of pride, commitment, motivation, and advocacy at the beginning of the pandemic, engagement quickly began sliding, falling below pre-pandemic levels. Even as engagement has eventually started to rise again in many other industries, healthcare continues to struggle with engagement and well-being. This has led to the burnout of many highly skilled, highly sought-after employees.
Burnout in the healthcare industry – a condition defined as "becoming exhausted especially from overwork or overuse" – is the subject of Perceptyx's latest research report. "Caring for the Caregivers: Understanding Burnout in Healthcare, examines the factors driving burnout in the healthcare industry, the impact of burnout on factors like patient safety, and then outlines steps organizations can take today to reduce burnout and increase optimism.
Here's a high-level overview of some of the key findings from the report.
A Deep Dive into Healthcare Worker Engagement
Perceptyx examined its healthcare benchmark database to understand how employee sentiment has changed, along with the unique challenges faced by healthcare workers.
Engagement – one's psychological attachment to their organization – is measured by four components:
Pride in the company,
Intrinsic motivation,
Commitment to the organization, and
Organizational advocacy.
The healthcare industry saw a rise in employee engagement at the start of the pandemic, with measures returning to pre-pandemic levels by the end of 2020. There was a particular decline in intent to stay with the organization throughout 2021.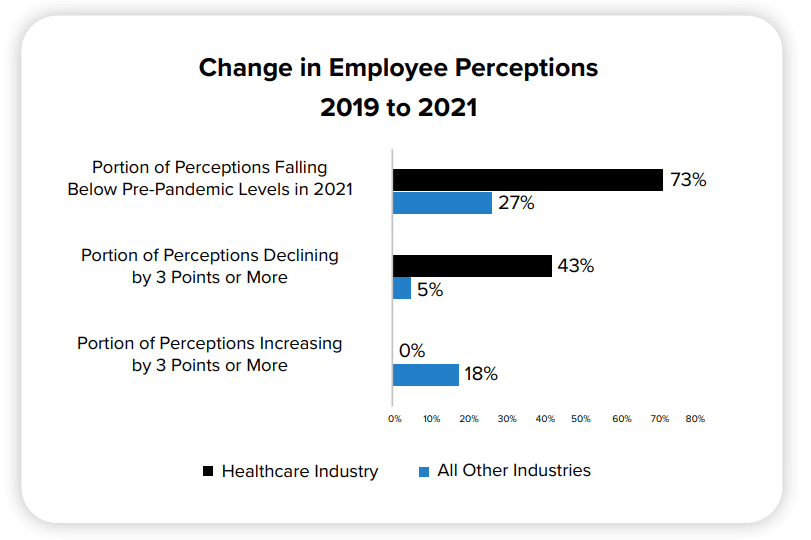 While all industries in the Perceptyx Benchmark Database experienced this trend, the decline leveled off in most industries. Healthcare didn't follow this course. Across 220 different aspects of the employee experience — including engagement, well-being, manager effectiveness, leader effectiveness, and many more that were measured in the benchmark database — healthcare saw an outsized percentage continue to decline, while other industries did not have the same experience.
Employee Burnout in Healthcare Organizations
Perceptyx researchers studied several established symptoms of burnout, including exhaustion, positive anticipation of the workday, and connection with colleagues. The tipping point for negative outcomes was the consistent experience of three or more symptoms – these employees are considered "burned out." More than half of all employees surveyed in healthcare were in this category. Burnout was especially high for those working in long-term care facilities, with more than 6 in 10 considered burned out. Nursing was the most exhausting clinical position in healthcare, with nearly 2 in 3 experiencing burnout. Even non-clinical staff are feeling the impact of the pandemic, the increased levels of violence towards healthcare workers, and the stress, with nearly 4 in 10 registering as burned out.
Another issue is that burnout can sneak up on employees. Employees can be asked directly if they experience burnout, but by the time they acknowledge there is an issue, they are often highly symptomatic. Of those reporting feelings of burnout, 86% have three or more consistent symptoms, but among those denying burnout, nearly 1 in 3 are already feeling the negative effects of three or more symptoms.
Burnout: The Impact on Healthcare Organizations
Research demonstrates that there are also broad organizational ramifications for a culture in which employees are burnt out. In Perceptyx's study, burnout had an impact on three key areas of concern for healthcare organizations:
Patient and Employee Safety – Employees who are burned out are less likely to say patient safety is a high priority for their department and they are less than half as likely to say they would strongly recommend their facility as a safe place to receive care. Another recent study by Perceptyx found that 92% of all healthcare workers had been exposed to violence at work in the past month.

Retention of Top Talent – For employees who are not experiencing symptoms of burnout, 2 out of 3 haven't even considered leaving their job since the beginning of the pandemic. Contrast that with those experiencing three or more symptoms of burnout. They are more than twice as likely to have considered leaving their job for another healthcare position and, alarmingly, more than 3.5 times as likely to have considered leaving the industry entirely.

Attraction and Referral of Top Talent – Two-thirds of all employees in healthcare say their organization is understaffed and half of the employees point to staffing in their departments, as they report not having enough staff to keep up with the current workload. Only about 1 in 6 say they do not have staffing concerns for the next six months. Of additional concern is that these positions are getting harder to staff. More than two-thirds of those surveyed say it is more difficult to fill the open roles on their team than it was one year ago.
Actions Your Healthcare Organization Can Take Today to Address Burnout
How can healthcare organizations address burnout before it spirals out of control? The biggest drivers of burnout across the healthcare space are manageable stress levels at work, connection to the future of the organization, and a culture of safety. The good news is that organizations have tools at their disposal to deal with each of these:
Workplace Stress – Not all stress can be removed, particularly in an environment where matters of life and death are a daily reality. However, organizations can combat the effects of stress by building resilience within the organization. Employees report that when organizations provide them with helpful resources aimed specifically at reducing workplace stress, they are more effective at managing it.

Culture of Safety – In Perceptyx's study, employees who believe their team takes ownership of issues until resolved were less than half as likely to be burned out than those who didn't report the same, and organizations reached that level of team ownership through their culture of safety. More than 9 in 10 employees in a strong safety culture were favorable to this item, compared with only about 1 in 4 who work in an organization with a weaker safety culture.

Connection to the Future of the Organization – Employees are increasingly more likely to retain their working energy when they feel a connection to the overall future of the organization. This includes understanding the clear vision of the organization, feeling like they are a part of that vision, and having leaders who will help them realize that vision.
Assessing the State of Burnout in Your Workforce
To combat burnout, healthcare organizations must take steps to address workplace stress while building a culture of safety and ensuring the mission articulated to employees is focused on a purposeful future. Perceptyx has deep expertise in helping healthcare organizations to apply employee listening and people analytics to achieve a world-class employee experience.
For more information on how your healthcare organization can utilize our platform and experience to help address burnout issues, schedule a meeting with a member of our team.