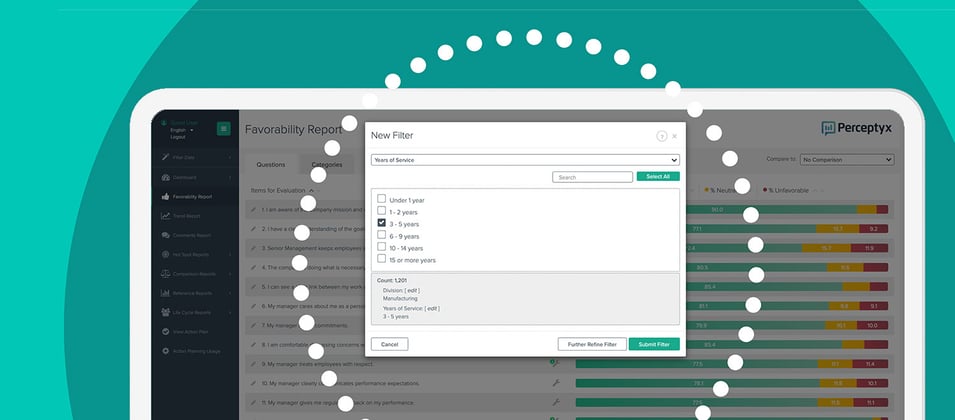 How Advanced Filtering of Employee Survey Data Can Help Answer Your Most Pressing Workforce Questions
Organizations gain so much data and information from employee surveys. With a comprehensive employee listening strategy, that data becomes the backbone for all decision-making. However, because the data is so vast, it can be overwhelming. Luckily, by using an employee survey and people analytics platform, that information can be broken down into digestible bites of information through advanced filtering.
What is Advanced Filtering?
Advanced filtering in the employee survey platform helps organizations drill down to get the answers they need regarding their workforce. However, because the data organizations collect from census or annual surveys, lifecycle surveys, pulse surveys, etc., is so immense, it helps to know what question you want to answer before starting your filtering journey. If not, you can get lost in a rabbit hole of information. Deploying advanced filters during survey analysis ensures you access the right data in the right sequence to address your specific business challenges.
Advanced filtering acts much like you would expect it to from the name. The functionality allows you to add multiple filters to data until you get to what you want. As more filters are added, the lower the number of results you will have, and you will have a clearer understanding of the answer to the question.
For example, if you want to find out if your high performers are likely to leave the organization in the next 12 months, you can filter by performance rating, then go to your survey question for intent to stay and look at the percentage that answered unfavorably.
In the Perceptyx platform, advanced filters can be saved so you can easily reference them or compare them to other filtered datasets. For instance, if you want to break down your high performers data even further to compare how female high performers at the director level or above with more than five years at the company compare on "intent to stay" versus males with those same demographics, simply filter for high performers, filter that by role, then for longevity, then by female. Once you get that data broken down to the factors you want, save that filter, then set up the males filter in the same way. You can then compare by selecting the previously saved filter for females. This is a great tool for understanding how the work experience or engagement scores contrast for different groups of people.
Advanced filtering is also great for allowing organizations to get answers to specific questions in just a few clicks. It allows you to look into what you think is happening and confirm that with data – or be pleasantly surprised. It can also help you determine trends and then create action plans to address any areas that need improvement.
However, there are safeguards in place to ensure anonymity. The People Insights Platform by Perceptyx allows you to filter your data down to answer specific questions, but it will not allow results to be less than four respondents. The filtered results must remain a large enough group to ensure the organization cannot personally identify a single employee response. Therefore, if you try to filter your dataset too specifically, it will not produce results and will let you know the sample is too small. For instance, if you filter your data by female, Pacific Island descent, with more than five years of experience, and there are less than five people who meet all of those requirements in your organization, you will not receive results for that advanced filter query.
Advanced Filtering at Work
At Perceptyx, we know the importance of using data to drive decision-making, and Advanced Filtering in the Perceptyx People Insights Platform makes creating action plans to reach specific demographics even stronger. It helps provide insights from groups of employees that organizations can use to solve problems, create a better employee experience, and drive better business outcomes.
To speak with a listening solutions specialist on using data to improve business outcomes, reach out to Perceptyx to schedule a demo.