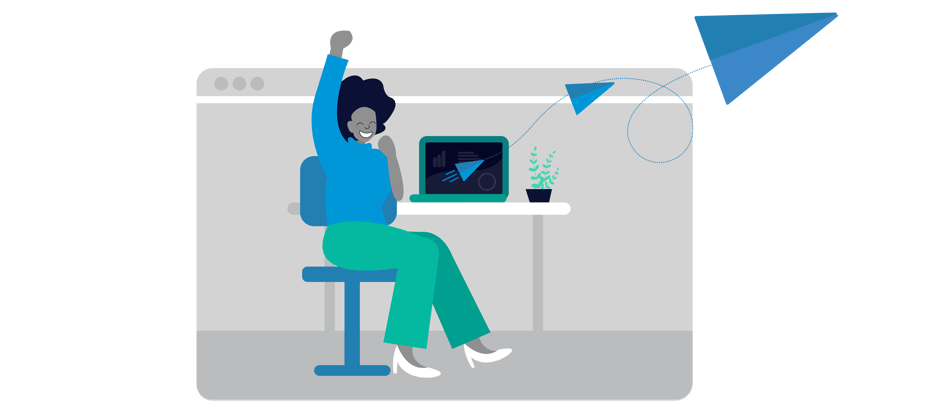 What Ask's Self-Service Capabilities Can Do For Employee Listening

Key Points and Takeaways:
Perceptyx's

Ask product

includes Self-Service capabilities which offer incremental value when used thoughtfully and strategically.

Self-Service is best used for targeted, discrete instances of employee listening on a small scale.

It's important to understand the unique context, strengths, and challenges of your organization to determine how, when, and why to utilize the functionality of Ask, and other Perceptyx products, as part of a strategic employee listening plan.
The power of a product is not defined by its novelty or sophistication but by its practical application and the problems it can solve. I've spent my career cultivating a keen appreciation for the transformative potential of technology, starting as an industrial-organizational psychologist, moving on to consulting, and more recently transitioning into product marketing.
With more than a decade of experience in survey research and 15 years in the technology industry, I'm acutely aware of the potential for products to either enhance or encumber. As an experienced DIYer, my appreciation for high-quality, purposeful products has grown: the right combination of products and a solid plan delivers solutions that make jobs easier, results better, and continuous improvement faster.
This viewpoint translates into my professional life, where I see an abundance of cool, shiny products in the market that seem alluring, even as their utility remains elusive. The challenge, and indeed the opportunity, lies in determining not only how and when to use these products, but also ensuring that they deliver real value. At Perceptyx, we face this challenge head-on by ensuring our array of products is useful to you.
This article — the first in what will be an ongoing series on the useful application of our products — will introduce you to the Self-Service module, a series of capabilities within Perceptyx's Ask product. But before I dive into Self-Service, I want to say a bit more about Perceptyx's laser-focus on Employee Experience (EX).
Perceptyx: Driving Exceptional Employee Experiences
Perceptyx stands out in a crowded marketplace — for more than 20 years, we've been on a mission to help people and organizations thrive by leveraging their people and business data to ensure great employee experiences that drive organizational success. This mission is underpinned by our advanced technology, a deep understanding of Experience, Engagement, and Culture, and a commitment to effecting measurable business outcomes
Through Perceptyx products and expertise, you can uncover insights that help leaders focus on the most meaningful actions, leading to reduced attrition, enhanced performance and retention, improved collaboration and teamwork, as well as the cultivation of superior leaders. We realize this mission by helping our customers deliver an exceptional EX, which goes beyond the mere provision of services to encourage the active use of both managed and self-services. Each of these presents unique advantages within a full-scale listening program, the maturity of which can be determined through the use of our maturity model assessment, available for free.
Three Cases Where Self-Service Capabilities Are Especially Useful
Within our Ask product is a Self-Service module, a series of distinct capabilities which offer additional flexibility and bolster the power of your employee listening program. Due to its agility and simplicity of use, this Self-Service module shines in several scenarios.
Self-Service is a game-changer in situations demanding swift action, where leaders require immediate feedback on a subject without the time, resources, and scope typically associated with a managed survey. When the scope is smaller, targeted, or pertains to a particular group, such as deskless workers or a specific department like finance or engineering, the simplicity of Self-Service proves its worth many times over. Furthermore, when there is a desire to explore a specific topic that emerged from the most recent engagement survey, Self-Service provides a nimble, responsive solution.
1. Addressing Emerging Needs with Self-Service
In a world where change is the only constant, businesses must be nimble and responsive. Emerging needs within an organization often require prompt attention and action. Self-Service has the flexibility and immediacy necessary for understanding and responding to these needs.
During unforeseen circumstances such as the COVID-19 pandemic, organizations grappled with a sudden shift to remote work. In these situations, leaders needed to rapidly learn about remote employees' needs to provide necessary support and maintain productivity. By using Self-Service, organizations were able to promptly create and launch timely surveys, gather real-time feedback, and swiftly implement meaningful action.
2. Self-Service for Targeted Samples
Different employee groups within an organization (teams, departments, locations) may have unique needs and challenges, or an experience that differs from most employees. In this scenario, a one-size-fits-all approach may not yield the most valuable insights. Self-Service allows organizations to gather timely feedback from specific subsets of employees, gaining a deeper understanding of their experiences to craft more personalized solutions.
For instance, suppose a tech company wants to understand the variance of leader effectiveness across managers in different departments within a single office with hundreds of employees. With Self-Service, they can tailor their survey to that office, obtaining detailed and relevant insights. Similarly, if an organization wishes to understand the specific engagement drivers of its manufacturing employees, a targeted survey can provide the specific data needed to enhance workplace satisfaction and performance within this group.
3. Tackling Specific Topics with Self-Service
The ability to delve into specific topics or issues is crucial for continuous improvement and progress within an organization. The Self-Service module offers a platform for capturing sentiment and measuring progress toward set goals following an engagement survey.
For example, let's say a recent engagement survey identified that "opportunities for development" was a strong driver of engagement, but also a low-rated item. Using Self-Service, you can design a targeted survey to measure sentiment towards the action steps taken in response. This allows you to understand employee perceptions and reactions toward your proposed interventions and adjust your strategies accordingly. Similarly, the product can also be used to assess employee sentiment related to recent company announcements, thereby providing timely insights for leadership decision-making.
The Value of Ask Self-Service
The Self-Service module offers substantial value to businesses, particularly when integrated with other listening events and data across the Ask product. This integration allows organizations to centralize, organize, standardize, and optimize their employee listening data while also empowering stakeholders and program owners with the ability to manage their own listening practices via Self-Service.
There are several benefits to operating these ad-hoc surveys within the same platform.
Centralized Data and Access. First and foremost, the centralization of data and results simplifies the access and management processes for the survey admin team. This unification of information removes the hassle of navigating between different platforms or collating data from disparate sources, creating a more streamlined and efficient workflow.


Data Integration and Insights. Moreover, the data from these surveys can be linked and trended with other surveys within Ask. This cohesive data analysis can unearth deeper insights and more accurately track the impact of various interventions and change management initiatives.


Secure Administration. Finally, the Ask platform offers robust and secure administrative control over access to surveys and data. This includes the ability to regulate who can send out surveys through Self-Service, and the authorization of what users can do (and view) within the platform. Additionally, employee data and results can be shared across various stakeholders from this centralized location.
This comprehensive control and transparency allows organizations to maintain high standards of data integrity, and security while promoting a culture of openness and collaboration. The integration of Self-Service with other capabilities of Ask, therefore, offers a powerful means for enhancing the efficacy of employee listening and driving positive organizational change.
Ask Self-Service: Gather Targeted, Flexible People Insights that Drive Action
Understanding the full scope of what you can do with the products at your fingertips is essential for designing a comprehensive employee listening strategy. The Self-Service Capabilities within Ask offer a flexible, efficient, and targeted way to gather employee insights.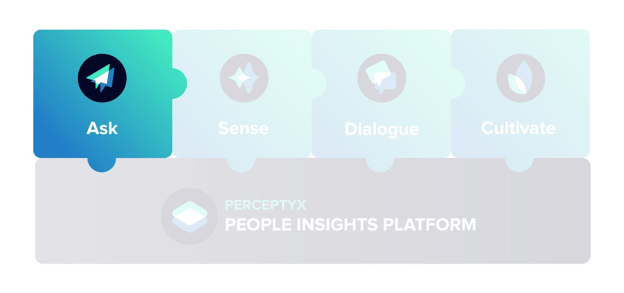 Perceptyx's products, though varied in their approach and application, all serve a common goal: they help you listen better, act quicker, and deliver business results. They equip you with the data you need to make informed decisions, foster a culture that values feedback, and create an environment where employees can thrive.
Stay tuned for the next post in this series of product-specific blogs, where we'll discuss our Dialogue product. In the meantime, we encourage you to take the free employee listening maturity model assessment to obtain a better sense of your listening program's distinct strengths and areas for improvement, explore the Perceptyx Ask product web page, and schedule a meeting with a member of our team to learn how we can help tailor your employee listening strategy to your organization's unique needs.