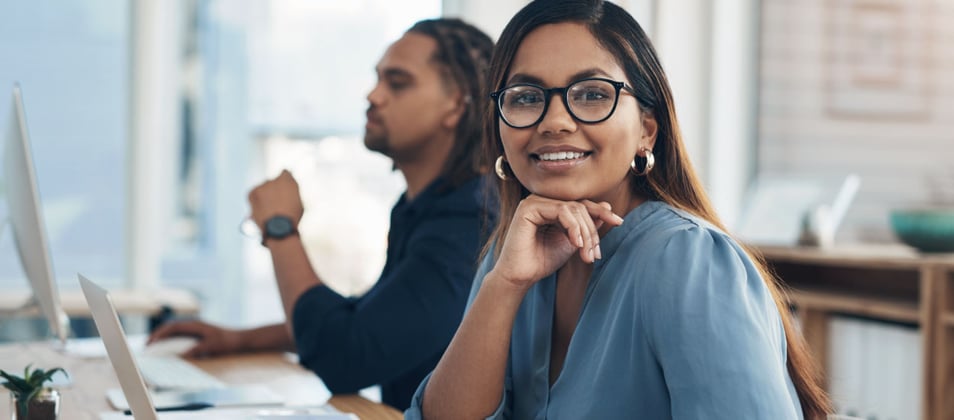 Why Crowdsourcing is the Future of Employee Listening
There's no doubt that the employee experience has been negatively impacted in the past year and a half. From the transition to remote work, to ever-changing health and safety guidelines, to increased stress and fears about the Great Resignation, employers and employees have both had to adapt – and do so quickly.
One thing we've learned during this period is that organizations must continuously listen and engage with their people if they want to weather these challenges successfully. For many companies, the requirement for more frequent, focused listening was a stark and often challenging departure from the once-a-year engagement surveys of the past.
In our recent webinar, we discussed how organizations can expand their existing survey strategy and take advantage of a new listening approach that gives their employees a vital, collaborative role in decision-making and organizational transformation: crowdsourcing.
Create a Dynamic Employee Listening Strategy
With the workplace and world changing so quickly, how can a company stay connected to their employees?
A good place to start is with a robust, yet flexible, employee listening program. While there's no one-size-fits-all solution – the best program is always going to be unique to your company, your workforce, and your desired business outcomes – one clear success factor is that it must amplify all employees' voices and truly allow them to be heard.
More and more, employees want the ability to influence the environment, policies, and resources that govern their employee experience – sharing new ideas, recommending changes, and being an active participant in key decisions. With Dialogue from Perceptyx, companies now have a proven way to jumpstart those inclusive conversations and turn those insights into action.
Crowdsourcing is an innovative new approach to surveying that allows organizations to pose timely questions to their employees, capture feedback and ideas, and then prioritize the most popular responses via an innovative pairwise voting system. Conducting a survey with a crowdsourcing component creates a dynamic solution that helps companies capture and synthesize real-time feedback to drive data-based decision-making, which, in turn, gives employees a seat at the table.
Make Employees a Part of the Change
With crowdsourcing, leaders can move beyond simple measurement and engage their people in an active conversation. But what really makes crowdsourcing unique from other listening approaches? Dialogue directly supports four key elements of a great employee experience:
Inclusion – It's truly about amplifying diverse voices, ensuring everyone has an opportunity to provide input on the topics that matter.
Engagement – Crowdsourcing allows for a real-time, two-way exchange where employees can interact with each other's ideas. Employees feel empowered and heard because they have a say in prioritizing the feedback that drives business decisions.
Trust – There is an incredible opportunity to build trust through crowdsourcing. The process itself allows for greater transparency, and many customers will even use follow-up Dialogues to help hold leaders accountable for sharing and acting on the survey results.
Alignment – The speed and specificity of crowdsourcing is unique to almost any other listening methodology. It allows leaders to have more frequent and focused conversations that drive alignment across teams, business units, and geographies, while accelerating decision-making. Crowdsourcing creates greater buy-in from employees because they aren't just hearing about the change, they're actually a part of it.
Dialogue in Action
Crowdsourcing has helped numerous organizations improve productivity, reduce costs, manifest greater confidence in leadership, and more. During the webinar, our speakers shared two examples in more detail. Here are a few interesting call-outs:
UCHealth uses Dialogue to get more frequent and timely feedback from its 25,000 employees across 12 hospitals. The hospital system then easily translates those insights into actions. Since introducing the open-sourced crowdsourcing questions into their program, UCHealth has seen engagement scores increase by 15% and trust in leadership go up by 18%. The hospital system has also noted a 19-point difference in engagement between teams that have conversations through Dialogue, and those that don't.
PepsiCo introduced crowdsourcing as part of its PepsiCo Way global values initiative. The new CEO wanted to hear from his employees and find out where things could improve. The company then asked the entire organization to, "Name one process that stops you from getting things done fast." This simple question resulted in multiple changes and became known as the "Process Shredder."
One outcome of the Dialogue survey? PepsiCo found it needed to simplify its performance management program. Since then, the company overhauled its system and has saved 100,000 hours annually. It also upgraded technology systems to better enable employee collaboration and gave employees a way to participate in product design, resulting in a new beverage that will be in market testing by the end of the year.
Typically, this type of open-voice information sharing could take years to develop, gather, and implement, but with Dialogue, idea-generation and feedback happens in real time.
This is just a snapshot of the benefits of crowdsourcing. View the full on-demand webinar for more insights into crowdsourcing and to see a quick demo of Dialogue.