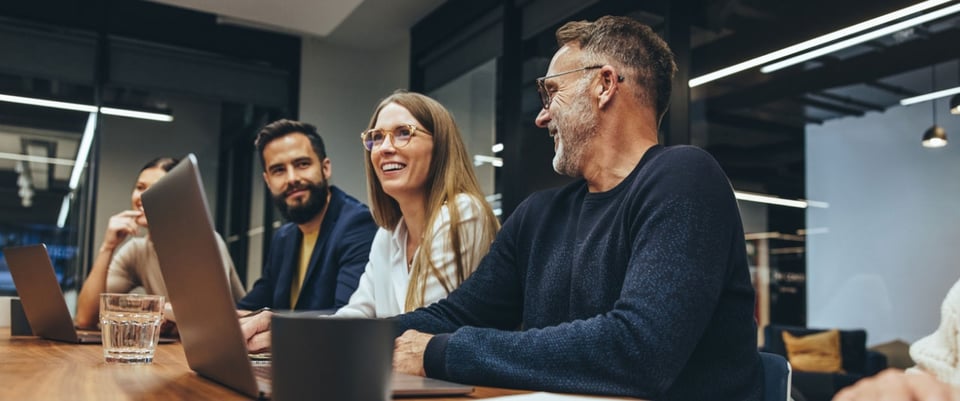 Wisdom of the Crowd: Sourcing & Acting on Real-Time Employee Feedback
Earlier this Spring, Perceptyx released its 2022 State of Employee Listening report. This report, based on insights from HR decision-makers at 600+ organizations with 1,000+ employees, confirmed that many organizations have had listening programs in place for more than a decade and 75% of the responding organizations indicated that they have been listening more now compared with a year ago.
Assessing Employee Listening Maturity
The four-stage Employee Listening Strategy Maturity model offers a convenient, at-a-glance look at where different organizations are in their listening journey. The stage at which an organization finds itself on this continuum matters because Perceptyx's research found that listening programs at Stage 1 have the least impact on the business performance of the organization, while those at Stage 4 have the greatest impact.
Perceptyx's study identified four discrete strategic stages of maturity for employee listening:
Stage 1: Episodic listeners (19% of organizations surveyed) conduct one or two surveys a year, and keep ownership of data collected within the HR department. Results are shared narrowly and follow-up actions are top-down.
Stage 2: Topical listeners (27%) conduct deep-dive listening around specific topics or events, such as DEIB, M&A activity, or a pending IPO. They encourage, but do not require managers to take action in response to employee feedback and most follow-up activity remains centered in HR.
Stage 3: Strategic listeners (28%) gather feedback on an ongoing basis, including key moments in the employee lifecycle such as hiring, onboarding, exit, and promotion. They also use advanced analytics to understand the relationships between these insights and other business data. Executives proactively seek employee feedback when making decisions and action occurs at multiple points in the organization.
Stage 4: Continuous conversationalists (26%) use a variety of active and passive listening channels at scale such as calendar analysis, email sentiment, and/or crowdsourcing as well as surveys, and the results of these conversations inform everyday business decisions. The executive team leads the strategy in partnership with HR. Leaders and managers at all levels are responsible for understanding and acting on feedback, and for communicating the progress of those actions to employees.
Getting to Stages 3 and 4
Since listening at stages 3 and 4 of this model provides the most benefits, organizations will want to try to reach these stages as quickly as operationally possible. However, there's no single best way to get there. There are a number of listening channels available, and it's important to find what works for your organization. These include enterprise-wide census surveys that provide broad foundational data about the state of an organization's EX; special focus or topical surveys that can provide a more timely snapshot of employee sentiment around a specific theme, event, or business question; and "always-on" surveys that can be triggered at key moments in the employee lifecycle such as onboarding and exit.
In our recent webinar Wisdom of the Crowd: A New Model for Sourcing & Acting on Real-Time Employee Feedback, Adam Tanner – Perceptyx's VP of Solutions Consulting – and Nick Hayter – Director of EU Customer Consulting – teamed up to discuss crowdsourcing, an increasingly important listening channel associated with a mature strategy. Here are some of the highlights of that presentation.
The Power of Crowdsourcing
Through crowdsourcing, which is facilitated by Perceptyx's Dialogue product, teams and leaders can align around meaningful, real-time feedback and ideas that are provided and then ranked. As a listening channel, crowdsourcing is:
Immediate: See what matters to your employees as they share their insights
Efficient: Increase agility in decision making and break down hierarchical structures, enabling people to identify the actions that matter most
Transparent: Bring everyone into the conversation, ensuring all voices count
Scalable: Quickly collect actionable feedback from every employee, regardless of role or location
With crowdsourcing, a dialogue can naturally develop within the organization. Communication becomes a two-way exchange, allowing employees the chance to not just share ideas, but partner with leaders to co-create solutions that address specific business challenges. Leaders who are processing these results recognize that they can be metabolized quickly, with immediate action plans replacing the "analysis paralysis" that may have hindered an organization's prior listening strategy.
Adam Tanner and Nick Hayter then discussed three use cases that demonstrated how crowdsourcing through Dialogue is agile, inclusive, actionable, and transparent.
Use Case #1: Accelerating Action on Survey Results at UCHealth
UCHealth, a 25,000-employee healthcare provider in Colorado, utilized crowdsourcing to improve listening outcomes within their organization. When UCHealth was looking to hire a new Chief Nursing Officer (CNO), they invited their nurses to define the qualities a CNO should possess, then included these criteria as part of their hiring decision.
Listening data gathered a year later saw patient experience scores rising in addition to a 15% increase in overall employee engagement and an 18% increase in "trust in leadership." Teams at UCHealth using crowdsourcing saw a 19% increase in engagement relative to teams that did not. Unsurprisingly, there is a statistically significant positive correlation between "check-in" frequency and "engagement" scores – reinforcing the value of crowdsourcing for enabling frequent and transparent conversations with employees.
Use Case #2: Real-Time Feedback Supports Organizational Agility at Principal Financial Group
Principal Financial Group, a 19,000-employee financial services company headquartered in Des Moines, Iowa, and operating in 30+ countries globally, has made crowdsourcing through Dialogue the core of its listening strategy. At Principal, organizational alignment and resource prioritization matter a great deal, so the organization uses Dialogue to engage employees on ad-hoc topics that may not be planned for in its employee listening strategy, then quickly pivots to address the findings from those topics. Leaders have unlimited access to this data immediately, and employees can see a version of the data tailored to their role and team.
Carolyn Petsche, Assistant Director of Talent Management at Principal, explains her use case this way: "It's an all-in-one tool for us that was put into place in March 2020 when everyone had to go home immediately, and it served as our triage tool to capture how people were doing and to determine if they had what they needed. It lets us ask questions as needed, places constraints on what we can ask which ensures we're asking the right questions, and provides an instant understanding of where people are – data that can be shown immediately across the organization for transparency."
Use Case #3: Starting an Inclusive Conversation at White & Case
Crowdsourcing offers considerable value to organizations that are launching new initiatives or going through a transformation since it's a listening channel that can quickly involve stakeholders across the organization.
White & Case, a 4,800-employee global law firm based in New York City and operating in 30+ countries, implemented one such initiative immediately after the pandemic closed their offices and forced employees home. When the pandemic began, White & Case began asking employees what they needed to feel productive while working from home. Leaders assumed they would receive questions about healthcare, benefits, and job security. What emerged from the organization's listening efforts was an awareness that many employees were struggling with more practical issues: makeshift desks and office chairs.
To ensure that employees could retrieve their high-quality office chairs from work – chairs designed for daily, recurring use – White & Case acted on what the organization now calls "#Chairgate" to create a check-out system for employees to collect their office chairs while still practicing safe distancing within the building. Although this seems like a simple fix, ergonomics is a major workplace issue and a failure to gather, analyze, and then develop an action plan could have led to an increase in overall discomfort as well as work-related injuries.
Perceptyx Can Help You Lead the Dialogue
As the webinar demonstrates, crowdsourcing will enable your employees to collaborate on action plans to overcome even the stiffest challenges. The three use cases discussed here are illustrative, not exhaustive, and even these organizations are continuously refining their crowdsourcing efforts as part of their overall listening strategy.
To watch the full webinar, please click here. And to learn more about how Dialogue and other Perceptyx products can support your organization's listening strategy, schedule a meeting with a member of our team.