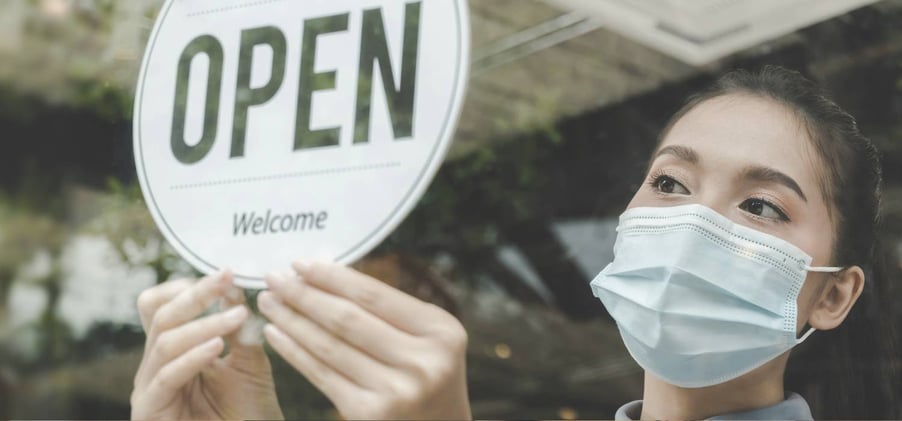 Business & Workforce Resilience In The COVID Era
If you are interested in learning more about organizational response specific to COVID-19, visit our COVID-19 Response page for resources, research, and insights about helping employees navigate this unprecedented situation.
In this video presentation, Josh Bersin, Founder and Dean of the Josh Bersin Academy, and Kathi Enderes, its VP of Research, discuss what their research has revealed about business and workforce resilience in the wake of the COVID-19 pandemic. If you'd prefer to watch rather than read, click on the video above.
In Bersin's view, the coronavirus disruption is not the beginning of a transformation but the end of a process that started in 2008 with the economic crisis and carried through with digital disruption, the growing prevalence of artificial intelligence (AI), and overall rapid business disruption. For many companies, the onset of the COVID-19 pandemic spurred immediate transformations that would, in normal times, take years.
While the pandemic has served as a big learning experience with regard to all aspects of business, the primary theme in HR has been resilience. Bersin and Enderes' research reveals the 10 practices for HR that had the highest value across all organizations. Some of these were specific to the pandemic, while others are basic good practice for building workforce resilience. These practices fall into four stages of response, and form the basis of resiliency.
Learn the details behind the research and get recommendations for advancing to the higher response stages with our free report, Business Resilience: The Global COVID-19 Response Study.
The 10 Highest-Value HR Practices For Building Resiliency
Working with Perceptyx, Enderes developed and deployed a survey to 1,400 organizations around the globe, measuring 53 organizational and HR practices. Those were then correlated against seven different business outcomes to identify the practices that demonstrated the highest value.
These 10 practices, divided into categories, are: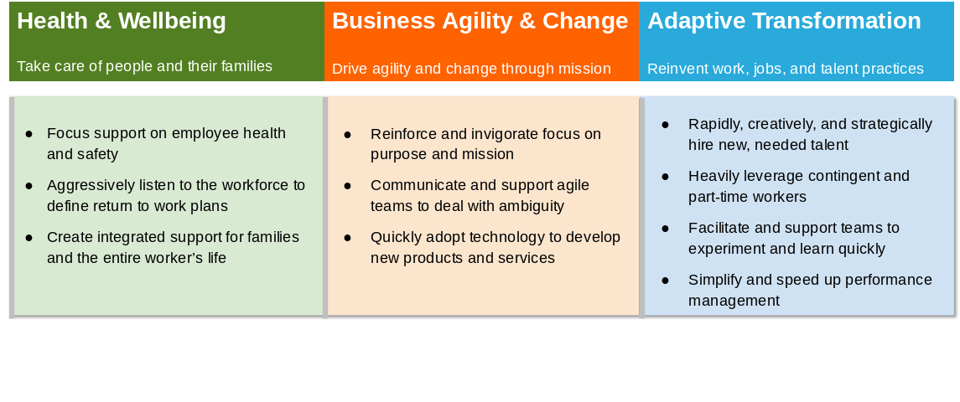 (Graphic courtesy of the Josh Bersin Academy)
All high-performing organizations in the survey scored 100% on health and well-being metrics, underscoring their central importance.
Other practices matter, but have less impact. They may be necessary for business continuity, but are not critical in impacting business resilience.
These practices were deployed through four distinct stages of response:
Stage 1: Hope for the best
Organizations in this stage were scrambling to keep operations running—furloughing or laying off workers and focusing on financial survival. At the time of the survey, organizations in this stage tended to be low-margin businesses, and represented 18% of the organizations surveyed.
Stage 2: Care for the people
Forty-six percent of businesses were in this stage at the time of our survey, all of whom had already moved aggressively to protect workers, workplaces, customers, suppliers, and supply chains from infections. While the practices had been implemented to address the core needs of safety and well-being, organizations in this stage were not yet taking advantage of transformational opportunities presented by the pandemic.
Stage 3: Drive agility and culture
Organizations in this stage were supporting employees and their families, and educating employees to move fast, develop cross-functional solutions, and stay resilient and productive. These organizations had more focus on their mission and purpose and were collaborating to transform people processes. Most of the organizations in this group—15% of those surveyed—already had these agile practices in place.
Stage 4: Transform and reinvent
Businesses in this stage were reinventing hiring, job design, performance management, and pay to align with their new business/operating model. Continuous innovation is part of the culture of these organizations, which embrace experiential learning and failure as part of the learning and innovation process. Most of the organizations that had reached this stage—21% of those surveyed—had full staff HR capabilities, and were already inclined to be resilient when confronted with disruption.
How HR Has Responded To The Pandemic
As the military has learned, when a threat is asymmetrical (it can't be easily detected and may be anywhere), a top-down structure doesn't work. A flexible alliance between coordinated command and control and highly distributed nodes of expertise, connected through relationships, is better for addressing asymmetric threats.
To address the current crisis, HR has taken this flexible alliance approach. In addition to central teams, systems, data, and technology, HR has also needed connections to local nodes of expertise in order to empower and support employees at the field level, all of whom are working with facilities, safety, legal regulations, and local government agencies. The most successful alliances have been based on both shared relationships and data, in a socio-technical system. HR needs data, but for the wheels to turn smoothly, people have to know each other as well.
All of this is taking place in a context of high stress, highlighting the need to focus on employee well-being. Depending on the job role, employees are feeling fatigued and burned out; they may be working longer hours or struggling to balance work and caregiving. In the background, they're still worried about their families. Addressing those needs is the core discipline and management practice in the pandemic response.
Building Workforce Resilience: What can you do?
No matter what stage of transformation your organization is in now, Enderes has two recommendations to HR teams that want to build resilience:
Don't just administer—lead.
Give more focus to planning, not just responding.
Ultimately, the pandemic set the stage for HR to move to a new operating model. The highest-performing companies are now essentially the most adaptive. Every company of every size has to be prepared for a disruption; adopting Stage 3 and Stage 4 practices are a good idea for every business, because they are all good business practices, pandemic or not.
This new operating model will move organizations from responsive (efficient) to resilient (adaptive), with a new command structure. This new structure is the inverse of the old— rather than central control and distributed execution, the new structure is one of distributed control and centralized coordination. Organizations that move to embrace this new model and control structure will have truly transformed the HR function and built in resilience for future challenges.
See the way forward to greater resilience.
The Perceptyx survey platform gives you the flexibility to develop a listening strategy that fits the needs of your organization and identify areas of opportunity for building workforce resilience. Combined with support from our analytics experts, our platform helps you keep your finger on the pulse of your people's perceptions, so you can build a more resilient organization. Request a demo to see how we can help your organization weather challenges.