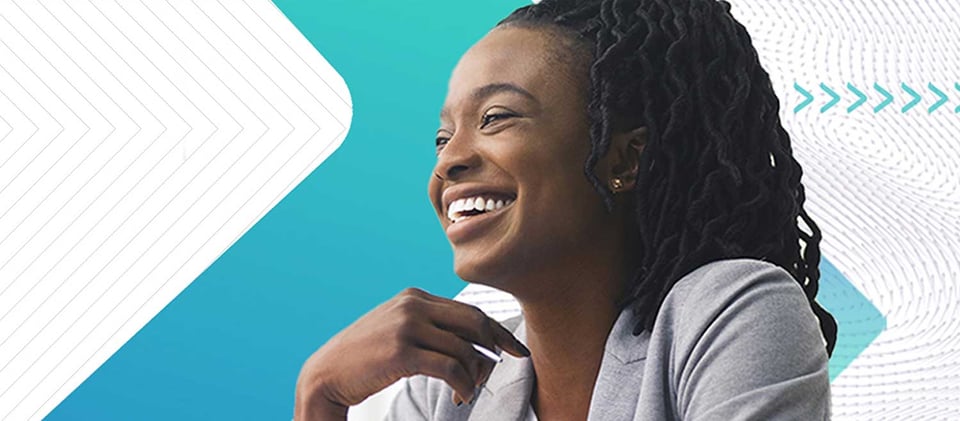 Workplace Visibility: The New Post-Pandemic Threat for Women's Jobs?

For the first time in history, the US finds itself in a "Shecession" – an economic downturn where job and income losses are affecting women more than men. And the numbers are staggering: 5 million women have lost their jobs since the pandemic began, and the number of women participating in the workforce (i.e., actively working or looking for work) has dropped to levels not seen since the late 80's.
The reasons for this have been widely reported, most notably a double whammy of increased caregiving responsibilities at home plus rising job insecurity. But new data from Perceptyx, explored during our recent webinar, shows that as companies begin to architect their "return to work" plans, a new type of gender gap – one centered on how and where women want to work in the future – may be right around the corner.
Preparing for Fewer Women in the Workplace
In our sample of US workers, we saw a number of gender differences about returning to a physical workplace emerge, and perhaps more importantly, shift over time. While preferences changed for both genders over a six-month period, men were much more likely to want to return to a physical workplace when compared with women.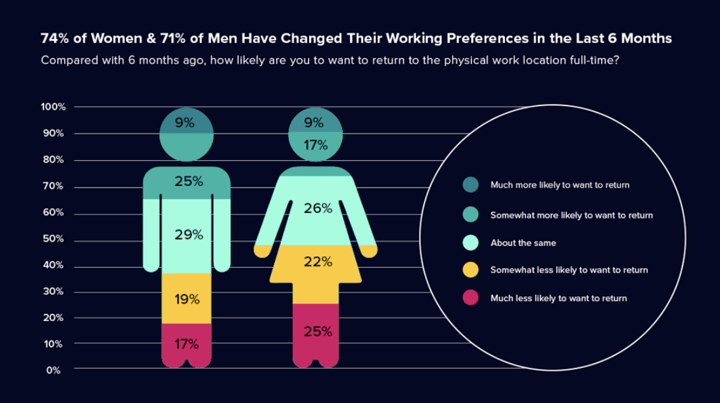 The result? If allowed to follow these preferences, we'll see many fewer women in the physical workplace on any given day. This raises a number of critical questions for leaders, namely:
Will some roles become permanently remote?
How will teams change the way they work to accommodate and include remote workers?
How can companies preserve their culture in a hybrid environment?
According to our webinar panel, some Perceptyx clients have already begun to tackle the hybrid model in a way that ensures all team members can be seen and interact with both peers and managers on a regular basis. For example, setting Tuesday through Thursday as days for working in the office, versus Mondays and Fridays at home. This allows teams to schedule larger group sessions for in-office days, while lightening the meeting load at the beginning and end of the week for employees to focus on more creative or solo work. This also has the added benefit of giving working parents more predictability for things like childcare planning.
One important take-away according to Director of People Analytics, Brett Wells, "This is clearly a swinging pendulum, and opinions have shifted dramatically over the last six months. Working from home was new and exciting at first, but after a year, many are eager to get back to the office. Still others were happy to lose the long commute and value the flexibility of being at home Companies need to be intentional, refresh their data, and craft a "return to work" plan based on the most updated findings to ensure a great employee experience for everyone."
Out of Sight, Out of Mind?
While the shift to remote work has come with benefits for many women, there are real dangers that less visibility may have long-term negative impacts for rewards and advancement. In the same study, Perceptyx examined evaluations, compensation, and promotions for employees based upon where they were located during workdays.
What did our data show? Remote workers are feeling the slight:
40% reported at least one negative impact on development,
20% were less likely to have received a raise at least equal to what they have received in the past, and
27% of women were less likely to have received a promotion in the last year than their male counterparts.
For managers with team members in multiple locations, intentionally recognizing employees who may not be in the office represents a new challenge.
One recommendation from our webinar panel: Companies should consider updating their performance measures, including their criteria for shifts in compensation, as well as promotions, to reflect the realities of a hybrid work environment. By documenting these changes and communicating performance criteria in a more transparent way, leaders can safeguard against biases based on visibility or familiarity from clouding manager's decisions.
"This is an opportunity for all companies to re-examine their leadership priorities, retrain managers to identify potential biases, and ensure these gender differences don't derail progress to create a more equitable workplace," advised panelist Brittany Head, Senior Consultant with Perceptyx.
Retaining Talented Women
The pandemic job losses for women have been well-documented, but even as the economy starts to recover, the drain of female talent may not be over. According to data from McKinsey and Lean In, 1 in 4 women are thinking of downshifting their careers or leaving the workforce altogether.
When it comes to employee retention, Perceptyx research indicates that different factors motivate women versus men to stay or leave their current employers. These factors are exacerbated by the desire to have a flexible, hybrid work schedule. In an earlier study of more than 750,000 employees across more than 100 global enterprises, Perceptyx found that women are most driven to leave an organization when they aren't empowered to make their own decisions about how to best accomplish their work.
As companies think about how to address these differences post-pandemic, some key questions include:
Are we enabling all employees to work in a way that promotes performance and well-being?
Are we effectively listening in our exit process and adapting our policies to avoid regrettable staff losses?
What structures do we have in place to catch this problem early?
"To me, this is really a question of trust," said Davinder Johal, senior consultant with Perceptyx. "The COVID epidemic proved that remote work is not only viable, but actually more productive for many workers. But we also know that women share more of the responsibilities at home, so conflicts are inevitable. Companies that want to retain talented women need to recognize this and normalize the need for more asynchronous, portable work."
Retaining strong connections and ensuring that remote workers – both men and women – are recognized, rewarded, and retained may have become more difficult in the past year, but forward-thinking companies should see this shift as not just a challenge, but as an opportunity.
Brittany Head: "This can be a real turning point for organizations. The shift for more work flexibility and a focus on building trust is good for ALL workers, but we can't ignore the unique experiences of women. Organizations have invested significant time and resources to improve gender equity at work, and we can't let the pandemic wipe out those gains now. We need strategies that work for all employees."
"Awareness is the first step," added Wells. "Understand what your workforce wants and needs and be prepared to be agile as requirements change. Now is the perfect opportunity to be intentional: reach out to the women in your organization and examine their specific needs at this moment."
To learn more, download the full report, "The Gender Gap Widens: Three Critical Actions Required to Support Women in the Workplace."